The Enduring Spirit Of Maria Venuti
The Australian Women's Weekly
|
October 2020
Beloved singer Maria Venuti disappeared from stage and screen after she suffered a massive stroke in 2016. But, as Genevieve Gannon discovers, with the support of her loving daughter Bianca, she's planning a comeback.
It's an overcast afternoon in the Sydney suburb of Gladesville and the Parramatta River is the same dull grey as the sky above, but inside singer Maria Venuti's home, there's a riot of colour.
The entertainer is posing for The Weekly's cameras in red feathers, orange satin, saloon ruffles and crimson lipstick. A glass of champagne fizzes in her hand while the camera snaps away, and as Maria smiles, she looks just as gregarious as always, proving that even though a catastrophic stroke robbed her of her voice, she is still a performer at heart.
It's clear, however, as the shoot pauses so Bianca can adjust Maria's hair, that what really keeps her going is the love of her daughter.
"Let me fix your feathers," Bianca says gently, as she moves her mother's curls so her orange feathered earrings can be seen. Maria protests. The two engage in a back-and-forth, during which Bianca reads her mother's gestures and expressions to understand exactly what she wants.
The earrings are removed and the photo shoot resumes. "That's better, darling," Bianca says, leaning in to hug her mum.
"A lot of people, when they think of family, they think cousins and aunties, brothers and sisters, but with us, it's always been Mum and I," Bianca says. "We've always been best friends, but also each other's plus-ones. When I was growing up, it was a very different type of lifestyle."
As a child, Bianca would often travel with her entertainer mother when she performed at local venues, on cruise ships, and sometimes on television. "I grew up just off the stage," she says.
But over the past four years, the mother and daughter duo who always did everything together have become closer than ever. Bianca stepped up to fill the role of Maria's carer and protector after she miraculously survived a near-fatal stroke, brought on by a confrontation with a stalker at her home.
"You were unconscious when I got there," Bianca says to Maria, who now relies on a wheelchair to get around (albeit one trimmed with animal print!).
"He'd come over twice before," Bianca explains. "We had rung the police and the second time they took him away."
The police told Bianca and Maria that the intruder had been admitted to a psychiatric facility, but they had no idea if or when he was to be released. When the man turned up on Maria's doorstep in late 2016, she was alarmed. He was carrying flowers, but he was also unstable and unpredictable.
"Mum called me and said, 'He's back', and she was so scared," Bianca recalls. She dropped what she was doing to help her mother. "She messaged me, saying: 'Urgent! Urgent!' I said, 'Have you called the police?' By the time I called back, Mum wasn't answering …
"He was saying things like: 'It's all got to end'. He was really scaring Mum," Bianca adds. "He thought he was Jesus. One minute, he thought he was my ex-boyfriend; the next minute he thought he was Mum's husband. He was really erratic … He injured the policeman's collarbone."
The cops found Maria unconscious in the bathroom. Her ankle was broken. She was rushed to hospital, where doctors said her stroke was one of the worst they'd seen. There were difficult questions to answer … the damage was severe and Maria needed brain surgery.
The doctors asked Bianca: "What would she want?" Bianca answered without hesitation – she knew her mum would want to have a fighting chance. "I said, of course she would want to live and see what happens. Yes. She would want to live!"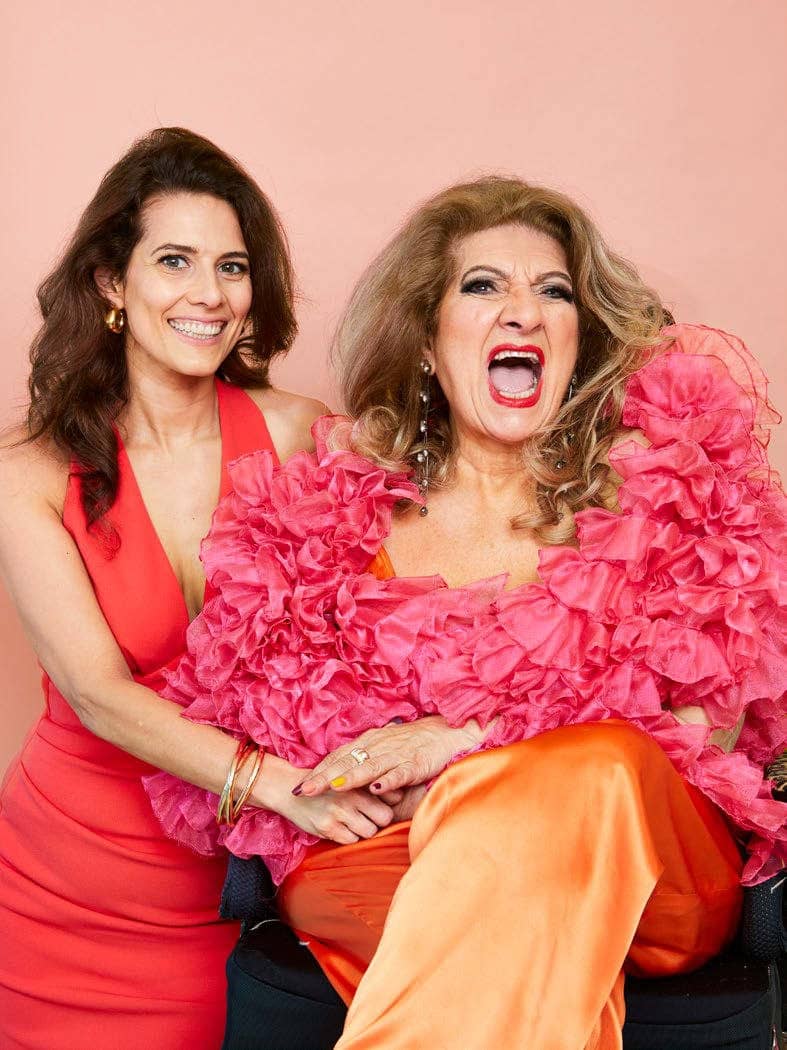 Written in the stars
Maria is now 79 and has been performing on stage and screen for more than 50 years. Big-haired, brash and full of bawdy, self-deprecating humour, the variety show favourite has always favoured low-cut, sequinned dresses and sky-high hair.
Fellow entertainer Graham Kennedy once introduced her as "the hunchfront of Notre Dame", and Maria played up her raunchy side, using her talents to delight audiences, but also to raise money for charity. Always, she had her little girl by her side.
"Mum would be doing a show at the RSL clubs and I'd be there with her bags and her charts, helping her learn her lines for different TV shows," Bianca recalls.
You can read up to 3 premium stories before you subscribe to Magzter GOLD
Log in, if you are already a subscriber
Get unlimited access to thousands of curated premium stories, newspapers and 5,000+ magazines
READ THE ENTIRE ISSUE
October 2020