Princess Anne - "I've Never Been A City Girl"
The Australian Women's Weekly|August 2020
In a rare interview to celebrate her upcoming 70th birthday, HRH Princess Anne talks to Juliet Rieden about life as a farmer away from the royal beat, memories of Australia, riding with her grandchildren and why she chose not to give her children titles.
It's a sunny morning in Gatcombe Park, Princess Anne's estate in the heart of Gloucestershire, a two-and-a-half-hour drive west of London. The 500-acre patch of outstanding natural beauty is not a palatial pile with a manicured garden attached, as you might expect, but a rugged working farm ruled largely by the livestock, with expert managing from their hands-on owner. This is the Princess Royal's private home, both a haven from the scrutiny of public life and the place where she carries out the other half of her life's work, and probably the part she likes best – being a farmer.
The Queen and the Duke of Edinburgh's only daughter rarely allows media into this sanctuary, so we were honoured when Princess Anne agreed to celebrate her upcoming 70th birthday in the pages of The Weekly. The plan was for the Princess Royal to show me around the estate, meet her long-horned rare breed cattle, gleaming racehorses, pigs roaming through natural woodlands and sheep grazing. But COVID-19 threw a spanner in the works, with my flight from Australia grounded.
It was also touch-and-go as to whether The Weekly's UK-based photographer, Hugo Burnand, would be able to visit Her Royal Highness, but in the nick of time British internal travel restrictions were lifted. The Princess Royal pivoted like a pro. I would interview Her Royal Highness on a video call and she would then head out onto the estate for our shoot.
And so it was, on an unusually baking summer's day in Gatcombe, that I chatted to Her Royal Highness for an hour and a quarter. The sun was streaming through the window as Princess Anne talked freely about everything from cherished farm life and childhood memories to trips to Australia, her children, grandchildren and brother Prince Charles. We also discussed contentious issues such as climate change, GM crops and veganism, and the Princess Royal's passion to make the world a better place through her charity work.
Historically, Princess Anne has been dubbed the most industrious member of the Royal Firm, based on annual figures that tot up official engagements – although last year she was pipped at the post by her elder brother Prince Charles, who came in at 521 to his sister's 506. Her royal work includes representing her mother The Queen at events in the UK and around the world, as well as attending ceremonial occasions. Then there are close to 350 charities, organisations and military regiments that she supports, including a 50th anniversary this year as President of Save the Children.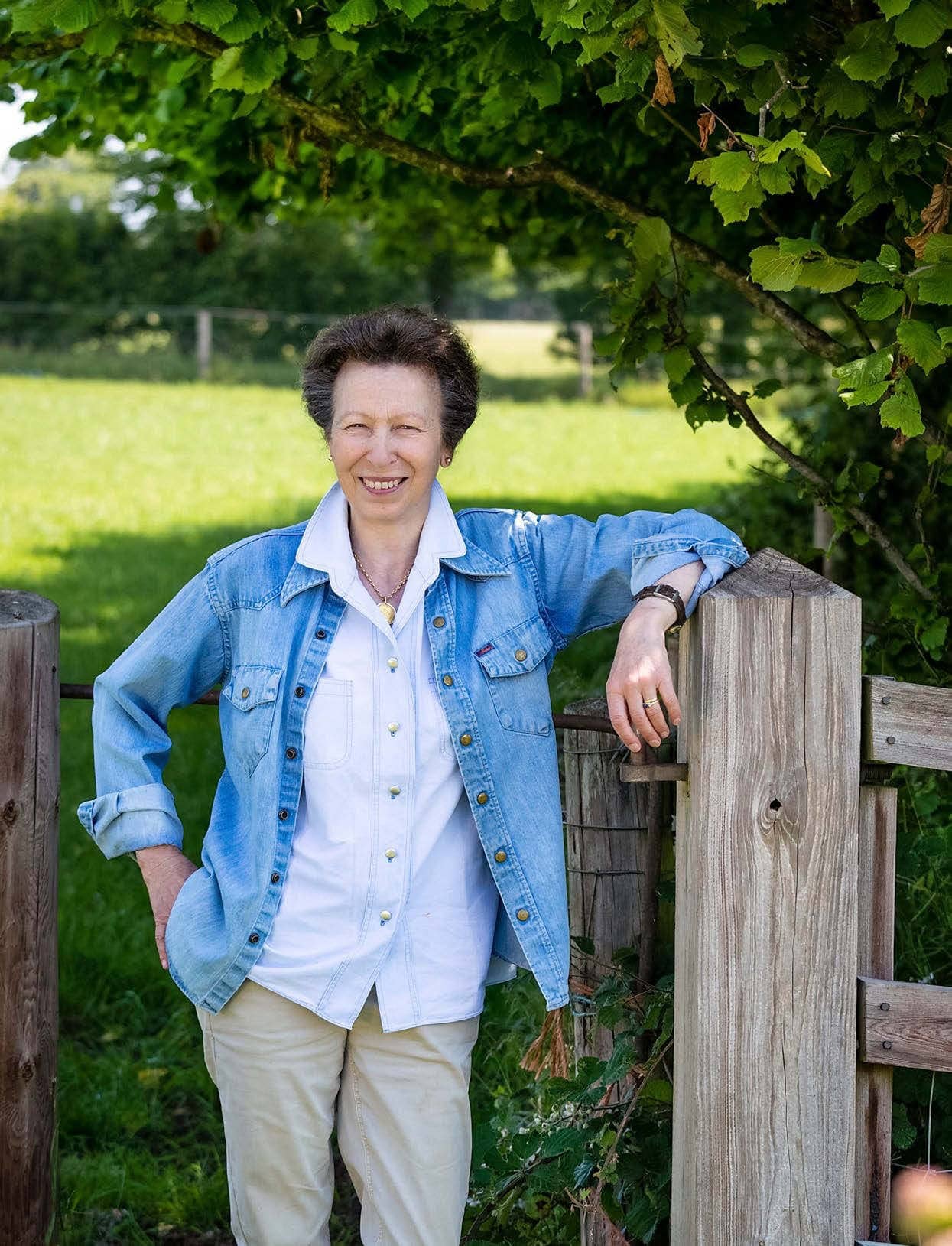 It was, of course, a job she was born into. She had no choice and started her public role age 18. But like her parents, the Princess Royal is driven by a deep sense of duty, and even though she is at an age when most have retired, there is no sense that she will be slowing down anytime soon. Instead she is a powerhouse of activity and is regularly represented in the media as steely and no-nonsense, a temperament some suggest is inherited from her father, Prince Philip.
But in person the Princess Royal is warm, friendly, funny and full of life. Today she is dressed in her 'at home on the farm' chinos and denim shirt, with barely a skerrick of make-up, her hair (which she does herself) swept up in the same bouffant roll she has worn for decades. It's actually expertly held in place with three clips at the back, Hugo our photographer later tells me.
Thanks to the pandemic, Princess Anne has been isolated at Gatcombe with her husband, Vice Admiral Sir Timothy Laurence. "I haven't been anywhere for three months, so in many respects it's been a joy because you miss the place, particularly in the spring," she says. "It's absolutely lovely. The bluebells. I've ridden all the way through."
Born to ride Like her mother, Princess Anne still goes horse-riding every day. "It gets you out; it's a form of exercise that suits [me]. I know there's a lot of suggestion that people shouldn't ride, but frankly, if you've done that all your life and you know the animals well – and particularly one of mine, he needed to be worked on."
The racehorse in question is called Cloud Formation and is "the nicest, best-behaved horse I've had in years," she says. There's also a rescue mare in the Gatcombe stables, amusingly called Annie – she was named before coming into Her Royal Highness's care. "She's much older than I thought she was, so she's beginning to feel the strain a bit," says the Princess. "Particularly in this heat, she's not enjoying herself. She's fundamentally a little liver chestnut Welsh cob."
There's an impish smile that stretches over Princess Anne's face when she talks about her horses. Later we photograph her with Fiddle Faddle – named after a Scottish reel – and her foal Reel Fashion. I'm told the sire was called Schiaparelli after the famous Italian fashion designer, hence the foal's name. Her Royal Highness's palpable love for the two-month-old is right there in our photos.
Horses have been a backdrop to the Princess's life since she was a baby, and now on her farm provide intense joy. She was famously the first member of the royal family to have competed in the Olympic Games, and her daughter Zara Tindall took up the baton and was presented with her silver team medal at the 2012 London Olympics by her mother.
Princess Anne's grandchildren – both Zara's girls Mia, six, and Lena, two, and Peter Phillips' daughters, Savannah, nine, and Isla, eight – all ride. They live on neighbouring Aston Farm, so I ask if they have been joining Granny on her daily rides. "They do occasionally come over," she says. "It gives them a change of scenery and a bit more water to play in."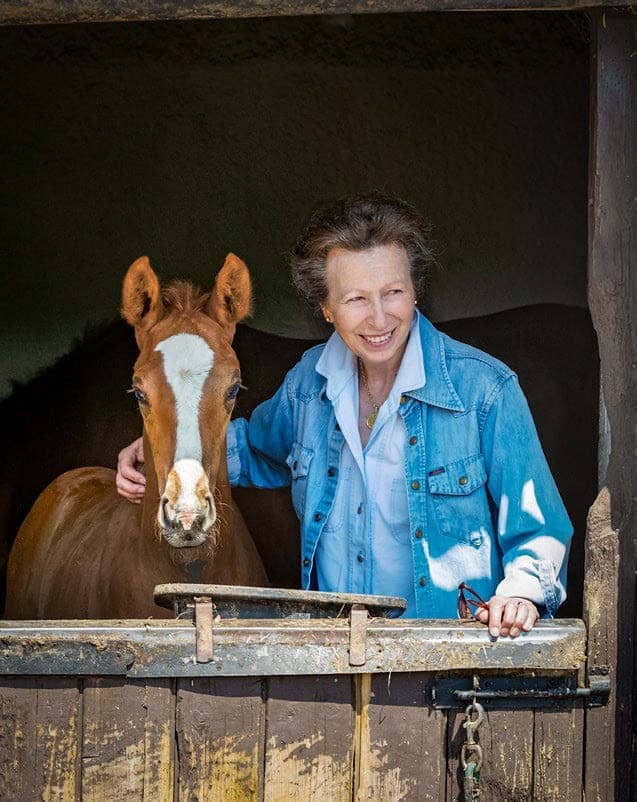 You can read up to 3 premium stories before you subscribe to Magzter GOLD
Log in, if you are already a subscriber
Get unlimited access to thousands of curated premium stories and 5,000+ magazines
READ THE ENTIRE ISSUE
August 2020