Chloë McCARDEL SAVED BY THE Sea
The Australian Women's Weekly
|
November 2020
Marathon swimmer Chloë McCardel has faced unimaginable challenges, both in the ocean and on land. She tells Genevieve Gannon about her most harrowing struggle, and how she hopes her honesty will bring hope to other women who are living through domestic abuse.
The first time she swam the English Channel, champion endurance swimmer Chloë McCardel thought she was going to die. She was in the 24th hour of an attempt at a double crossing, and the sky was pitch black. The wind was howling and two-metre tall waves had been bashing her exhausted body for hours. Then, the boat that was guiding her slipped out of sight. Her chest began to tighten and panic took over.
"I was screaming, 'Please don't leave me behind!'" she says. "It was the worst experience of my life."
Hypothermia had set in and Chloë was hallucinating. She knew people had died attempting the Channel. The water temperature sits between 15 and 17 degrees Celsius, and the cold is just one of many perils. The tract of ocean that lies between England and France is one of the busiest trade routes in the world, and part of the boat captain's job is to ensure the swimmer isn't hit by a tanker. Swimmers have been lost by their boat captains and never been seen again. This was flashing through Chloë's mind as her own vessel disappeared from view.
"It was just so distressing," she says. "Huge waves were completely overwhelming me. As a swimmer, you are at the mercy of mother nature and other humans on boats making what are potentially life-and-death decisions. We don't have wetsuits on. We don't have paddles or flippers. We're just a little person in bathers, goggles and cap."
At 24, Chloë's goal was to be the second Australian to complete a double crossing of the English Channel, but as she screamed into the sea, she knew she would not be finishing the swim that night.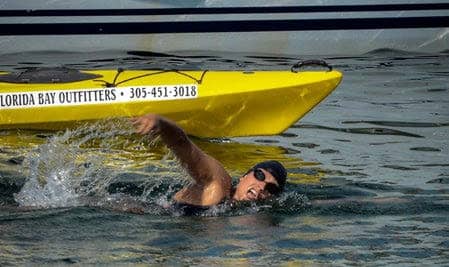 "I was bitterly disappointed, but I didn't turn on myself," she says.
Instead, she regrouped and came back the following year to try again, completing the 68km double crossing in less than 22 hours. She has now swum the Channel 36 times, and in August smashed the men's world record for the greatest number of crossings. This spring, if the pandemic doesn't prevent it, the 35-year-old hopes to traverse the treacherous waterway four more times, which will bring her within reach of the all-time world record of 43 crossings. She is nearing a goal that has defined her whole adult life.
"Some people search for a soulmate. Some people yearn for a child. For me, I was searching for a sport where I could express what I wanted to be, and what I wanted to be was excellent. I wanted to know what it was like to be the best and go through the journey of what it takes to perform at my best," she says.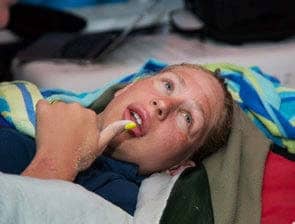 Chloë's drive to excel started early in life in the landlocked Melbourne suburb of Balwyn.
"Because I had much older siblings, they often played games together and would say, 'You're too young to play with us'," she says. "It just made me more and more determined. I really loved getting better at sports at school because I wanted to play with my siblings. I think that helped shape who I am."
When she was 11, she found herself once again feeling like she was behind when she discovered she was the only one of her friends who couldn't swim. Embarrassed, she begged her mother to enrol her in lessons, and as soon as she entered the water, she came alive.
"I loved swimming and I just had this drive to be able to swim," Chloë says. "I took it really seriously, like it was a job. I was on a mission to swim 25 metres. That's all I wanted to do when I was 11."
She sped through the learn-to-swim stages in one year and was soon competing at state level. In no time she was training with an elite squad, with her eye on the Olympics.
"I was one of those kids who really needed a focus, and thankfully I found swimming, or swimming found me," she explains. "It was an amazingly liberating space where I could just focus on this one thing that I needed to do in that moment."
She was swimming up to nine times a week, plus three training sessions in the gym.
You can read up to 3 premium stories before you subscribe to Magzter GOLD
Log in, if you are already a subscriber
Get unlimited access to thousands of curated premium stories, newspapers and 5,000+ magazines
READ THE ENTIRE ISSUE
November 2020