9 Things To Love About Florence
Saveur|April - May 2017
Porchetta sandwiches, drunken spaghetti, and other ways to love Florence
1. Fall in love with lampredotto
Of all the sensorial delights available in the overstimulating tourist trap that is Florence—making out in the moonlight on the Ponte Vecchio; communing with Botticellis and Donatellos; pairing fire-charred Chianina bisteccas with back vintages of Le Pergole Torte—could it be that a sloppy street snack of stewed tripe ranks among the very finest?
Behold, lampredotto, Florence's preeminent cibo da strada, a Renaissance-era sandwich named for its putative resemblance to boiled lamprey flesh. There's no way around it: The stuff is ugly. Wrinkly, flaccid, grayish beige, it emerges from its vat of indiscernible bouillon, wobbling on the end of the trippaio's (tripe-seller's) carving fork. That such a pile of innards is beloved in such a stylish, wealthy merchant center—and has been for over 500 years—is rendered even more incongruous by the city's pastel-hued elegance. It's like a joke from the Middle Ages whose punch line is still being hawked from street carts in San Marco.
Dante probably ate it while pining after Beatrice. There's a good reason for its ongoing appeal: Lampredotto tastes as divine as it looks infernal.
The first time I tried it was at a street food stand called Sergio Pollini. The vendor's setup wasn't too different from a New York City hot dog cart, only with the everlasting façade of Sant'Ambrogio church on a prehistoric cobblestone piazza as a backdrop. I was with friends, classical painting students, who assured me that as nasty as lampredotto looks, my taste buds would grasp the reality immediately.
"I love lampredotto so much that I think about it as often as other guys think about sex: every six seconds," confided one of the students, Alex. He recommended ordering it wet, orbagnato, the Florentine term for au jus, in which the bun is moistened with a little of the braising liquid. The deeply flavorful, perfectly textured salsa verde and hot chile-spiked result was superlative and, yes, semi-indecent.
Lampredotto is made with the fourth and final stomach compartment of a cow, the rennet-secreting maw known as the abomasum. This forgotten quadrant of ruminant viscera is rarely used in kitchens elsewhere. But in Florence, eating abomasum is a daily habit for all segments of society, as popular among street workers and leather-goods vendors as it is with pin-striped businessmen and coiffed nonnas in pantsuits.
That a cow's stomach chamber can be morphed into a triumph of the culinary arts is a quintessentially Florentine phenomenon. Upon eating my third or fourth, and discovering that it's available at the Michelin-starred restaurant Il Palagio inside the Four Seasons' palazzo hotel, it occurred to me that lampredotto represents the way Florence has democratized deliciousness. In the same way that Dante argued for vernacular Italian to be accorded equal respect and literary legitimacy as Latin, Florence seems to have understood that expensive food isn't necessarily better food. To succumb to lampredotto's charms is to realize that beauty and ugliness can live in harmony with each other—that they can be unified into a handheld reminder that one cannot actually exist without the other.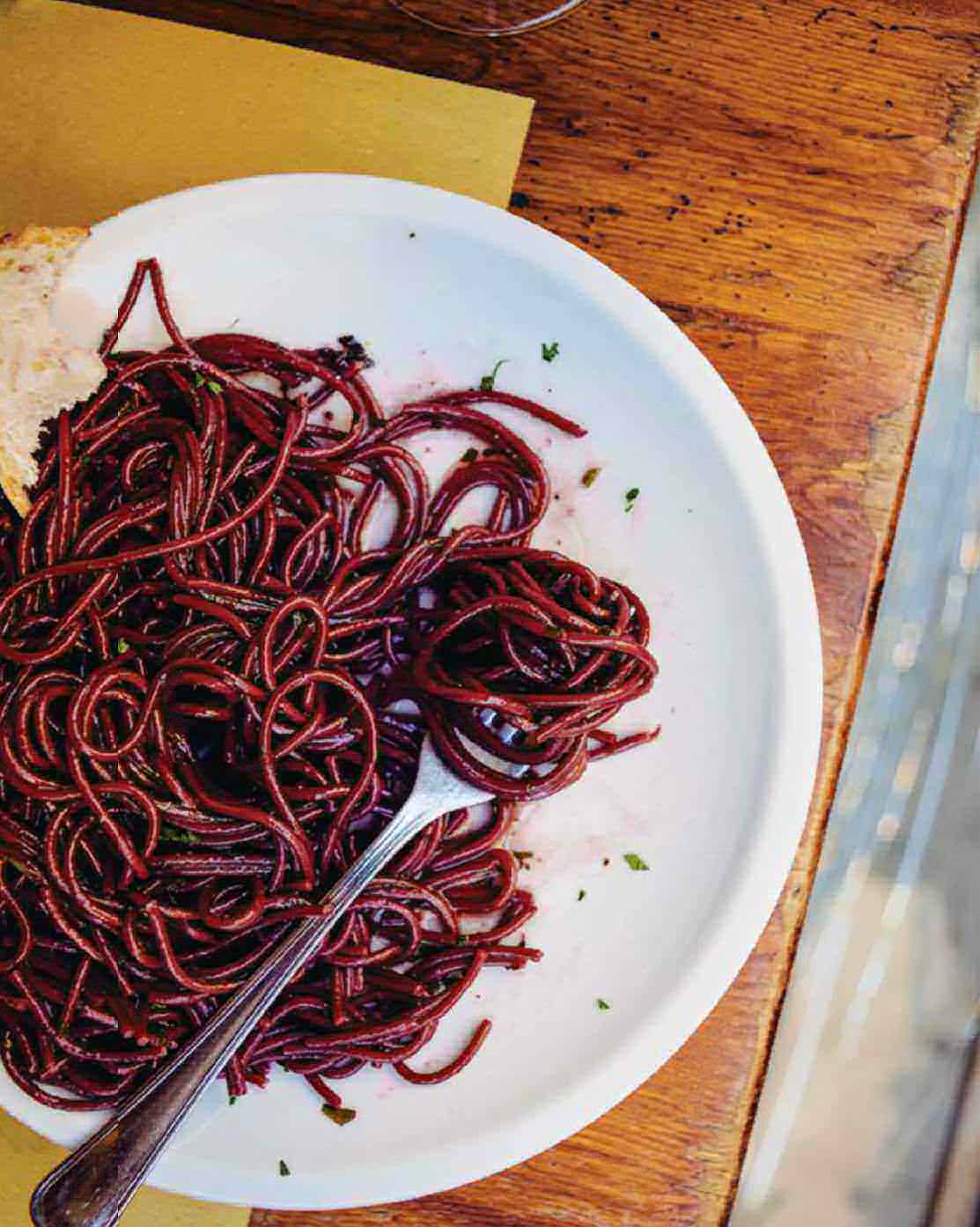 2. Drunken spaghetti is the Italian hair of the dog
Thanks to the city's proximity to chianti, that ever flowing fount of inexpensive sangiovese, wine is consumed in Florence the way water is elsewhere. So ubiquitous (and priced to move), it is even incorporated into pasta's molecular structure at Osteria de' Benci near Santa Croce. Their spaghetti all'ubriaco (drunken spaghetti) requires boiling the noodles in wine and a bit of beef stock, a process that stains the pasta vibrant purple. No matter how much bad chianti you drank last night, this dish will set you straight.
3. Drink espresso like a Florentine
Even in an area as saturated with tourists as the Piazza della Repubblica, a genuine joint like Caffè Giubbe Rosse can still be found. Once a central meeting place for the Futurist art movement, it's been an integral part of the city's cultural and literary landscape. Everything here feels steeped in history. Even the name refers to the red shirts worn by those who fought alongside Garibaldi during the Risorgimento in the 1860s. So, of course, the coffees are also markedly rooted in 19th-century style. While there are certainly excellent options for third-wave aficionados in Florence (namely Ditta Artigianale, on the Via dei Neri), I'd take Giubbe Rosse's simple one-euro espresso over a pourover any day. Drink it standing up. Lounge with a newspaper if you want. Impeccably dressed, gray-haired regulars add to an atmosphere that feels meant for modernist poets and intellectuals.
4. Everyone can be a buongustaio
You can read up to 3 premium stories before you subscribe to Magzter GOLD
Log in, if you are already a subscriber
Get unlimited access to thousands of curated premium stories and 5,000+ magazines
READ THE ENTIRE ISSUE
April - May 2017