The Best Of Friends: Together Forever
Pick Me Up !
|
October 24, 2019
Danielle Lindsay, 22, from Alloa, promised to love her man in sickness and in health…
Amy Walters And Laea Marshall
Drifting off to sleep, my phone buzzed. Who could that be? I thought.
It's Stuart from the party last week – not sure if you remember me? the Facebook message read.
I began flicking through his photos and my face lit up as I realised who he was.
Stuart and I had met briefly before at a mutual friend's party, but we hadn't said any more than hello to each other.
I remember you! I replied.
It was August 2012, I was only 16, Stuart was 18, and I was flattered by the attention.
After that, Stuart and I were chatting every day.
And a few months later, in January 2013, we decided to meet up for ice cream.
I was so nervous about our first date, but the minute I met Stuart, my nerves melted away.
'You look gorgeous,' he said as he approached me.
It felt as if we'd known each other for years.
'So, what do you do for work?' I asked Stuart.
'I don't have a job at the moment as I've just finished chemotherapy,' he said.
'I was diagnosed with a brain tumour last year.'
'I'm so sorry to hear that,' I said. 'Have you been given the all-clear now?'
'Yes,' he smiled. 'I'm excited to begin living a normal life !'
My heart went out to him.
'You can always lean on me,' I smiled.
After a month, we made things official, and in June that year, we moved into our own flat together.
Although things moved quickly between us, we had a connection that just felt right.
We loved living together. We'd go for days out in Glasgow, but also enjoyed snuggling up on the sofa watching films.We were totally in love.
A year went by in a happy blur, but then, in June 2014, our world came crashing down.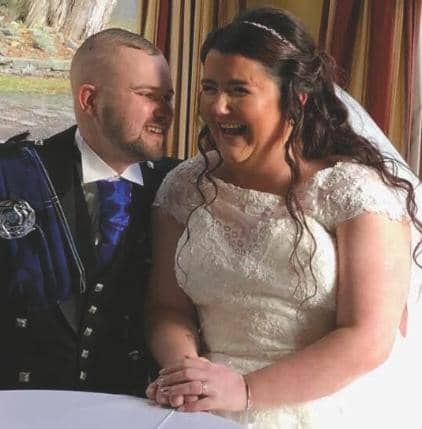 Lying in bed, I suddenly spotted something on Stuart's neck.
It was no bigger than a pea.
'Babe, what's that? It looks like a lump,' I said, concerned.
As Stuart reached back to feel his neck, his face dropped.
Right away, we phoned his mum Fiona, 52, who told us to go straight to A&E.
As we arrived at Forth Valley Royal Hospital, doctors looked over the lump.
'It's just a cyst,' they said.
But Fiona and Stuart weren't happy with the diagnosis.
They decided to approach their consultant – who removed the tumour from Stuart's brain last time – as they were worried the cancer had returned.
'We're going to remove the lump and do a biopsy to see what the cause is,' the consultant informed us.
After a few hours, they told us the news we were dreading – it was cancer again.
'Stuart has another tumour on his brain,' the consultant said.
I was in a state of shock, completely lost for words.
But when I saw the fear on Stuart's face, I knew I had to stay strong for him.
'We'll get through this,' I said.
Stuart soon began having radiation therapy and scans every three weeks to see how the disease was clearing up.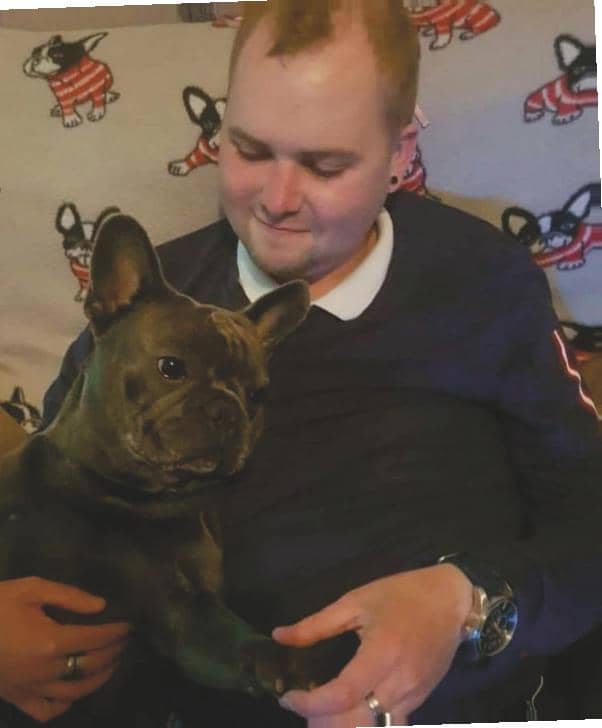 It left him in a lot of pain, and so exhausted all the time.
Although the radiation appeared to be working, during his scans there were shadows around his pelvis that looked odd.
'We'll need to do more biopsies to make sure the cancer hasn't spread,' the consultant told us.
So, over the course of a few months, Stuart had five biopsies – and they all came back clear.
Run down from his treatment, I did all I could to cheer him up.
You can read up to 3 premium stories before you subscribe to Magzter GOLD
Log in, if you are already a subscriber
Get unlimited access to thousands of curated premium stories, newspapers and 5,000+ magazines
READ THE ENTIRE ISSUE
October 24, 2019