Hunger Blame
Pick Me Up !
|
October 24, 2019
Aimee Byron, 18, from Fareham, knew there was something very wrong with her baby...
Laea Marshall And Harriet Rose-Gale
Smearing cold jelly over my tummy, the sonographer smiled.
'So, do you have any names yet?' she asked .
It was October last year, and I was five months pregnant.
It had come as a complete surprise, but my boyfriend Will, 21, and I were so excited.
We were both young, but we knew this was what we wanted.
And now, at my 20-week scan, we were desperate to know if our baby was healthy.
'I like Jamie,' I said.
'Is that for a boy or a girl?' the sonographer asked.
'Both,' I smiled. 'I think it works either way.'
A few weeks later, my mum Jo, 42, had a surprise for us.
It was Halloween, and she'd come over to ours with a pumpkin – carved open at the top to form a lid.
'What's all this?' I laughed, as she set it down on the dining room table.
'I called the doctor,' she confessed.
'I needed to know if I was having a granddaughter or a grandson!'
'What's with the pumpkin then?' I asked, confused.
'Open the lid,' Mum smiled.
Will and I looked at each other with raised eyebrows, then we reached for the top of the pumpkin.
And as we lifted it up, a huge wad of blue tinsel came out.
'It's a boy!' Mum cried.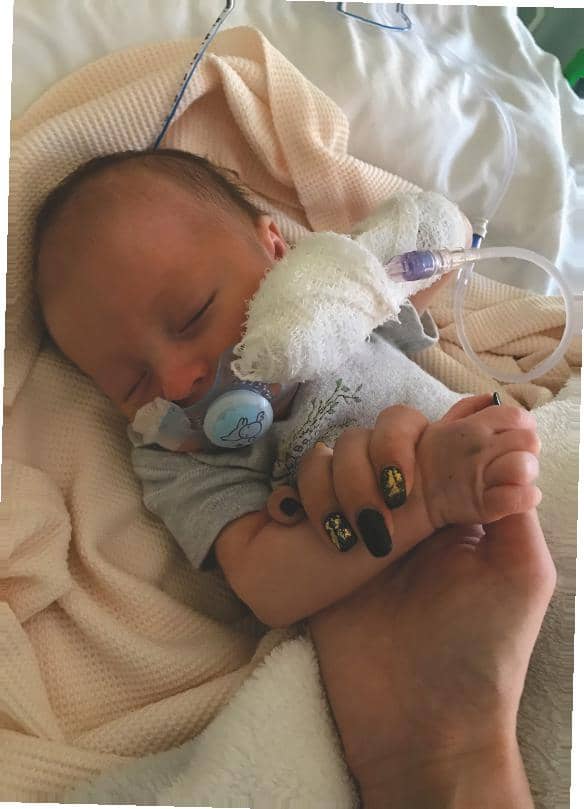 Will and I stared at each other in disbelief.
'I'm having son!' Will cried.
We were over the moon.
The next few months passed in a blur of buying Babygros and decorating the nursery.
And on 23 January, at Queen Alexandra Hospital in Portsmouth, I gave birth to Jamie, weighing 7lb 5oz.
'He's gorgeous,' I cried. Taking him home the next day, it was amazing being a family of three.
Jamie was tiny and perfect, and I spent ages staring at his adorable little features.
Three days later, though, something didn't seem right.
After giving him his bottle, he immediately threw up.
And after that, he was being sick after every feed.
Two days later, the midwife came over to check on him.
'This is normal,' she said.
'All babies do this.'
But Jamie kept being sick, and by the time he was nine days old, he'd lost weight.
'Babies should only be gaining weight,' I said, worried.
You can read up to 3 premium stories before you subscribe to Magzter GOLD
Log in, if you are already a subscriber
Get unlimited access to thousands of curated premium stories, newspapers and 5,000+ magazines
READ THE ENTIRE ISSUE
October 24, 2019