Ladies' Man Rod At 73 'I'm Just Happy With A Hug!
New Zealand Woman's Weekly
|
September 24, 2018
With a New Album Due Out, the Rocker Reflects on How Life Has Changed
 
In the discreet and snug bar of an elegant London pub, Sir Rod Stewart CBE is contemplating the act of physical love and how it has changed for him over the years.
"Well, I need a bit of a start on the handle now, that's for sure," the 73-year-old chuckles. "Like a vintage car."
Having parked that classic, he continues, "Sex becomes more spiritual, I think is the word, as one gets older. You know, I love sex with my wife, but I love just giving her a hug before we go to bed. Every night we have a kiss and a hug, and that doesn't always lead to sex but it's still lovely.
"You know when anyone gives you a hug, it's the most important thing. When I'm away from her for a long time and I don't get a hug, I really miss it. And I know it sounds daft, but I'm a great one for giving my children a cuddle.
"Because although my dad loved me, and I loved him, we didn't hug each other. In the last 15 years of his life, I taught him to hug. Now I pass it on to my kids and we hug all the time. I got a lovely Father's Day card. Brought tears to my eyes," he says, the famously fibrous voice getting wobbly.
"It said, 'Dad, Happy Father's Day. I have so much to thank you for, but thank you for giving me big hugs every time Celtic score.' It just broke my heart."
Rod notes that his young sons, Alastair (12) and Aiden (7), to whom he is touchingly devoted, have hopped aboard the carousel of love.
"My seven-year-old made his girlfriend a paper ring and gave it to her," he sighs. "But he's like me, a big romantic... The 12-year-old, Alastair, has just had his heart broken for the first time. He doesn't want to talk about it..."
Rod shares these affectionate thoughts in a hoarse, humorous croak. He is dressed in white linen and a bold, golden blouson − needless to say, he wears it well.
The megastar arrived alone. His wife, Penny Lancaster (47) was last seen pottering locally. "Coffee with the girls" is her husband's best guess.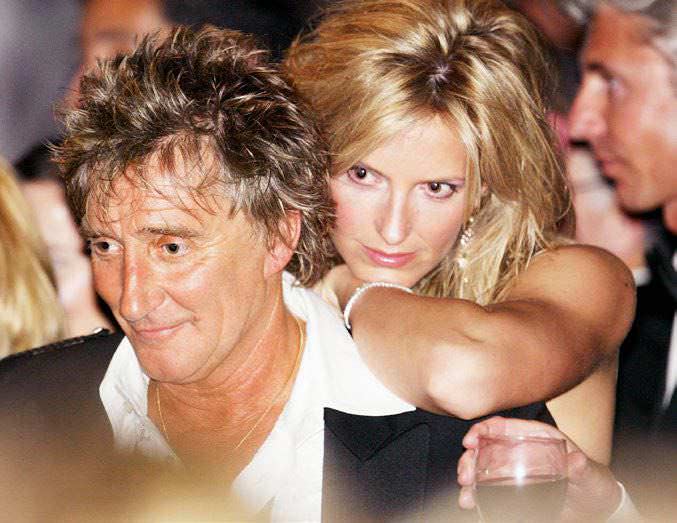 Rod has eight children, been married three times and had innumerable partners, but has been with Penny since they met in 1999 and married in 2007.
What, you may wonder, are the pros and cons of being with a woman a quarter-century his junior? "With Pen, the points of reference are different," he acknowledges. "Like mine would be, musically speaking, Sam Cooke and Otis Redding, and hers are all from the 1980s."
Which begs the question: was Penny, who was a teenager in the 1980s, a Rod Stewart fan before she met him?
"Do you know what? She's never mentioned it," he frowns, puzzled. "We were talking among friends and she was telling everybody how we met and all that palaver, and she said, 'I'd heard of him.' But it wouldn't be natural for her to be a fan – she'd have been far too young." He pauses, deep in thought. "I'm going to ask her about that."
I ask Rod if he has any grumpy old bloke idiosyncrasies that annoy his partner and the reply is surprising.
You can read up to 3 premium stories before you subscribe to Magzter GOLD
Log in, if you are already a subscriber
Get unlimited access to thousands of curated premium stories, newspapers and 5,000+ magazines
READ THE ENTIRE ISSUE
September 24, 2018