MOTHER AND SISTER
NEXT|April 2020
Linda Armstrong attended the Linwood Islamic Centre every Friday and on the day of the Christchurch mosque attack she confronted the shooter, asking him to stop. Now her daughter Angela Armstrong is going back over her mum's footsteps to learn more about her conversion to Islam and the community she loved
Al-Noor Mosque with its majestic golden dome and the cordon of flowers along Hagley Park was at the heart of the Christchurch terrorist attack. A smaller heart beats in a humbler part of the Garden City. The Linwood Islamic Centre is a simple weatherboard house next to a liquor store across from the Eastgate Mall. Further down the gravel driveway and past an All Blacks flag, the nondescript mosque has its tribute flowers too. They are tucked into the shoe shelves.
A multicoloured chair by the entrance looks more like retro chic than religious decor. "It belonged to Mum," says Angela Armstrong, patting the patchwork leather. Before March last year, the 45-year-old anthropology student at Canterbury University who lives an hour's drive from Christchurch with her family had never set foot inside a New Zealand mosque. Since then she has been retracing her mother's colourful life to make sense of her leap into faith.
Linda Armstrong converted to Islam in 2011. Not out of devotion to a man, but because she was volunteering at the refugee resettlement centre in Mangere where she made new friends and sponsored Syrian refugees. "Mum was a rebel," says her daughter. "She didn't really like wearing a hijab. Later, she just wore a hat instead."
This morning, Angela wears a cotton scarf around her face to meet Alabi Lateef, the Nigerianborn imam of Linwood. He hugs her inside the sparsely furnished prayer room. It has been repainted after the attack. "You're always on our mind," he says. "You are part of us."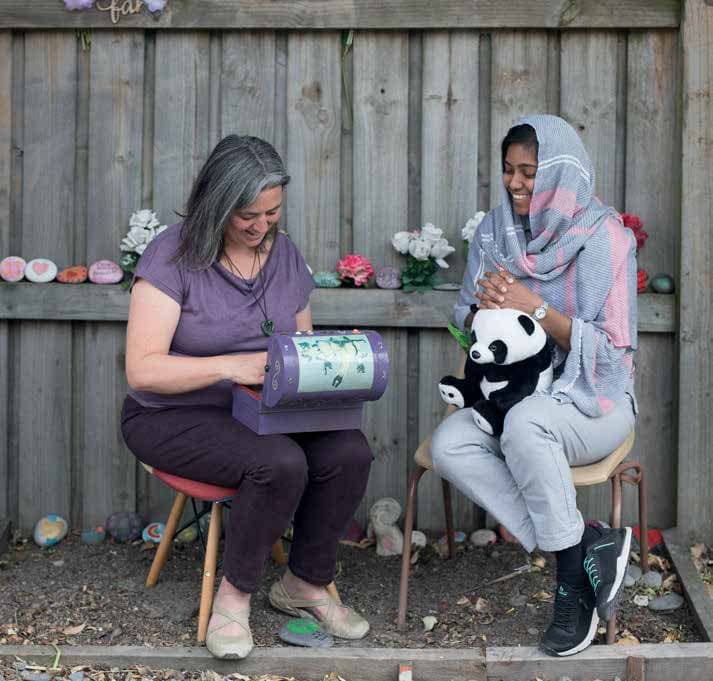 They both stand by the pillar where Linda Armstrong was sitting on March 15 for the Friday prayer. When the shooter started firing at 1.55pm, first through the windows because he couldn't find the door, Linda Armstrong raised up and shouted for him to stop. She died among six others – "in a happy space, exactly where she wanted to be," says Angela. "Mum believed that when your time is up, it's up. She never even wore a seatbelt."
According to the imam, the 64-year-old attended every Friday prayer. Ten people had converted because of her. "Sister Linda was my best friend. She would pick my daughter up from school and drop me at the airport. We would always discuss things." He wipes away a tear. "I miss her."
Alabi recounts how Linda wanted to get rid of the single-use plastic plates at the mosque and bought a whole stack of porcelain plates instead. She was also the treasurer of the trust.
You can read up to 3 premium stories before you subscribe to Magzter GOLD
Log in, if you are already a subscriber
Get unlimited access to thousands of curated premium stories and 5,000+ magazines
READ THE ENTIRE ISSUE
April 2020