The Bath Cure
Health & Fitness
|
January 2019
The restorative effects of bathing shouldn't be underestimated. We show you how to reap the mind and body benefits of a good soak.
Whether you've had a tough week at the office, just come in from a chilly evening run or simply feel the need for a little TLC, sinking into a warm bath at the end of the day is the perfect way to revive your spirits. It calms the mind, soothes aching muscles and leaves you feeling relaxed, content and rejuvenated.
Of course, the therapeutic powers of bathing aren't new. The oldest bath dates back to the third millennium BC, when bathing was a public affair. Used for spiritual purposes, the Great Bath of Mohenjo in the Indus Valley in Pakistan was believed to purify and renew the wellbeing of those who entered. The Greeks, meanwhile, installed indoor plumbing so athletes could bathe after they exercised.
But it was the Roman civilisation we have to thank for therapeutic bathing. The Roman Baths in Bath, Avon, for example, expertly channelled warm thermal springs with 43 different minerals to a network of warm and cold pools, and included areas for massage, exercise, relaxation, eating and drinking. Nowadays, with everything from hot tubs to plunge pools, plus spa treatments such as hydro massage, seaweed soaks and mineral-rich floatation tanks, when it comes to harnessing the power of water, we're spoilt for choice. But just how can bathing help you heal?
'Immersing yourself in warm water increases the efficiency of your heart, improves blood flow through your body, and enhances circulatory efficiency in big and small arteries,' says Dr Bruce Becker, director of the National Aquatics and Sports Medicine Institute at Washington State University. 'It also increases blood vessel elasticity and blood flow to peripheral musculature and central nervous system and brain.' This means a hot dip helps nourish every cell in your body.
Of course, you can use cold water as well as warm – think of that icy cold plunge pool next to the sauna. 'The aim of hot/cold bathing is to optimise the conditions for healing,' says physiotherapist Sammy Margo. 'The difference in temperature helps increase and decrease blood flow to the area – the hot bath increases the circulation and the cold helps to reduce it. The benefits are well documented – reduced pain and swelling as well as help with inflammation control.'
But it's not just the temperature of the water that affects your physiology; the minerals it contains have a significant impact, too. The waters at Thermae Bath Spa are rich in therapeutic elements: 'Magnesium is effective with stress release and helps melt away tension in muscles, while sodium helps to boost and balance the blood circulation,' says Marie Grew, assistant spa manager at Thermae Bath Spa (thermaebathspa.com). 'The water also contains calcium, which doesn't just support bones, it also helps nerve endings, hormones and the menopause.'
But you don't need to go far to enjoy the benefits of bathing; here's how to recreate the experience in the privacy of your own bathroom.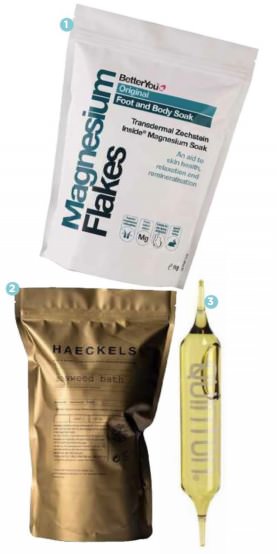 Heal
Aching muscles? Dry winter skin? Stiff, painful joints? Slip into a saltwater bath and enjoy the healing benefits of a mineral-rich soak.
You can read up to 3 premium stories before you subscribe to Magzter GOLD
Log in, if you are already a subscriber
Get unlimited access to thousands of curated premium stories, newspapers and 5,000+ magazines
READ THE ENTIRE ISSUE
January 2019