What Would Gwyneth Do?
Fast Company
|
September 2015
Goop, Gwyneth Paltrow's newly ambitious lifestyle platform, has been polarizing since the day it was launched seven years ago - and that might be its greatest asset.
Anjali Mullany, photograph by Williams + Hirakawa
Gwyneth Paltrow removes her coat, revealing a sleeveless black Atea Oceanie wrap dress. The dress is simple, trimmed in white and very low cut, the effect both wholesome and daring. Her hair and skin glow. Her arms look soft and strong, like those of a woman decades younger than 42.
Paltrow is the founder-and the living embodiment-of the lifestyle brand Goop and is in Chicago on this April afternoon to oversee the launch of a pop-up store in Chicago's Waldorf Astoria hotel. She walks across the showroom, past racks of $2,000 Stella McCartney dresses and $400 Phillip Lim gym shorts, to sit beside Goop's CEO, Lisa Gersh, on a burnished steel French daybed. She folds her arms, clutches her elbows, and calls out to her head of brand collaborations, Brittany Weinstein, to turn up the heat. Then she crosses her legs, stretches her neck as high as it will go, poses her arms to one side, and looks off serenely into the distance.
Paltrow is often criticized for seeming, at best, removed from the cares of ordinary life, and right now she does look like she belongs to a different, superior species. The public has always felt this way about her simultaneously drawn to, and repelled by, her seemingly unattainable perfection. In 2013, for example, she was named People magazine's Most Beautiful Woman and also Star magazine's Most Hated Celebrity. Spend a little time on the Internet-or mention Paltrow's name at a dinner party-and you'll quickly see that people tend to have a strong, visceral reaction to her.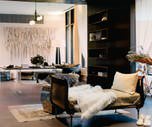 Paltrow knows that she has this effect on people. And she believes it has been good for her personal business, Goop, a website and newsletter that offers style, food, and wellness recommendations from Paltrow and her circle of elite chefs, spiritual thinkers, and alternative health professionals. This enterprise, which also sells fashion and home products, now has nearly 1 million newsletter subscribers and reportedly receives more than 3.75 million page views per month. Even people who've never heard of Goop (a play on Paltrow's initials) may have heard of "conscious uncoupling" and "vaginal steaming"-just two of the phenomena that went viral after they were written about on Paltrow's website, inviting both curiosity and mockery. They may have also heard that Paltrow's product recommendations sometimes venture into rather exclusive price ranges: $300 pajamas, a $4,700 juicer, a $2,000 safety-pin earring (just one, not a pair). But while she is often criticized for being out of touch, it's precisely her privileged lifestyle-she is the Oscar-winning daughter of the late television producer Bruce Paltrow and the actress Blythe Danner, and was married to Cold play frontman Chris Martin until last year-and her highly specific sense of style (she's a red-carpet staple and a regular on the covers of Vogue and Harper's Bazaar) that gives her the authority to make recommendations about living the good life.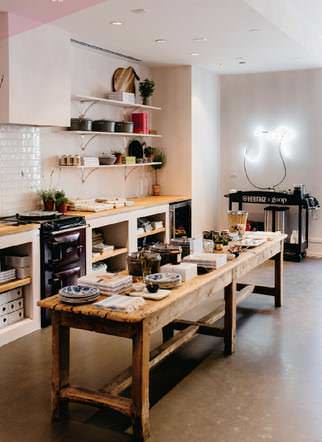 Now the question is whether Paltrow can turn the public's powerful feelings about her and her brand into a profitable business of scale.
In the past year, Goop has been gearing up for a major expansion, hiring Gersh as CEO, moving its headquarters from the U.K. to Los Angeles, amassing a 25-person team, pitching investors, building an advertising unit, and planning its first private-label product: an organic skin-care line due out in 2016. Gersh has restructured the company so that it's in a position to realize a vision she and Paltrow share: to turn Goop into a "contextual commerce" brand, in which editorial and sales work hand-in-hand to sell product in a more seamless way than other lifestyle brands (such as Martha Stewart Living Omnimedia, from which Gersh stepped down as CEO in 2013). Gersh and Paltrow hope to sell Goop fashion and home collections and make the brand synonymous with chic, minimalist, high-quality living. Pop-up stores like the one in Chicago may act as testing grounds for more Goop-branded brick-and-mortars in the future.
The pop-ups serve another purpose: exposing the brand to people who have a strong opinion about Paltrow but have never visited her website. "I do think a lot of the misperception comes from people who haven't actually gone on the site, because a lot of the things you see or hear, we're like, 'We never said that, never wrote that, that's not the price point, or this was totally out of context,'" Paltrow says earnestly, after tucking her hair behind her ears. "It seems that when people really engage, they understand who we are and what we're doing."
Of all the activities on Paltrow's professional pie chart these days acting, investing, writing cookbooks, expanding her chain of highend gyms with Tracy Anderson (see sidebar, page 66)-Goop "is the biggest slice," she tells me over the phone a month later, as she drives her car across Los Angeles. She started the company in 2008 at her kitchen table in her house in London, having reduced her acting schedule to about one film per year in order to spend more time with her children. For years she had been compiling notes on how to live an elevated life. At the same time, she found herself asking questions about food, fashion, health, and spirituality, and not finding a place on the web that answered them. So she decided to start one, sharing tips makeup artists gave her before magazine shoots, restaurants she loved, unique spa treatments in far-flung locations, even advice from her therapists. Paltrow would test newsletter recipes in her kitchen and call to her editor, Eliza Honey-who was working upstairs-when they were ready to taste. "Like many other things in my life," Paltrow says, "I sort of found myself in the middle of doing them before I really understood how I got there. It was the same with my movie career, or my cookbooks."
As Paltrow was launching Goop, other fashion and lifestyle websites were popping up that would gradually expand into e-commerce. Refinery 29, for example, had begun as an editorial site in 2005 (also at its founders' kitchen table; it would open its shopping feature in 2012). Goop was also the first in a recent wave of celebrity-driven lifestyle brands. The actress Rachel Bilson launched her fashion collection, Edie Rose, the same fall that Paltrow started her newsletter. Jessica Alba co founded the Honest Company, which sells nontoxic diapers and home cleaning products, in 2011. Blake Lively's Preserve, which features shoppable lifestyle stories, launched last year, followed by Reese Witherspoon's Southern-inspired fashion-and-home brand, Draper James.
You can read up to 3 premium stories before you subscribe to Magzter GOLD
Log in, if you are already a subscriber
Get unlimited access to thousands of curated premium stories, newspapers and 5,000+ magazines
READ THE ENTIRE ISSUE
September 2015