Nine years into my research and academic career, one of the most common questions I get from family and friends is: "Will she ever finish studying?"' says Ndoni Mcunu. She's one of very few black women in South Africa who not only chose to go into the sciences but who has further developed her expertise.

Currently working towards her PhD on climate change and food production at Wits Global Change Institute, Ndoni's concern about the lack of black women in science prompted her and a friend, Mantombi Ngoloyi (herself pursuing a PhD at Toulouse University), to establish the non-profit organisation Black Women in Science (BWIS) in 2016 in partnership with the Department of Science and Technology.

'I had the advantage of having strong role models and extra lessons,' Ndoni says. 'But what if you don't have that? My parents introduced me to things many people wouldn't have been exposed to at that age.'

Ndoni's family has a strong bent towards the sciences: her father is a computer scientist and her mother, now a campus manager, was a teacher; her uncle is a medical doctor, her aunt a mathematical scientist and her grandfather had a Bachelor's degree in science. The only girl in her nuclear family, encouragement also came from her brothers.

'They tried to instill in me that I could do anything I wanted to, on my own. They'd always tell me, "It's not a man's world – it's YOUR world. You can actually make a change."'

Interestingly, says Ndoni, she still struggled with maths and science in high school.

'I managed because I had extra tuition, but that requires money and support. That's why I believe so strongly in becoming a support system for people who don't have one. I have the capacity to give back.'

Lack of support is just one reason for so few black women entering scientific fields. Registration figures show that while many enroll in the science faculties, most don't pursue postgraduate studies. The result is fewer black female lecturers, and even fewer black female professors, which ultimately means fewer black female role models. (UCT just recently appointed its first black female vice chancellor, mathematician Mamokgethi Phakeng).

'We need more black female voices,' says Ndoni. 'Children need role models. As I was moving up the academic ladder, I realised it was becoming more isolating. When you get to master's level, you're often the only person who understands your research – you and your academic supervisor,' Ndoni says.

'Sometimes you submit an article and when it comes back, all you see are the corrections in red. It can make you think you're not good enough, or it can motivate you to say: "I CAN do these corrections and I CAN get this certificate for myself." Once you conquer that, you look at life in a different way.'

Here's where Ndoni and Mantombi see the role of BWIS: engaging some of their 150 members in mentorship programmes and support networks for black female university students as well as schoolchildren – particularly rural learners – encouraging them in their study of STEM subjects (science, technology, engineering and mathematics). At present, about 72 BWIS members in KZN are mentoring students in rural areas towards degrees in STEM subjects.

Ndoni is particularly interested in rural communities because the disadvantages women face there are often more acute. It's also where the focus of her PhD is relevant – she's looking at how methods such as diversification of the agricultural landscape affect the security of food production in a changing climate for African farmers. Her research forms part of Delivering Food Security on Limited Land, a project sponsored by the Belmont Forum and the FACCE-JPI Initiative.

'In rural and disadvantaged communities, family responsibilities, financial constraints, gender stereotypes and misconceptions all play a role in discouraging female students,' she says. 'What if I were a student with five siblings and needed a salary to support them? I'm struggling to survive on my own; I can't imagine how someone who has to feed a family copes.'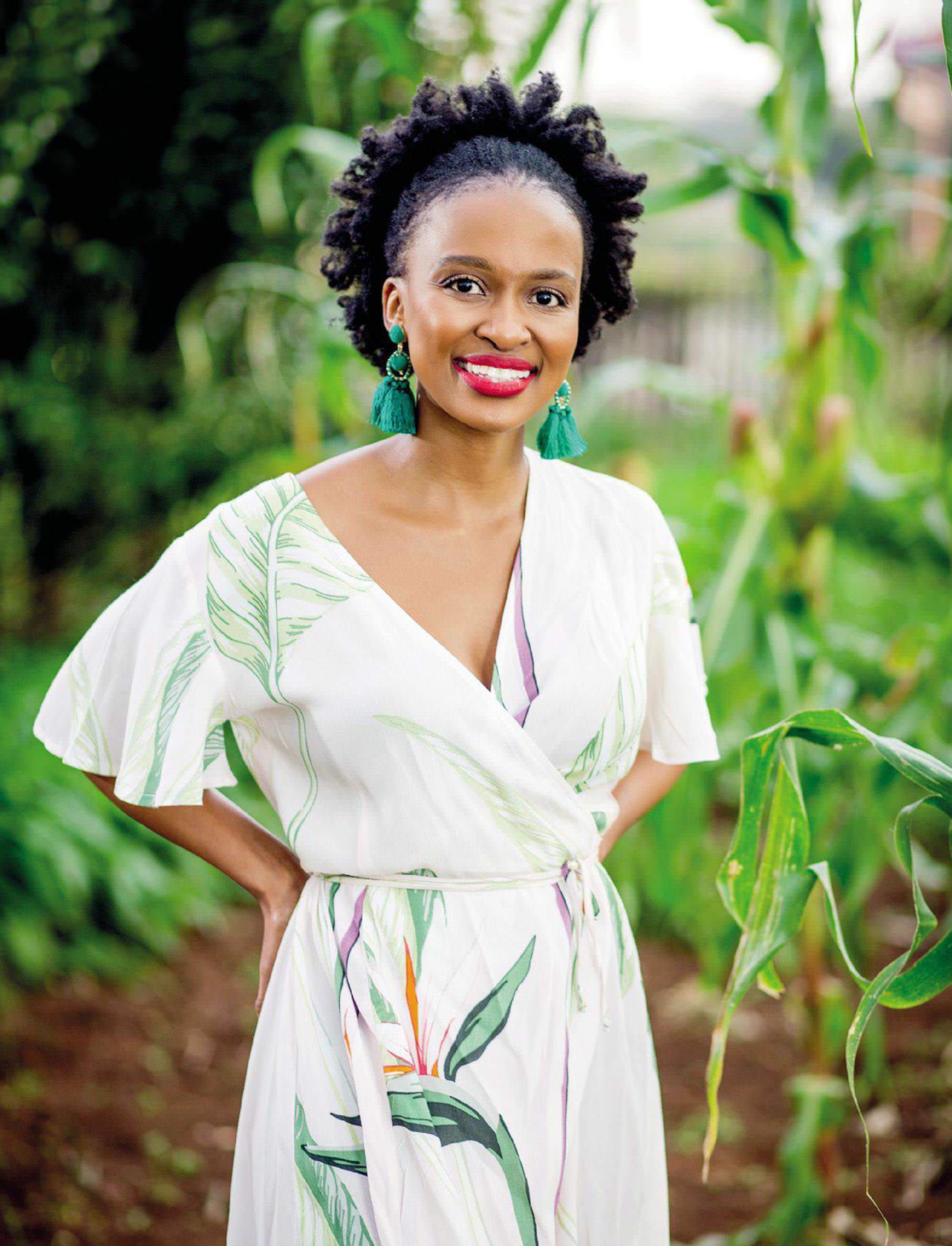 As a Zulu woman, Ndoni says that if she were to marry into a traditional African family, for example, her in-laws might not understand the amount of time her studies demand. This is an attitude that more visible role models would help to change.
'It's about income, it's about responsibilities and it's about culture. We need to be very sensitive to our country's unique history and development. Research and funding streams need to be redesigned to accommodate such complexities. It's not the same as in the UK, where you're paid more money to do a PhD. Here you often struggle to get funding, and afterwards you struggle to get a job.'
STEM degrees are also more expensive because of the lab and practical sessions required. It's a long road ahead, but Ndoni sees it as her duty to give back.
Stylish and slight, Ndoni is warm, outgoing and laughs easily. She would be striking anywhere, but seems particularly luminous in the fields in which we photograph her. What made her choose this area of the sciences when she could just as easily have gone into medicine and a lucrative private practice? She laughs – she nearly did choose medicine, she says, but felt drawn to the biological sciences because she was interested in what the environment could do for people. Ndoni is determined to see South Africa succeed, and part of that involves looking at what we need in this country to get where we want to be. 'We still have graduates with a science degree and no jobs, ' she says.
Her advice? 'Learn about the National Development Plan and know where you're placed in the market. Let go of fear and make an effort to develop a relationship with people you think are role models. Establish the area you want to work in as early as possible – is it research in science and academia? The corporate world? Don't wait to get to postgraduate level to decide.'
Last year, Ndoni was awarded the Young African Leaders Initiative Mandela Washington Fellowship and launched her organisation's branch in Belgium. She's also a Greenmatter Fellow and is a student participant at the Southern African Systems Analysis Centre.
So what's next? Finishing her PhD, seeing BWIS expand to other African countries and the rest of the world, and creating an exchange programme for its members, she says.
Ndoni Mcunu means to change the world, one woman at a time.