The Future Is Most Definitely Female
From being the voice against climate change to a game developer helping others understand mental illness and sexual abuse, these five young women prove that no matter your age, you can make a difference.
You'd be forgiven for feeling a bit despondent these days. Between living in a world where we still have to fight for basic women's rights to the rising threat that coal has on the very air we breathe (and that's just at home… let's not even get started on the chaos across the border and seas), things haven't exactly been rosy. But as hard as things seem right now, don't lose hope just yet. Despite their age, these young people are already making a difference in the world (or even just their 'hoods) and we're taking notes. For some much-needed inspiration, keep reading…
STANDING TALL IN A SEA OF DENIAL
YOLA MGOGWANA
Eleven-year-old Yola Mgogwana carries the weight of the world on her shoulders. As an outspoken climate change activist, she can see the effect we have had on the planet, and she's not happy about it. 'Our weather is not normal – one day it is hot, the next day it's raining heavily. It's a huge problem for farmers, and floods wash away houses, leaving poor families without homes.'
The learner from Yomelela Primary School in Khayelitsha, Cape Town, began her crusade in January this year when she joined the Eco Warriors, an environmental club led by Earthchild Project Environmental Coordinator, Xoli Fuyani. 'Ms Xoli told us Mother Earth is on fire and our future is in crisis,' she recalls. 'I was angry that in my 11 years of existence, no one – not even my teachers – told me about this crisis. That made me determined to act.'
Since then, she has been featured in news stories around the globe, and at the first Global Climate Strike on 15 March she stood on the steps of Parliament in front of 2000 of her fellow learners to deliver a powerful message: 'We are the future. It starts with us.'
Since joining Eco-Warriors, Yola uses her voice and actions to inspire others to stop hurting the planet and do their part. In her community she's not afraid to call out those who litter and spends her downtime collecting plastic to make ecobricks. At school, she and her fellow Eco-Warriors monitor their school's water use and electricity, and tend the organic vegetable garden. In her free time, Yola also does the kind of things other 11-year-olds are into, such as watching movies and listening to music with her friends. But when African Climate Alliance approached Eco-Warriors to get involved in the 15 March protest, she knew there was only one answer. 'I needed to represent the voices of black youth from under-resourced communities in Cape Town.'
The outspoken learner says she'll continue to march, sing and shout for her right to a sustainable future: 'I dream that one day I'll live on a planet that is clean and only uses renewable energy.'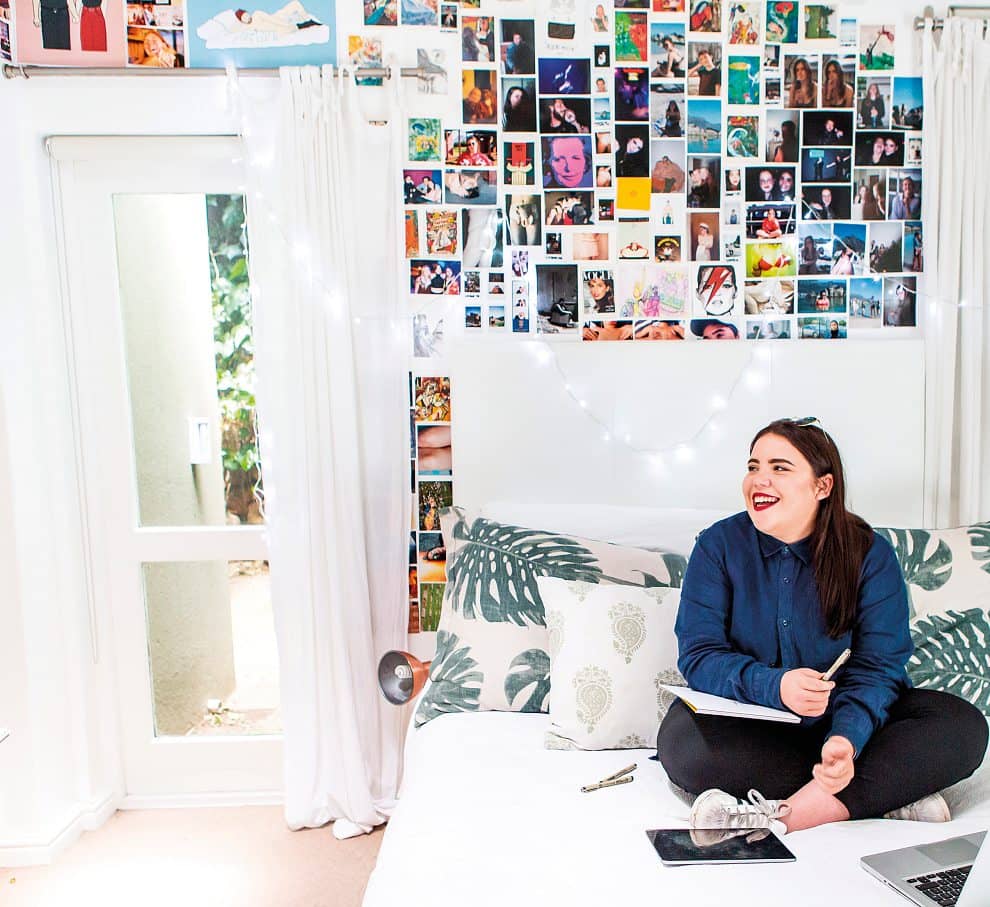 LET'S TALK ABOUT SEXTEEN
MILLA PEERUTIN
Instagram: sexteenmagazine
Milla Peerutin comes from a long line of strong women. The Raphaelys have shaped SA's magazine industry, and Milla herself made headlines at the age of nine when she single-handedly sold hundreds of muffins to raise money for a Christmas party for kids at the Red Cross Children's Hospital.
But when Milla was 16, her then-boyfriend made some horrendous comments at a time of intimacy and vulnerability, and she found herself fixated on his words. 'I started doodling and illustrating his comments and some girls from school saw them and shared their own experiences with me,' she says. She showed her mom the quotes, both the terrible things guys had said, and the beautiful ones. 'My mom suggested that my message should be seen by the widest possible audiences.'
Continue Reading with Magzter GOLD
Log-in, if you are already a subscriber
Get unlimited access to thousands of curated premium stories and 5,000+ magazines
READ THE ENTIRE ISSUE
December 2019