Rachel Hunter "Why I'm Never Alone"
Returning to her spiritual home of India ahead of her 50th birthday, Rachel Hunter invited The Australian Women's Weekly to join her. Over several days in the colourful region of Rajasthan, the Kiwi icon bared her soul, giving her most intimate interview. She tells Emma Clifton about heartbreak, the beauty of ageing and why women shouldn't fear being alone.
I can only assume that when Charles Dickens wrote the sentence, "It was the best of times, it was the worst of times," he was also attempting to do a magazine cover shoot in India during the hottest week on record. A small team of us have descended upon Rajasthan, the colourful, soulful heart of the country, to celebrate the release of Rachel Hunter's debut book – part travel diary, part wellness manual, based on her life-altering experience shooting the first series of her TV show Tour of Beauty.
It was a job that not only changed Rachel's direction in life, but also introduced her to India – a country that has held a special place in her heart ever since. So of course, where else could we shoot our cover for this very special issue?
As we set up to do the very first shot with Rachel, a quick succession of unexpected yet hilarious events begins, each of which makes it clear that this will be shoot unlike any other.
Our week in India turns into the one that breaks all previous temperature records. So hot that mandatory curfews are enforced in parts of Delhi. So hot that water starts to run out. So hot that every local we chat to chastises us for picking the worst week possible to visit Rajasthan. So hot, in fact, that we can only shoot from 5am to 8am, or late in the evening, or we risk heatstroke.
Our team of five are in a turret perched on the far corner of an old Indian fort, with Rachel – in full halo hair glory – in front of the camera. It is 7pm and approaching magic hour, the sudden burst of golden light that makes everything look like, well, magic. But while the light is slowly fading, the temperature is not; even at dusk, it's still a stifling 39°C. It's so hot, in fact, that our photographer's camera shuts itself down and needs to be rested on an airconditioning unit. A warm wind buffers the turret as all eyes track Rachel moving gracefully in front of the camera, a supermodel at work. And then, out of the corner of my eye, I see it. A large monkey is making its way towards us along the very edge of the palace's roof. We have been warned of the monkeys – well-trained around tourists, they like to steal your stuff. Slowly, quietly, the non-supermodels among us start gathering up phones, sunglasses, spare camera parts without a) alerting the monkey that we're onto him or b) disturbing the shoot going on behind us. We go to shift everything inside only to realise that we've been accidentally locked out and are now stuck in the turret. Then, with perfect only-in-a-movie timing, there's a power cut.
"India beats the ego right out of you," Rachel says later on, sitting on a hotel bed. "There's a beautiful way that plays out in India. We all take things so seriously but there's this great play that happens. That's India – there are cows standing in the middle of the street. You turn the corner and you see something totally heart-wrenching and then you turn another corner and see something beautiful – and within both of those moments, there's a kindness of the heart. You come here, you have arrived at your destination, the process that unfolds is your path. That's the beauty of India."
There are more moments that verify this than can be counted during our week-long shoot, one of the most memorable being on the streets of Jaipur one day at 5.30am. We are up early to beat the crowds and Rachel is standing in front of the famous city gates, dusky pink in the early morning sun, when a young cow comes up and starts nuzzling her. It's a delightful moment, and Rachel leans in close for a cuddle – the rule, 'Don't touch the animals in case of rabies,' is something she breaks about 12 times an hour. Then, just as our photographer snaps a postcard-perfect shot, the cow head-butts Rachel, hard, right in the crotch. She starts laughing.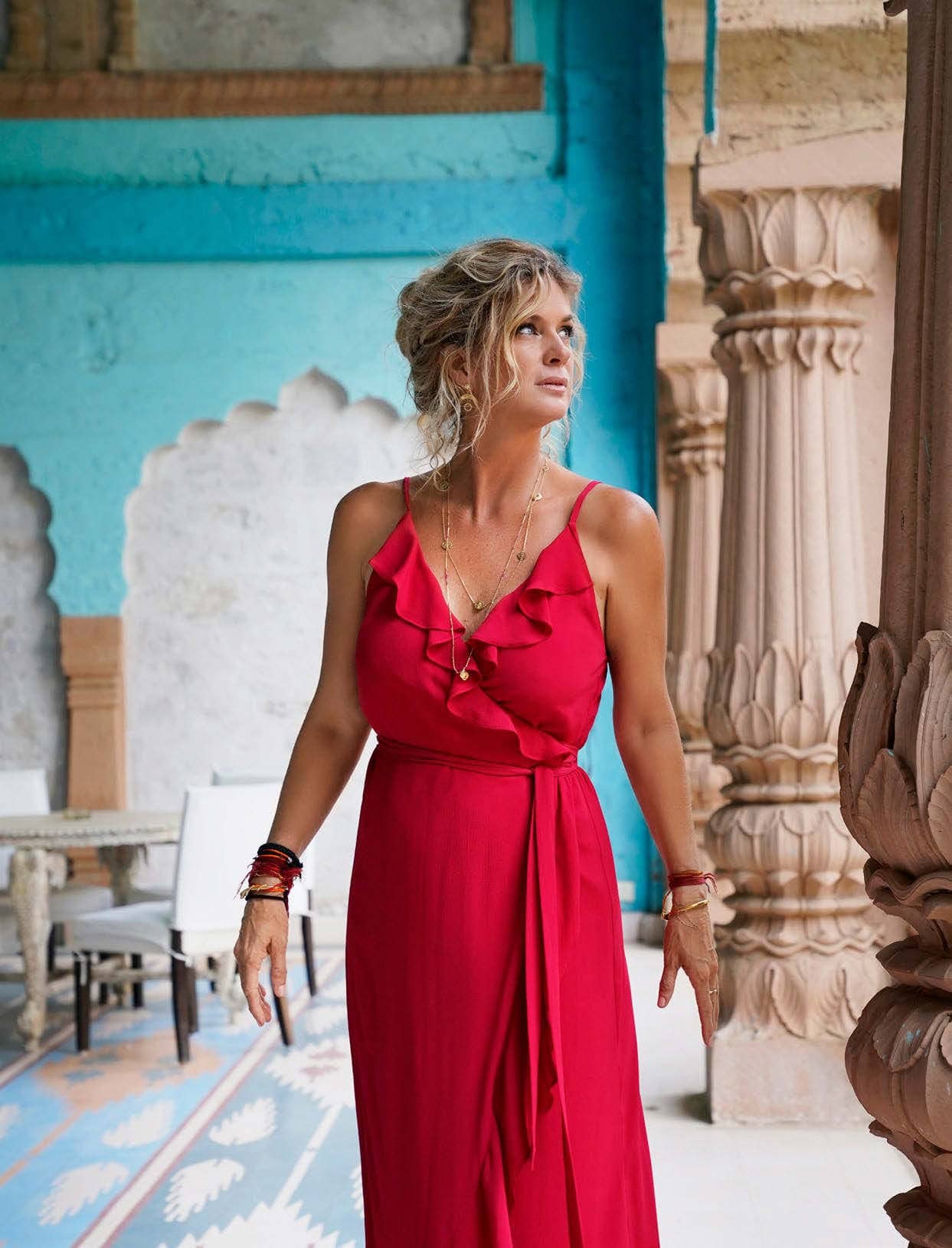 Life lessons
You can read upto 3 premium stories before you subscribe to Magzter GOLD
Log-in, if you are already a subscriber
Get unlimited access to thousands of curated premium stories and 5,000+ magazines
READ THE ENTIRE ISSUE
October 2019