Petra & Judi Bagust: Finding The Joy
Broadcaster Petra Bagust and her mum talk to Emma Clifton about moving in together, going back to school, and finding the courage to be vulnerable.
There is a Maori proverb that reads: 'He waka eke noa'. The literal translation is 'the canoe which we are all in without exception' but the general spirit is 'we're all in this together'. It's a saying about connection, about how no one can get through life alone, and it's a theme Petra Bagust and her mother Judi have found repeated over and over again, both in their lives and in their learnings. For the past three years, the pair have been studying Te Reo Maori, a passion project for both of them that quickly became something bigger than just learning a new skill.
"Both of us have discovered a deep joy in, what I would call, a life-expanding experience of seeing the world from a different perspective," Petra says. "If you cover one eye, you can see quite a lot but your idea of where things are and how things are placed is quite impaired. With both eyes, we have this ability to have a clearer focal range and see things in a more complex way. When the European world view is put alongside the Maori world view, there's this incredible addition to life."
That idea of community and connection is always important, but has come at a critical time for Petra and Judi, as they battle through one of their most personal journeys yet. In this exclusive interview with The Australian Women's Weekly, the pair open up about family, vulnerability and why stepping into Te Reo Maori has helped them step into their own authenticity (and yes, that includes going silver for Petra).
A kinder approach
Petra and I are sitting in her living room on a sunny but chilly spring morning, with a fire roaring in the background and Petra's husband of 19 years, Hamish, making everyone coffee from the espresso machine. "Hello beautiful," Petra, 47, suddenly bellows, as she hears the front door open and her parents walk in. Judi and her husband Daniel are holding onto each other's arms to help Daniel, who has a newly-acquired walking stick after a fall this year, walk through the house – carefully avoiding Lyla, the world's fluffiest rescue cat, currently sprawled out in the middle of the floor. Judi comes to join us, while Daniel settles in to read in the sun, as Petra talks about one of her favourite topics: kindness.
"I think all women need to be kinder to themselves," she says. "I see women all the time and we hold ourselves to a very high standard, and I think we cut ourselves down quicker than anyone else. But thanks to the work from sensational people like Brené Brown, vulnerability is now seen as a key to good mental health."
The night before our interview, Judi, Petra and her daughter Venetia, 16, were all at New Zealand Fashion Week, three generations of very stylish women. Given the importance of allowing women the space to be kind to themselves, how does Petra find raising a daughter (as well as sons Jude, 14, and Theo, 12) to not be too quick to self-judge?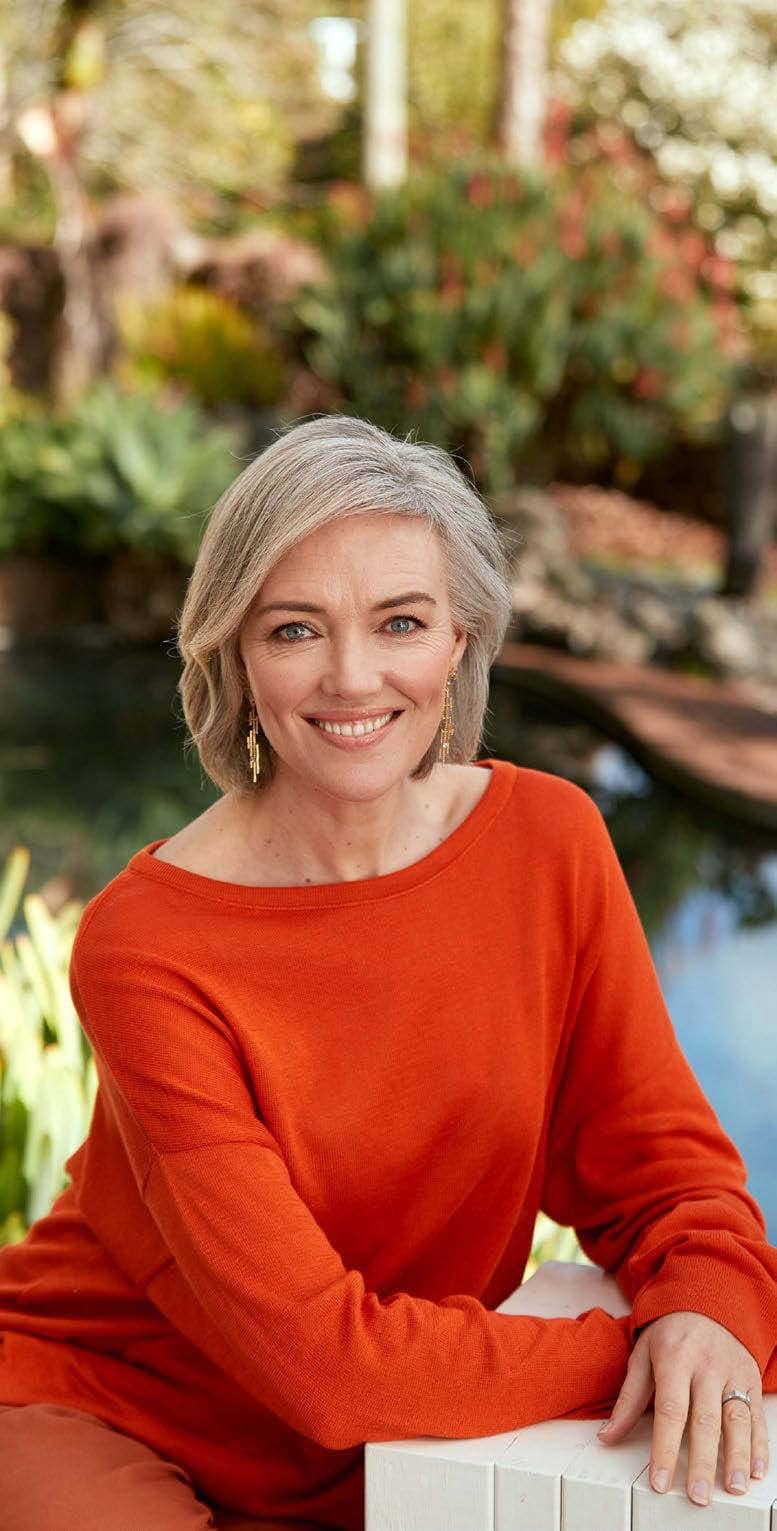 "Essentially, you need to practise what you preach," she says. "Because unfortunately, it turns out it's true – our children don't listen to what we say as much as they look at what we do. So the true challenge for me, and I use the word 'wero' a lot now, in terms of challenge, the true wero for me in terms of mother/ daughter relationships is to be the kind of mother, woman and person that I aspire for my daughter to become."
Part of this has included taking the plunge and undertaking the intensive Te Reo Maori language course with Judi. Going back to school as fully grown adults was not an easy task for either of them. There is a lot of life to juggle in order to find the time, plus the actual learning itself.
"I find it confronting, not knowing the answers," Petra says. "There's a lot to let go of in learning a language. But that's why you're there – you're there as a student of the language. But it's hard – I remember saying a word once and I was probably corrected on my pronunciation 17 times." She laughs. "You just have to take a deep breath and try again."
You can read upto 3 premium stories before you subscribe to Magzter GOLD
Log-in, if you are already a subscriber
Get unlimited access to thousands of curated premium stories and 5,000+ magazines
READ THE ENTIRE ISSUE
October 2019