Mother courage
Australian Women's Weekly NZ|June 2020
Merle Thornton is a battler, an academic, an author and a woman who has made history. She and her screen star daughter Sigrid discuss their deep and complex mother-daughter bond with Jenny Brown.
As a little girl, Sigrid Thornton was blithely unaware of the vicious death threats targeting her family. Aged six, she was still too young to realise the police cars parked in their quiet suburban street were lurking to protect her radical parents from their political enemies.
It was March 1965, and Sigrid's feisty, outspoken, audacious mother was making national news – and becoming a feminist icon in the process. Merle Thornton and friend Ro Bogner had sent shockwaves through the establishment after chaining themselves to the bar of Brisbane's landmark Regatta Hotel, demanding that women be allowed to drink there alongside men.
"Mum has never exactly been a shrinking violet," laughs Sigrid, whose iconic roles play like a greatest-hits reel of Australian film and television, from The Man From Snowy River to All The Rivers Run, Seachange, Underbelly, Prisoner and Wentworth. "She has been a fighter all her life and I admire her bravery and dogged determination. I suppose I learned how to be strong and independent from that example, although it's really hard to unpick because the empathy that exists between parent and child is so strong.
"Certainly it's pretty difficult to grow up with such a very, very strong personality without being imbued with some of the same characteristics." Merle nods, approvingly. "It's the age-old thing, isn't it? 'I don't want to be like my mother,' and then realising that I am like my mother and becoming more and more like her as time goes by!"
Sigrid flashes the infectious smile so obviously inherited from Merle, together with forensic intelligence, bone-dry wit, a passion for fairness and that distinctive heart-shaped face. "Back then I didn't fully understand the issues, but I was very aware of the Regatta protest because we were allowed to stay up late and watch Four Corners on telly," the award-winning actor and producer fondly remembers. "I didn't know about the death threats – I vaguely remember a little bit of scuttlebutt about that – because our parents largely tried to protect us from the darker side of what went on.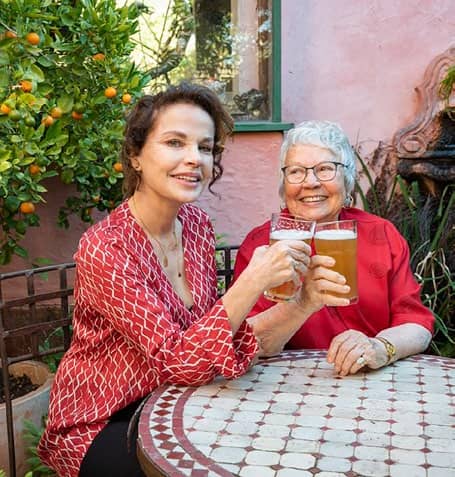 "But growing up in an environment of social activism – not just in terms of women's liberation, but more generally – wasn't always the easiest thing. It's a natural response for small children whose parents are out there doing things for other people to think, 'What about me?' although that wasn't exclusive to being the daughter of a feminist. It would have been exactly the same had Mum been a brain surgeon."
In The Weekly's light-filled studio before the COVID-19 shutdown, a small legion of stylists, publicists and hair and make-up artists are fussing over Sigrid's diminutive figure. She is businesslike and charming, yet her focus keeps defaulting to Merle who is pacing nearby, waiting for the shoot to begin. "Mum, darling, sit down," her daughter chides with obvious affection. "You were up before dawn and you're going to be standing for a very long time today. We don't want to wear you out."
Merle, however, is made of sterner stuff. Now aged 89, the redoubtable writer and former teacher – who introduced a ground-breaking women's studies course at The University of Queensland – shows scant sign of slowing down and has just released a compelling new memoir, Bringing the Fight, a firebrand feminist's life of defiance and determination.
As her book reveals, the fearless mother-of-two fiercely battled injustice wherever she found it. And in Premier Joh Bjelke-Petersen's notoriously oppressive Queensland – where public bars remained 'men only' havens until 1970 – there was a cornucopia of discrimination to be set right.
You can read up to 3 premium stories before you subscribe to Magzter GOLD
Log in, if you are already a subscriber
Get unlimited access to thousands of curated premium stories and 5,000+ magazines
READ THE ENTIRE ISSUE
June 2020