The Beauty Traps
Scottish Wedding Directory
|
Summer 2017
GETT ING THE 'BR IDAL' LOOK OFTEN MEANS GROWING YOUR HA IR AND H ITT ING THE FAKE TAN . KAT IE BLETCHER SPEAKS TO THE BR IDES WHO DEC IDED NOT TO FOLLOW THE RULES !
"You can always tell a woman's getting married when she starts to grow her hair." Those words from a former colleague have stuck with me. After ditching my regular trims in a bid to have flowing bridal tresses, I ended up sporting an up-do on my own big day – then promptly went to the hairdresser to get my usual bob and fringe back the minute I returned from honeymoon. And I know I'm not alone.
Even the most self-assured of us – those of us who know exactly what we suit and have our personal style nailed – have a bit of a wobble when preparing to step into the role of a bride. When you're suddenly immersed in a world of very defined fashion and beauty norms, there's a certain amount of pressure to conform to them. But why should we apply fake tan, grow our hair, wear heels or ditch our specs when we wouldn't do it on any other given day?
Thankfully, attitudes are changing slowly but surely and more brides than ever are turning a blind eye to tradition and doing their own thing. "Brides' options are much wider now with regards to dress styles (and alterations) available, footwear, head wear, jewellery and obviously hair and make-up styles," says hair and makeup artist Lesley McCormick of Pamper and Polish. "A bride can be as individual as she wants without feeling she is doing something she shouldn't just to conform."
The brides who kept their specs appeal
Laura and Holly Ruddick wear glasses every day and feel their specs are part of their image, so they decided not to swap them out for contact lenses when they tied the knot last August: "Neither of us think that glasses detract from beauty," they say.
While Laura did try contacts about six months before the big day, she ultimately decided they weren't for her, and Holly similarly finds them uncomfortable to wear. "I wanted to be as comfortable and relaxed as possible on the day," she explains.
The brides chose Mitchell & Macinnes Makeup to do their wedding make-up and after their trials trusted them to deliver perfect looks for the big day. "I wanted my eye make-up to be a little heavier than I would wear day-to-day so that it would stand out a bit better," says Laura. Holly adds, "I had my make-up similar to how I wear it every day so I knew how it would look with my glasses."
Both women think there's a pressure for brides to look a certain way on their big day but ultimately, they didn't buy into it. "We definitely didn't follow any traditions or trends," they say. "We just did everything the way we wanted it to be."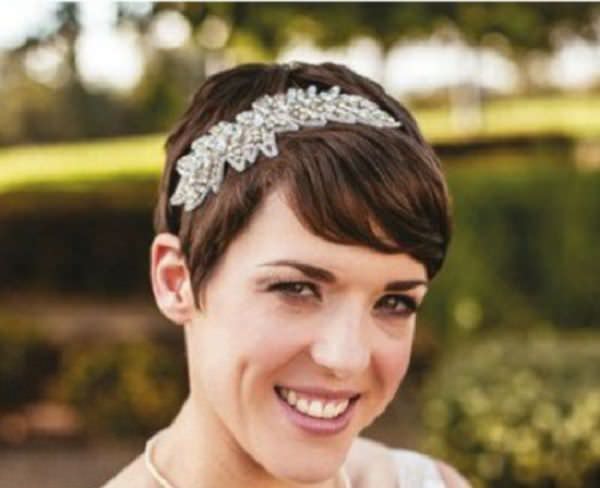 The bride who didn't grow her hair
You can read up to 3 premium stories before you subscribe to Magzter GOLD
Log in, if you are already a subscriber
Get unlimited access to thousands of curated premium stories, newspapers and 5,000+ magazines
READ THE ENTIRE ISSUE
Summer 2017