We Are People, Not Mountains
go! - South Africa
|
August 2020
How do you make a living in the furthest, driest reaches of Bushmanland?
I pause in Steinkopf to refuel the Renault Duster, then I proceed north on the N7, passing Eenrietberg just outside town. Beyond that, I turn right onto a wide, sandy road to Henkries. Close to Henkries, water is pumped from the Orange River. From there, for nearly 250 km, a pipeline provides water to nearly all the towns in this part of the Northern Cape: Steinkopf, Springbok, even distant Kleinzee. I pass construction vehicles – the pipeline, originally built in record time back in 1973, is currently being replaced for most of its length.
After a while I stop and get out. A hot wind blows. I walk towards a rondavel-sized quiver tree, 50 m away. It's the only thing taller than calf height. It's late January and bone dry, even for Bushmanland.
The quiver tree says nothing, and it says everything. I cup an ear to its trunk; there's a heartbeat deep down inside. I whisper something to it, and return to the car. I pass a place called Doornwater – a booster pump station on the pipeline. Not a soul.
Before I reach Henkries, I turn right towards Goodhouse, a small settlement next to the Orange River.
A few years ago I travelled through here with 4x4 guide Rey Janse van Rensburg. That day we stopped and ate lunch in the shade of a shepherd's tree. Shepherds appeared with their flock of sheep and goats, watering them at a trough. I walked over and met Iky Engelbrecht, a Steinkopf-based farmer. I decided then I would return one day to see how on earth people like Iky manage to survive in this semi-desert.
And here I am.
I'm not meeting Iky in Goodhouse – he and his livestock are too far off the beaten track; I'd never reach them in the Duster. But through Johanna, Iky's wife who lives in Steinkopf, I have set up a meeting with another well-known farmer called Jasper Cloete, also known as Oom Vick, or Vicky Jasper.
Jasper is currently encamped near Goodhouse. This whole area is communal land where farmers from Steinkopf lease grazing rights.
I scan the landscape for signs of life but see none. Just heat waves, rising from stubby, hardy grass called gha. How can anyone farm here?
Suddenly I spot a human silhouette, off to the left, 200 m away. I stop and wait for the sock of dust to pass over the vehicle before I get out.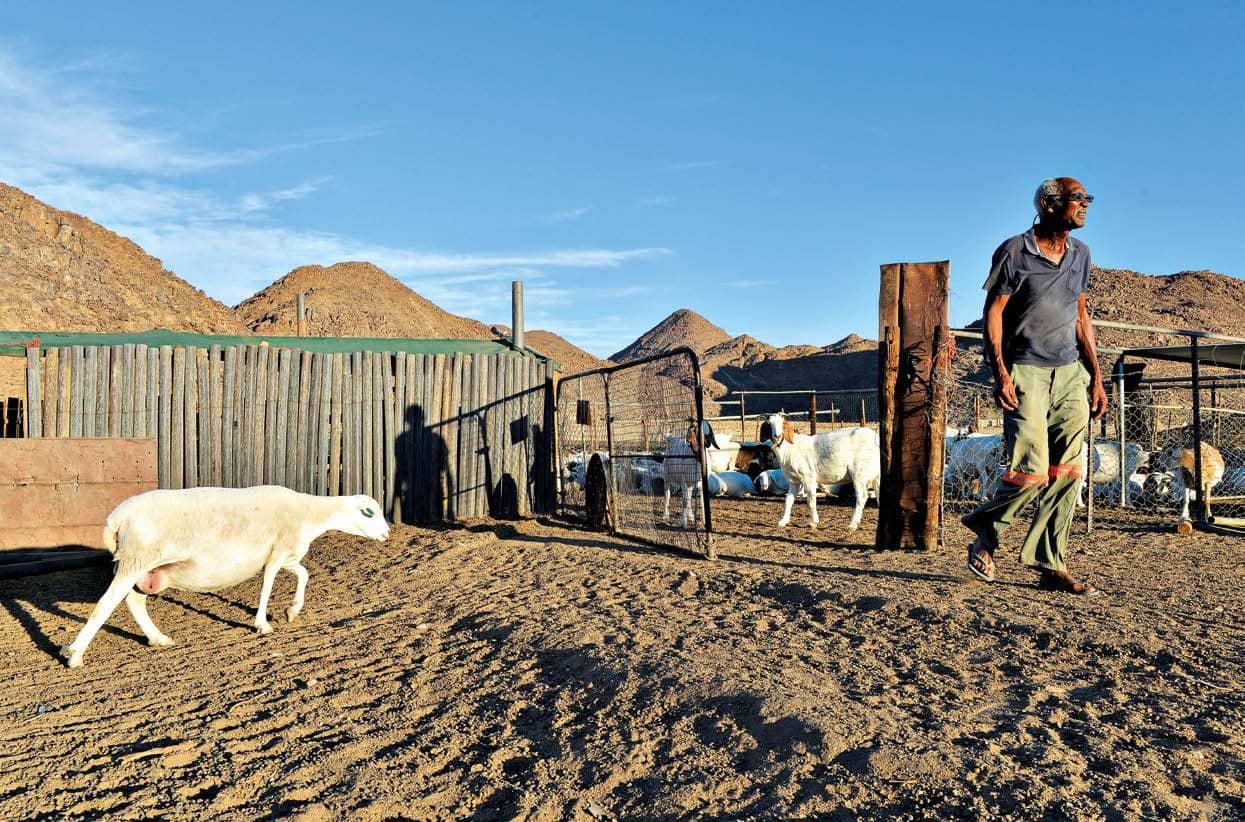 Meet Kado
Rikardo Markus is 31 years old. People call him Kado, he tells me. People? I look around. Is there anyone to call you any name out here?
He laughs. "No, there is someone," Kado says. He has a shy, gentle smile. There's another shepherd who is currently encamped next to his stand, his staning. He points in the direction where I'm driving. "Ghagoup Kop," he says.
I can see the hillock, also called Tagous, simmering like lava in the distance.
"If you continue with the Bloupad, then you drive right past our staning."
The Bloupad? It's the road I'm on, I learn.
Kado patiently answers my questions. The livestock under his care belong to a teacher from Steinkopf called Bertus Yster. There are 250 swartskape (karakul) and 76 goats. An important part of Kado's job is to know exactly how many of each. How does he know if one has gone missing? "I just know," he says. "I look at them and I know."
He has two children and a girlfriend in town. Sometimes she comes to visit. He works for three months, then he gets eight days off, or sometimes two weeks. If he needs it, he takes a month's leave. The pay is poor but there is no work in Steinkopf.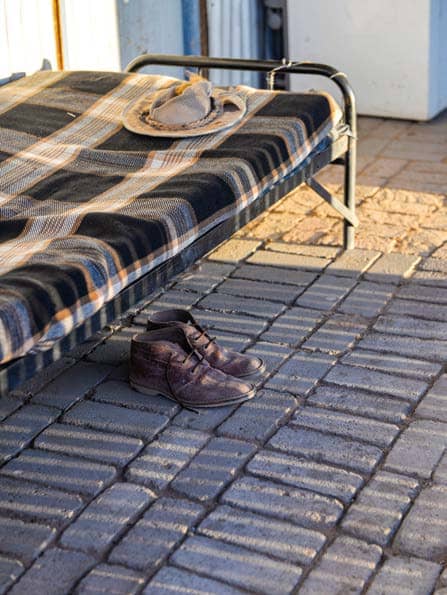 What do the animals eat? I ask, because to my eye there's nothing green here, yet the sheep and goats appear to be in good condition.
"The gha grass can be very good," he says. "But right now it's too dry." He points to the flimsy tree next to us. It's a green-hair tree, or lemoendoring in Afrikaans. Kado knows it by its Nama name, t'ha, which is pronounced like "nca", as in nice. "The animals love its pods, especially the goats."
There is nothing green on the greenhair tree. It looks like a cartoon character that received an electric shock. In its threadbare shade lie two sand-coloured dogs, Bassie and! Gais. By our feet is a delicate, grey puddle of ash, already leaking into the wind. Minutes ago, Kado made a tiny fire here, heating water for his tea in a tin. I think of Kado's carbon footprint – it is literally the size of a side plate, that spot of ash.
"What do you eat out here?"
Kado laughs, because I'm asking stupid questions. "Bertus Yster brings me food. Tonight I might eat spaghetti or rice, and add a tin of something. I also bake my own broodjies."
By day he carries four litres of water and sandwiches. Where did the animals drink today? Nowhere, they only drink every second day. I'm amazed – I didn't know this was possible. Where? Kado points towards Henkries. Apparently, water is released from a purification plant there when they clean the filters – the waste water is used by shepherds to water their stock.
I ask if we can meet there the next day. "It's only mountains that can never meet again," Kado says, seeing the doubt in my eyes. "People can always meet again."
It's 4.40 pm and time for him to start heading to his staning. His animals have already assumed a streamlined formation and started a steady plod. They know the way.
Kado greets me and turns, Bassie and !Gais in his wake. The landscape doesn't "swallow" them, as the cliché goes. It's the opposite: If I stood here for another 15 minutes, I'd still be able to see them. If I put up a lifesaver's chair right here and sat in it, I'd probably be able to see Kado all day long.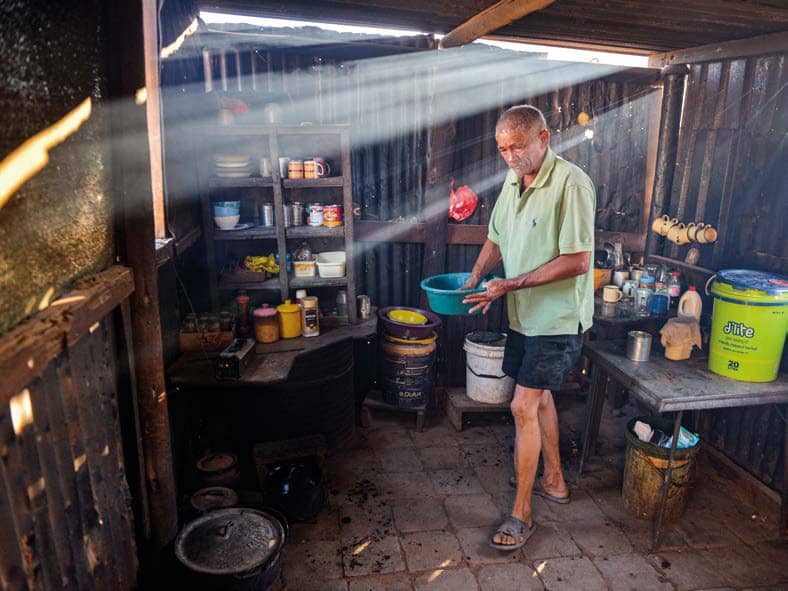 Goodhouse
Back in the Duster, the corrugations quickly turn to hard, blue gravel (hence, Bloupad) that threaten to rip the car asunder. I go slowly, manage not to lose a tyre, and reach a bigger road where I turn left to Goodhouse.
This road is easy. It draws me out of the open plains into the rocky mountains, many of which are inselbergs – isolated koppies that remind me of pyramids bulldozed into place. The landscape continues its gentle fall towards the Orange River. If you put down a soccer ball here, it would roll for hours.
I can already see the green ribbon where I know the water of the Orange River flows. But where the hell is Goodhouse? It's the only thing that's meant to be here, yet I can't see it. When the road forks, I go right.
A place appears: a cemetery, kraals, some ruins, and a low, zinc-roofed house. I stop just beyond the house, where the road ends. I get out and walk to the river. On the other side – in Namibia – is a farm called Hakiesdoorn where green lucerne, crop circles and a plantation of young date palms proclaim prosperity.
On this side of the river, there is none of that. There used to be a paprika project in the early 2000s, but it barely lasted two years before falling apart.
You can read up to 3 premium stories before you subscribe to Magzter GOLD
Log in, if you are already a subscriber
Get unlimited access to thousands of curated premium stories, newspapers and 5,000+ magazines
READ THE ENTIRE ISSUE
August 2020