Wathaba Next Weekend?
go! - South Africa
|
October/November 2020
Kick-off your boots and dip your toes in the Schoonspruit as it burbles past your camp at Wathaba Hiking Trails. There are two-day routes in the Skurweberg mountains – a great weekend escape for friends and family.
Wathaba means "to be delighted" in isiZulu. What a great name for a hiking destination: Rambling along past waterfalls and trekking through forests also makes me happy! But what about Skurweberg, which means "rough mountains"? That one's a bit of a misnomer: The hilly landscape in Mpumalanga between eManzana (Badplaas) and eNtokozweni (Machadodorp) is actually rather pleasant.
There are two circular day trails at Wathaba for moderately fit hikers: the 4km Bosbok Route and the 10km Lynx Loop. Accommodation consists of three rustic river "camps" next to the Schoonspruit, and two self-catering units a bit higher up the mountain that offer a little more luxury. A weekend backpack trail called the Bloutrein is also nearby, connected to a neighbouring farm.
The area has plenty of natural springs and streams, all of which feed the 480km-long Komati River, which flows into Vygeboom Dam and ends up in the Indian Ocean at Maputo Bay.
Wathaba manager and nature conservationist Christia Newbery says there are seven waterfalls on the farm, and most streams flow throughout the year, even during the dry winter months.
Hiking legend and trail builder, Albert Bossert (78), built the Wathaba trails in 2007. He had a small team of men assisting him, but very few lasted until the end. "Two days into working – clearing the path, moving rocks and so on – the men would sneak away for a break, never to return," Christia says. "It was excruciatingly hard work."
Sijila Msitini was the only one of Albert's assistants who stuck it out, and he still works at Wathaba today. "Sijila brush-cuts our trails: It takes him about five days to do the Lynx Loop," Christia says.
Thank you, Sijila, and thanks Albert, for making these mountains so accessible. Gather a group of friends and head to Wathaba for a fun weekend of special scenery and fresh air.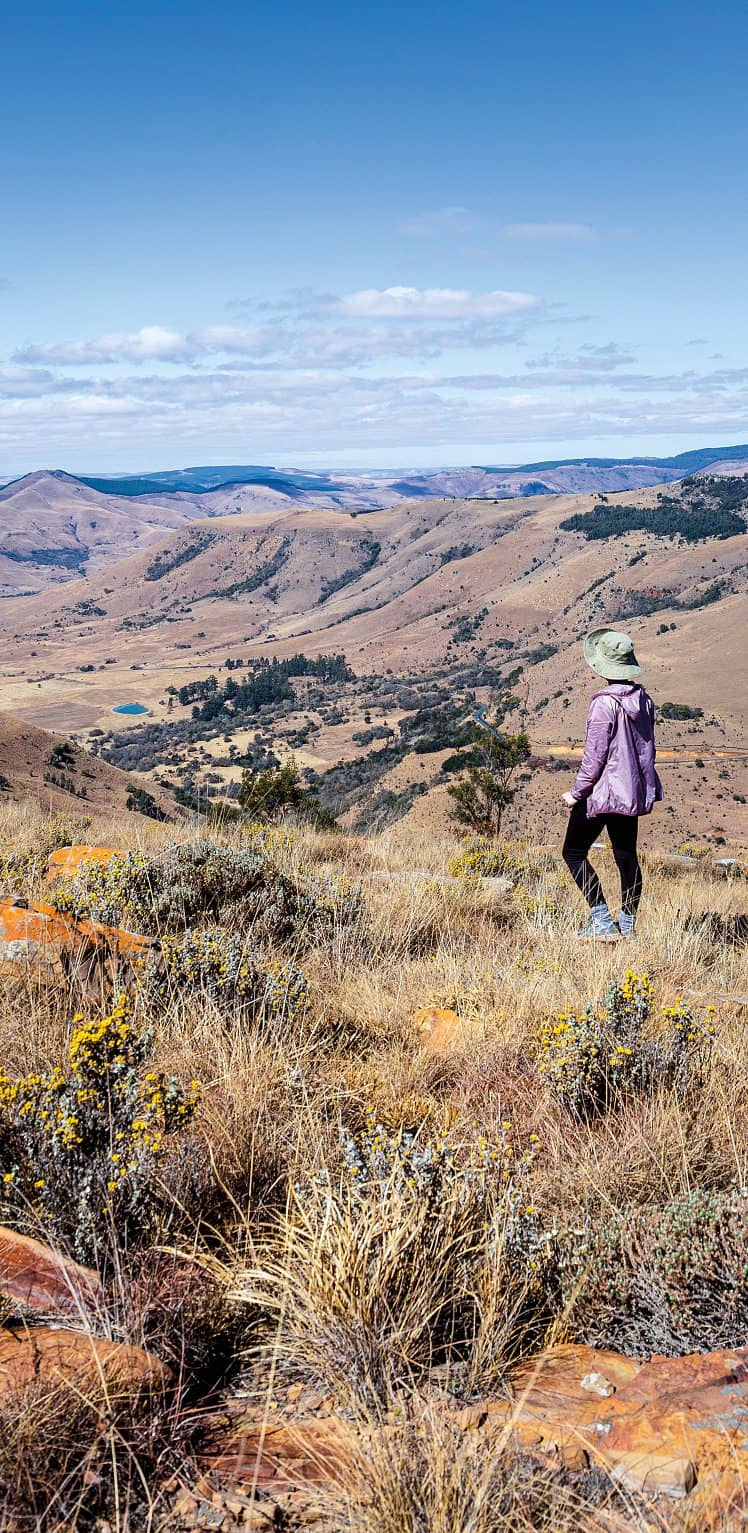 DAY 1 10KM, ABOUT 5 HOURS
Lynx Loop
This trail leads hikers along the Schoonspruit before curving away from the river up a kloof to the plateau. From the top, you clamber back down and out of another kloof, onto a second mountaintop. The path then heads back into the Schoonspruit valley, with a few more hills before you get back to base camp. The route is impeccably marked with cat paws – there's no chance of getting lost.
After following the river for a while, we cross via a wooden bridge called "Stefan se Brug". A short stroll through dense forest leads to two more bridges – one over "Fertility Falls" and the next leading to a lookout point where water cascades down the rocks at your feet and aloes dot the slopes in the distance.
Many of the trees along the trail are marked: Krantz quar, blue guarri, white candlewood and cabbage trees abound. You will also notice countless black wattles on the farm: Christia is in a never-ending battle against these invasive trees, which she fells for her firewood business. Even though they guzzle the precious water supply, they do provide pretty pockets of shade to meander through, especially when their yellow flowers are in bloom.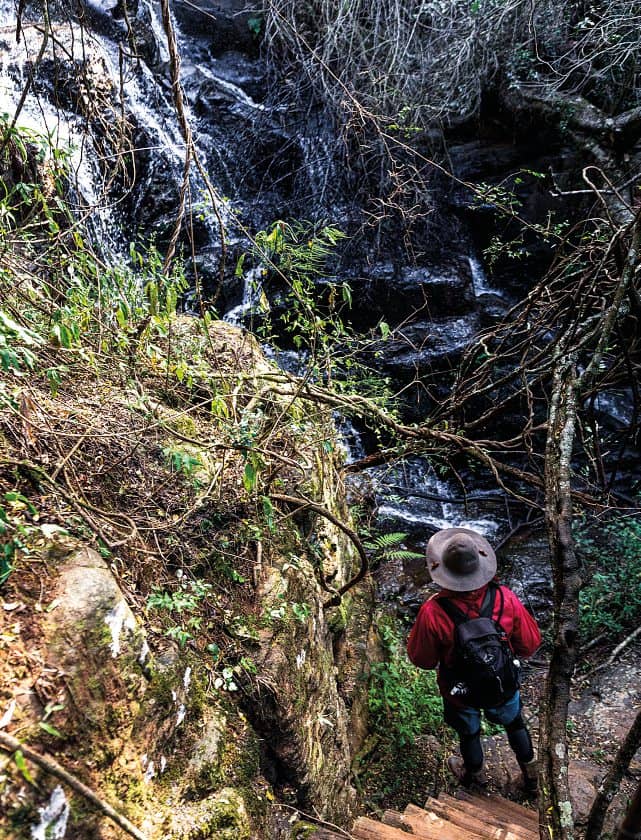 Shortly after the 1km mark, we cross the "Cabbage Tree Bridge", following the stream up to a place where more water gushes over rocky steps. We climb and enter a wattle bush, squeeze through a gap between some boulders and a tall ironwood tree, before following zig-zagging ladders down to a waterfall. The ladders seem to mimic the cascades in the rocky ravine.
We pass a sign indicating a shortcut to the 10-sleeper cottage Bloubos Retreat, then we climb further up the mountain, through "Lynx Valley" where we spot some droppings indicating the elusive caracal's presence.
You can read up to 3 premium stories before you subscribe to Magzter GOLD
Log in, if you are already a subscriber
Get unlimited access to thousands of curated premium stories, newspapers and 5,000+ magazines
READ THE ENTIRE ISSUE
October/November 2020