Good, Lekker, Lamb!
go! - South Africa
|
October/November 2020
Balmy nights call for family dinners in the garden. Do your prep for these recipes the night before, then all you need to do is light the fire and enjoy.
Lamb potjie with green veggies
Serves 6
Preparation time 20 minutes Cooking time 2hours,30minutes
You need
2 tablespoons olive oil
1,5kg lamb shank or neck slices
1 big onion, in wedges
about 12 baby carrots
¼glasswhitewine
saltand pepper, to taste
3 cloves of garlic, finely chopped
2bay leaves
few sprigs of thyme
1tablespoonflour
2 cups vegetable stock
1 cup peas (fresh or frozen)
200g green beans halved
grated zest of 1 lemon
Here'show
1 Heat the oil in a heavy-bottomed pot and fry the meat until brown. Remove the meat, retain the fat in the pot, andsautéthe onion and carrots until glossy. Add the wine and use a wooden spatula to deglaze the pot.
2 Return the meat to the pot and season with salt, pepper and your favourite meat spices. Add the garlic, herbs and flour, followed by the stock. Cover the pot with the lid and simmer over the coals for about 2hours –put a few coals on top of the lid. (You can also simmer the pot in apreheatedovenat160°C.)
3 Remove the lid, add the peas and beans and reduce the liquid until the vegetables are cooked and the sauce has reached your preferred thickness. Add lemon zest to taste and serve with your favourite starch. For a fresh taste, scatter mint leaves on top.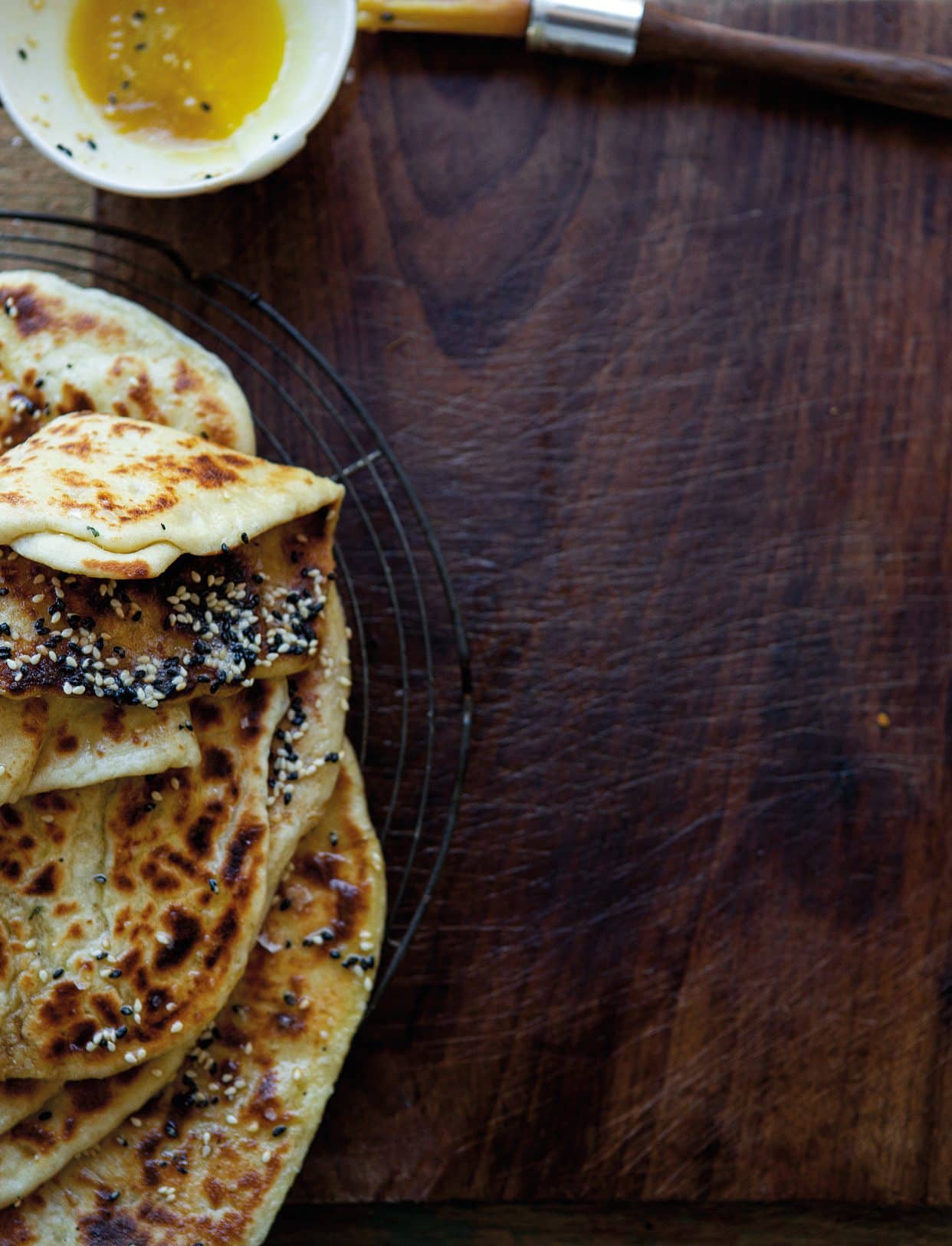 Flatbread with sesame butter
Makes 12
Preparation time 20 minutes, plus rising time
Cooking time about4minutes per flatbread
You need
3 cups flour, plus extra
8ginstantyeast
1 teaspoon sugar
½ teaspoon salt
1 cup milk
2tablespoons olive oil
3tablespoons plain yoghurt
about 3 tablespoons olive oil
3tablespoons butter, melted
1 teaspoon sesame seeds, toasted
Here'show
1 Mix the flour, yeast, sugar and salt together. Beat the milk, olive oil and yoghurt together and slowly add it to the flour until it becomes too thick to stir with a spoon.Put the dough on a clean surface and knead until smooth and elastic –about 8 minutes. Grease a mixing bowl with a little oil and add the dough. Set aside to double in volume.
2 Turn the dough out onto a clean work surface, flatten and cut it into 12 even-sized portions. Using a rolling pin, flatten each piece into around flatbreadofabout5mm thick.Set aside to rise for 5–10 minutes before you remove the pieces from the work surface.
You can read up to 3 premium stories before you subscribe to Magzter GOLD
Log in, if you are already a subscriber
Get unlimited access to thousands of curated premium stories, newspapers and 5,000+ magazines
READ THE ENTIRE ISSUE
October/November 2020