Getting muddy in Uganda
go! - South Africa
|
February 2020
After 16 months on the road between France and South Africa, the intrepid Gurneys spend a month in beguiling Uganda.
PATRICK, MARIE & CALLUM GURNEY
Uganda is big enough to get lost in, yet small enough to get around. It offers a variety of habitats: mountains, lakes, waterfalls, wetlands and savannah. We spent a month getting to know this surprising country.

We collected our son Callum (18) from the airport in Kigali, Rwanda, and drove north to Uganda. The tiny Cyanika border post was really efficient despite the mandatory Ebola checks: Your body temperature is measured, and you have to wash your hands and disinfect your shoes.

Soon we were in Uganda and heading to our first destination: Mgahinga Gorilla National Park.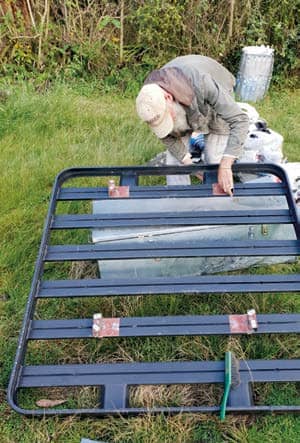 Primates and fungi
Mgahinga Gorilla National Park is part of a transfrontier park with neighbouring conservation areas in Rwanda and the DRC. Unlike the more famous Bwindi Impenetrable National Park, which has 12 habituated groups of mountain gorillas, there is only one group at Mgahinga that tourists can visit. We chose Mgahinga for two reasons: The trekking is easier due to flatter, more open terrain, and there are fewer tourists.
The road to Mgahinga was rather pitted with holes, making it a longer drive than anticipated. After three hours (covering 100 km) we finally arrived at park HQ and set up camp. No camping for Callum – we got him a room.
The following day at 7.30 am, we were briefed and set offin a group of six tourists, with an entourage of guides and trackers nearly double that number.
After about half an hour of walking, we found the habituated group of 10 gorillas and we sat with them for just over an hour while they foraged, groomed and played. They were much bigger than I had expected – the head honcho silverback had an enormous, one-metre shoulder width! With bodies of pure muscle, they don't really know their own strength. Callum, being a big lad, easily withstood a playful bump by a male gorilla, but a much lighter woman in our group was flung to the ground when bumped into. The male responsible was called Mafia, and our guide told us that during the habituation period (which took three years – during this time only the guides visit the gorillas) he tossed guides all over the place.
The other star of the show was a Jackson's three-horned chameleon – it truly looks like a miniature dinosaur! We snapped a few photos and headed back to camp for lunch.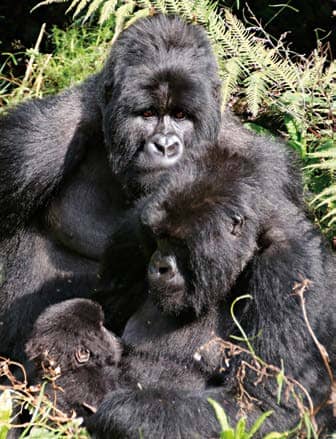 After the terrible road coming into Uganda, I quickly checked the roof-rack brackets – one had broken on the roads in Tanzania. To my horror, I saw that three brackets had failed with only one good bracket left! How the roof rack had stayed on was anyone's guess.
I took a motorbike taxi into the nearest town, 12 km away, and found a bush mechanic – or a "fundi" as any trade specialist is called here – who managed to fabricate four brackets out of old angle iron. Back at camp, we fitted the brackets and they've since lasted some 2 500 km on awful roads.
We drove from Mgahinga to Bwindi, passing through mountain villages and tea plantations, on an endlessly winding dirt road. It was only 50 km but took almost three hours.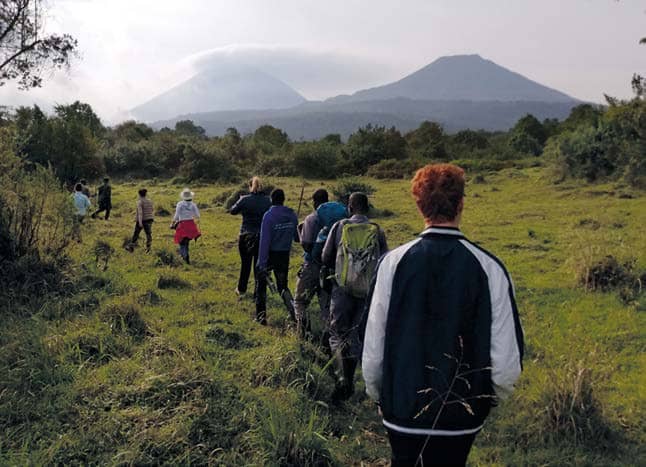 Bwindi Impenetrable Forest… The name says it all! One of Africa's more ancient habitats is home to the largest population (about 400) of the world's mountain gorillas. There are also 350 bird species, 11 other primate species, elusive forest elephants, golden cats, wild hogs…
However, Callum was especially interested in the smaller things like insects, fungi and plant life. The guides were speechless – their training had never focused on these "less important" elements, and they weren't equipped to answer most of our questions. They were just as amazed as we were by everything we decided to look at.
We went on two nature walks (US$70/R1 025 per person) in Bwindi. We stayed just outside the Rushaga Gate in the south, at Ichumbi Gorilla Lodge. The lodge was a welcome luxury after camping, but it wasn't cheap.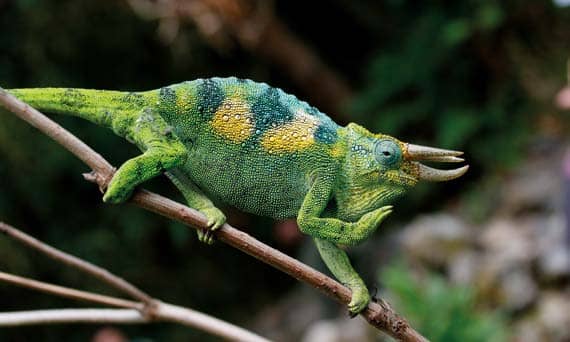 You can read up to 3 premium stories before you subscribe to Magzter GOLD
Log in, if you are already a subscriber
Get unlimited access to thousands of curated premium stories, newspapers and 5,000+ magazines
READ THE ENTIRE ISSUE
February 2020