Beachcomber's Paradise
go! - South Africa
|
August 2020
The Southern Cape coast was not only a home for our ancestors, it also provided the creative spark for the world's first abstract work of art. Thousands of years later, the coastline continues to inspire. Come hike the Alikreukel Trail, from Blombosch to Still Bay.
Walking is good for you. It's even better when you can do it outside, and it's best in an unspoilt environment – mountains, bushveld or desert. But a hike along the beach, through coastal fynbos, is my favourite.
It's a buffet for the senses. You smell the salt on the breeze, ripe kelp, fynbos herbs and the honeyed scent of white bristle bush. Sand and shells crunch underfoot while seagulls struggle to make themselves heard above the crashing waves. It doesn't take you long to fall behind your hiking partners as you take photos of every bit of beauty around you.
After a while, though, you forget about your camera as the sea air purifies your brain. The German philosopher-poet Friedrich Nietzsche said it best: "All truly great thoughts are conceived while walking."
And it's on the ancient coastal paths of the four-day Alikreukel Trail where humans had their first truly great thoughts 70 000 years ago.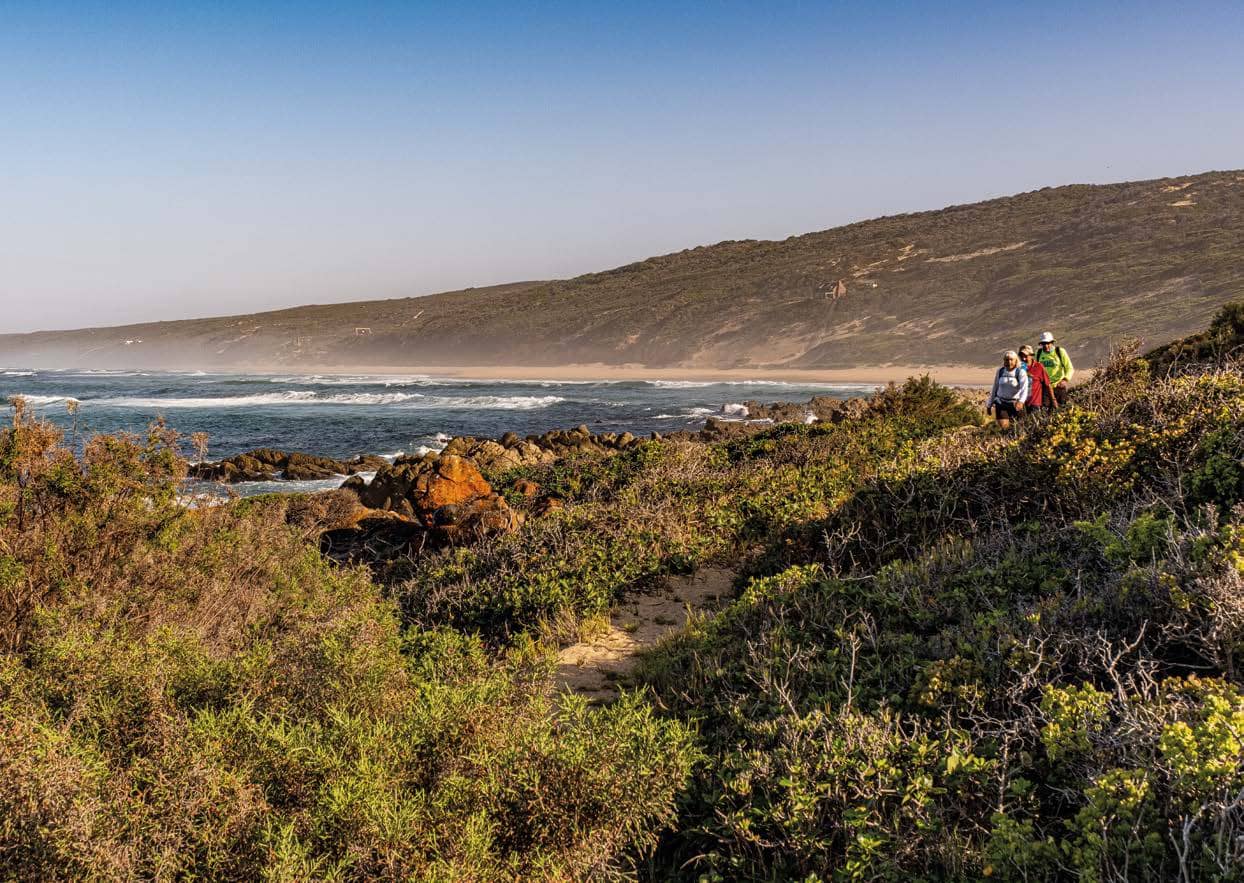 Our group of 11 hikers from all over the country congregates at Seesig Chalets in Jongensfontein on a Friday afternoon in March. Our initial conversation is all about gear, food and the weather – as it always is when people get to know each other before a big hike.
Derek Odendaal, our guide and the man behind the Alikreukel Trail, assures us that tomorrow is going to be a perfect day for walking. "There are a few drops of rain predicted for Sunday," he says. "But it's not like we're afraid of getting wet, are we?"
I see some worried glances. Let's hope it drizzles rather than pours…
Derek explains our programme for the next few days: Tomorrow morning he and Clifton Donald, the other guide, will fetch our group in a minibus and transport us to Blombosch Private Nature Reserve, about a half-hour drive west of Jongensfontein. We'll hike back to the village along the coast and spend another night at Seesig Chalets. On day two we'll walk from Jongensfontein to Still Bay, and spend two nights there in the Still Life guesthouse. On day three we'll paddle kayaks up the Goukou River, and on the last day we'll hike east from Still Bay past some fossilised dunes called Geelkrans.
The guides will provide all our meals, including a packed lunch for our daypacks, and our heavy bags will be taken from one overnight stop to the next. It all seems very well organised.
We hit the sack early – I'm grateful I don't have to sleep in a cave like our ancestors did!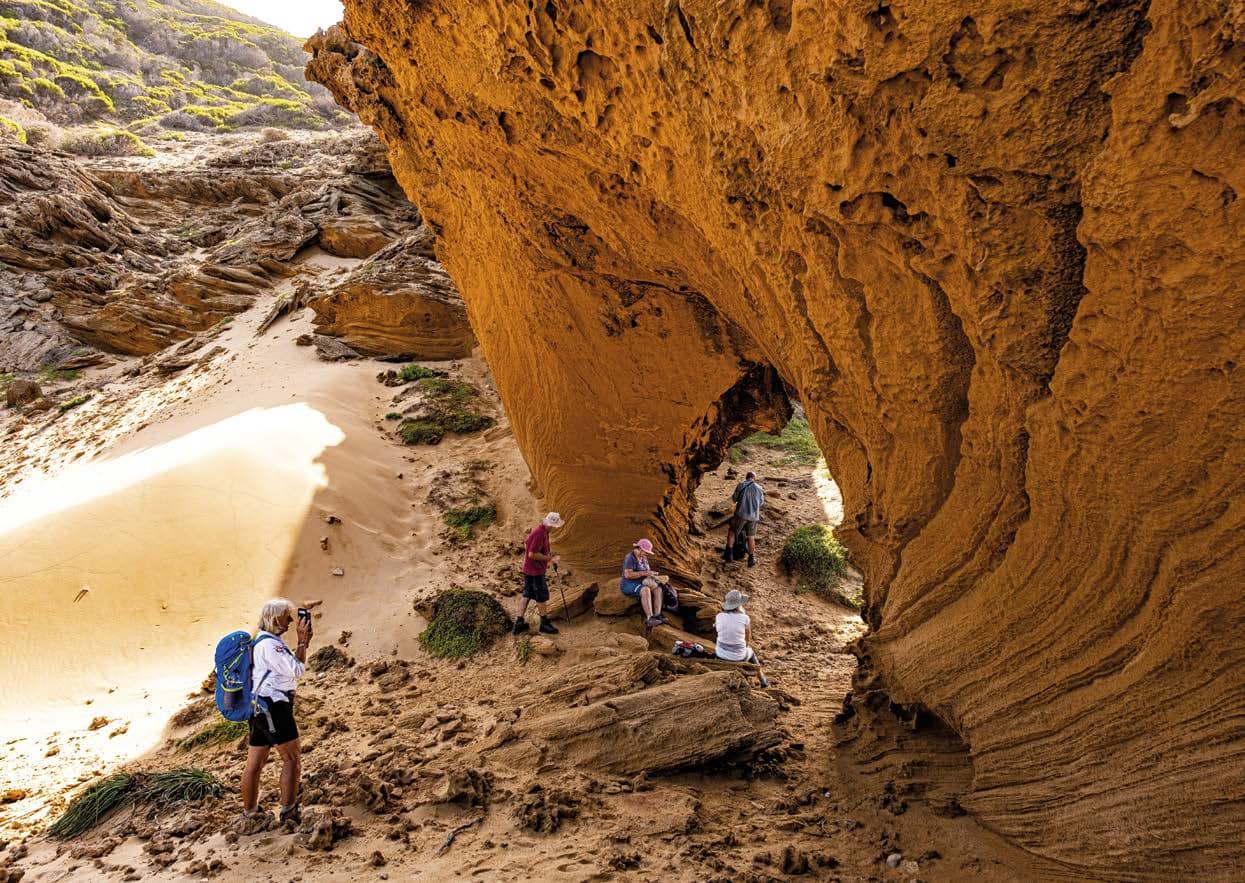 Blombosch to Jongensfontein: 17 km
Derek really knows the weather here, or he has a good weather app, because it's a cracking morning as predicted when we disembark at the entrance to Blombosch: crisp blue skies without a hint of wind.
We rush through some group photos then walk roughly 500 m along a jeep track through dense bush, down towards the ocean. The hikers are chattering away, excited about what we're going to experience today. (Introspection and silence only introduce themselves later in a hike.) Ahead of us, the coastline stretches out its arms: A long white beach goes off to the right, in the direction of Witsand at the mouth of the Breede River, but we turn left along a path through some rocks in front of a handful of beach cottages.
The cottages are the last signs of civilisation for the next few hours as the path winds up and along coastal cliffs for 3 km to the Blombos Arch, the Southern Cape's own "Hole-in-the-Wall". The hiking isn't technical to get to this petrified dune and its arch, but you have to watch your step high up along the cliffs.
It's a good place to sit down in the shade and enjoy a sandwich and some water. Before long we're ready for the next stretch. But we've only walked about 300 m when Derek halts the group and points towards a spot halfway up the cliff towering above. "That's the famous Blombos Cave," he says.
It must be quite a scramble to get there, I think to myself. I can see a locked green gate barring the entrance to this heritage site, which is off limits to most people.
Derek tells us that some of the world's first modern humans lived in this cave between 70 000 and 100 000 years ago. The dunes that initially sealed the entrance and eventually eroded again, did an excellent job of preserving the contents of the cave through the centuries. Just before our hike, Norwegian archaeologists had been excavating the different layers of this historical treasure chest.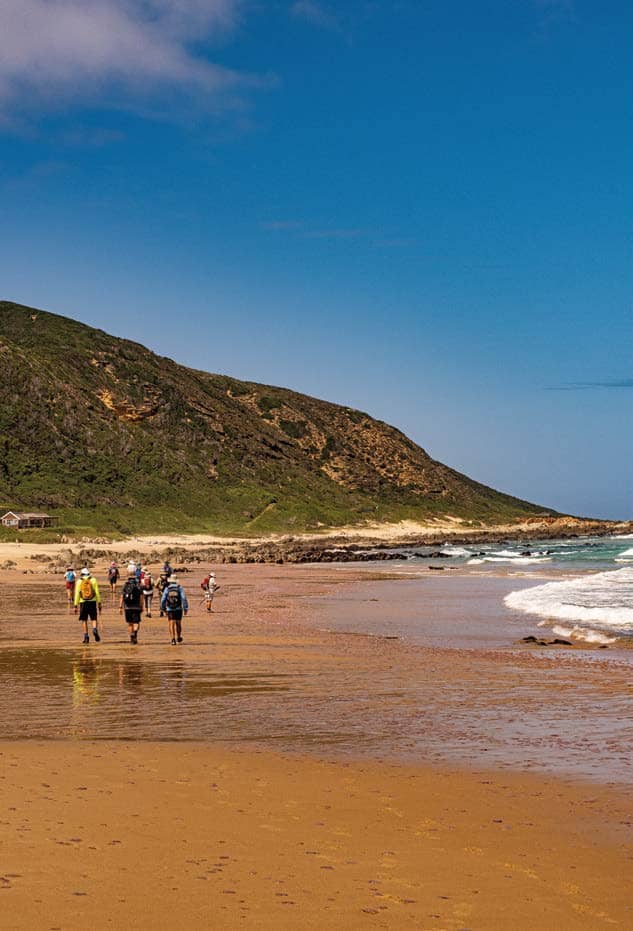 You can read up to 3 premium stories before you subscribe to Magzter GOLD
Log in, if you are already a subscriber
Get unlimited access to thousands of curated premium stories, newspapers and 5,000+ magazines
READ THE ENTIRE ISSUE
August 2020