Who's who?
Wild Magazine
|
Summer 2019 / 2020
Even regular park-goers struggle to distinguish a rhebok from a reedbuck. The differences are subtle but significant.
Rabok, raybuck, rhebuck, reebok, rietbok, reedbuck, rooiribbok, vaal-ribbok, mountain rhebok. Many different names for three antelope species that look alike and have ranges that often overlap. Down the years the plethora of spellings, misspellings and misnamings have grown and changed, creating confusion as to which animal is which and what their relationship is to one another.
The antelopes in question are the closely related southern (or common) reedbuck Redunca arundinum (rietbok in Afrikaans) and the mountain reedbuck R. fulvorufula (rooiribbok), plus the grey rhebok Pelea capreolus (vaalribbok), which is distantly related to the other two.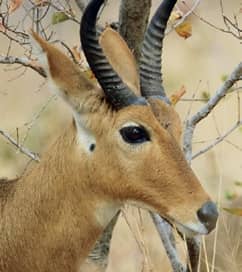 The confusion began in the mid-17th century when Dutch settlers first encountered the grey rhebok on the Cape Peninsula. Early colonialists were apt to name unfamiliar wild animals after European beasts they knew from home. The general posture and straight, upright horns of the male rhebok recalled the rabok (or roe deer), a small Eurasian deer with erect antlers. 'Ribbok' is a corruption of that name, which in English mutated from 'Cape roebuck' to 'rhebuck' to today's 'rhebok'.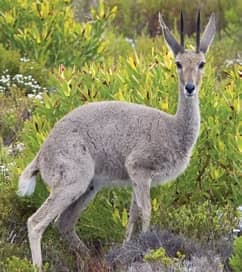 You can read up to 3 premium stories before you subscribe to Magzter GOLD
Log in, if you are already a subscriber
Get unlimited access to thousands of curated premium stories, newspapers and 5,000+ magazines
READ THE ENTIRE ISSUE
Summer 2019 / 2020