Six of the best
Wild Magazine
|
Summer 2019 / 2020
|Ai-|Ais/Richtersveld Transfrontier Park guarantees visitors a solid serving of adventure, often with a dash of adrenalin on the side. The rugged mountain desert now boasts even more outdoor activities.
1 SUMMIT A PEAK
Whatever you do, don't look down," I caution the boys. I'm perched on a slanted boulder face at a good thousand metres above sea level, just shy of the summit of Tatasberg. This imposing outcrop dominates the arid Kokerboomkloof plains, with a rucked-up rock world stretching in full 360-degree surround view to the distant horizon line.
Boys will be boys so, of course, they look down. There's a moment of holy-moly muttering (or words to that effect, anyway) as Densen and Robs first size up the jump once more, then look at each other. "I've not come this far to turn around," says Robs, and chucks his pack across the crevasse to me.
It's not a huge jump, but exposure always gets the adrenalin going. "Focus on me," I call across to him, stretching my hand out as far as I possibly can. Two eternal heartbeats later and my son is standing by my side. Densen follows in his footsteps and after exuberant high fives we hunker down on the giant summit slab.
What had earlier seemed like a straightforward peak-bagging mission had soon morphed into a solid couple of hours on one of the Richtersveld's highest peaks. Some of our trekking group followed a rugged gully to the east, while Robs, Densen and I found a steep, but shorter, approach up to the extreme and decidedly rocky ridge line. The 30 plus-metre summit face is the undisputed crux but despite a few sketchy moments we made it to the top, where we were now enjoying a well-deserved rest.
You still have to safely get down though, so I gave the boys a quick chat to refocus all that scatter-gun energy before tackling a slightly easier line to the trail head. I kept a tight rein on my young wingmen whose endorphins had gone into overdrive. The Richtersveld has loads more adventures on offer and you wouldn't want them to miss out on that, would you?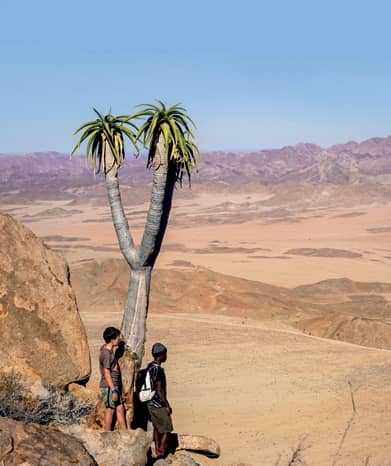 2 HIKE AND RUN
Exploring this mountain desert on foot emphasises the scale of the landscape.
You can read up to 3 premium stories before you subscribe to Magzter GOLD
Log in, if you are already a subscriber
Get unlimited access to thousands of curated premium stories, newspapers and 5,000+ magazines
READ THE ENTIRE ISSUE
Summer 2019 / 2020