Love struck
Wild Magazine
|
Summer 2019 / 2020
A leopard mating ritual is a rare and thrilling sight. Even more extraordinary to witness an amorous affair involving three members of this elusive Big Five species in Kruger.
Action and adrenalin spilt over at the bridge across the Mitomeni River in southern Kruger. The keen eyes of guide Estiaan Houy picked out a spot­ ted cat in the riverbed. Silence descended on the game drive vehicle from Jock Safari Lodge, which was the first private conces­ sion granted in South Africa's flagship national park.
Careful scanning of the tall taupe grass revealed not one, but two of these elusive solitary creatures. Sometimes female leo­ pards are accompanied by their growing cubs. Opposite sexes generally mingle only for the period of courtship and mating. This pair transpired to be a cavorting male and a female.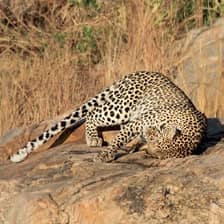 Males can locate and mate with females as and when they enter oestrus and their hormones are at a level at which they are able to produce eggs. Females leave chemical clues in their urine and through constant calling. The male latches onto her scent using a gland on the palate that en­ ables him to measure hormone levels.
You can read up to 3 premium stories before you subscribe to Magzter GOLD
Log in, if you are already a subscriber
Get unlimited access to thousands of curated premium stories, newspapers and 5,000+ magazines
READ THE ENTIRE ISSUE
Summer 2019 / 2020