Friends of the fluffball
Wild Magazine
|
Summer 2019 / 2020
White-fronted plovers breed in summer – the same time many people take their seaside holiday. A significant decline in their numbers means life is hardly 'a day at the beach' for these birds
Through the gentle sea breeze, you can barely hear the faint 'qrrrr-it!. I know it signals an important thing, that there must be white-fronted plover chicks nearby. As these small, grey-brown shorebirds are experts at blending in with their sandy surroundings, I carefully search for any inkling of movement through my binoculars. I spot a plover called Taryn, named for a washed-up boat she once nested near, and her tiny, fluffy baby running behind her.
This chick, looking akin to a cotton ball on toothpicks, is vulnerable to all going on around it. Their colloquial Afrikaans nickname, strandlopertjies, 'little beach walkers', is perfect. Long legs and big feet provide for a cartoon-like scurry, in search of minute crustaceans and insects along the waterline.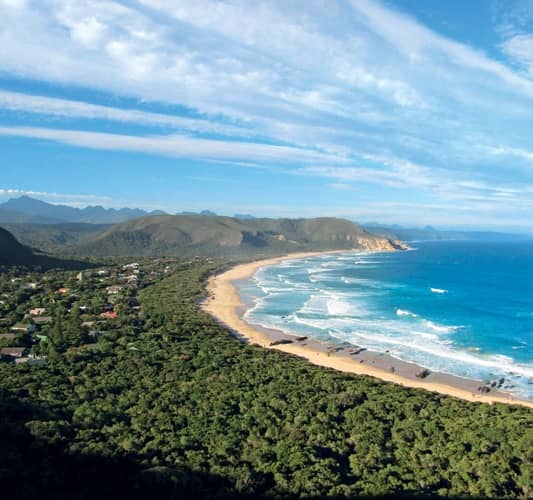 After many failed attempts over the years, with prior eggs being eaten by gulls, stepped on by beachgoers, and bullied out of her own territory by other plovers, this chick is Taryn's first. To ensure this precious youngster makes it, she will do nearly anything to protect it, from encouraging the chick to crouch down and hide, to Taryn pretending she has a broken wing to rather distract threats towards her.
One of the best habitats for white-fronted plovers in the southern Cape region is Nature's Valley beach, within Garden Route National Park. These shorebirds have good taste, choosing to nest in prime beachfront real estate. They favour low hummocks with sparse plants and other debris such as shells or driftwood, all with a fantastic view of the sea. Here, plovers are able to see where they'd best find food, as well as threats such as people approaching or predators in the dense dune shrubs behind them.
You can read up to 3 premium stories before you subscribe to Magzter GOLD
Log in, if you are already a subscriber
Get unlimited access to thousands of curated premium stories, newspapers and 5,000+ magazines
READ THE ENTIRE ISSUE
Summer 2019 / 2020