Into the HILLS
Wanderlust Travel Magazine
|
October 2020
Community-based tourism has become one of travel's buzzwords. Northern Thailand's lush hills and diverse ethnic people seem like the perfect place to experience how it works
The stilt-raised hut was dark and smelled of smoke and chillis. Underneath, a grey sow suckled her dozen or more snuffling piglets. A notched trunk ladder led to the bamboo-walled room where four of us would sleep on coconut-fibre mattresses draped with mosquito netting. Our hostess, Na-Ma, was hunched over a fire-throwing quizzical smile at her guests as she sliced vegetables and boiled pots of rice for the meal we would share later.
This was Pha Mon, a village of the Red Lahu people. It was the first overnight stop on a rugged three-night trek through the forested mountains and tribal settlements of Thailand's far north-west, the centrepiece of our stay in the area.
Our group were assigned to a scattering of homestays around the settlement, in an agreement made between the trekking company and our hosts. The idea was that our visit to Pha Mon would be environmentally sustainable and generate income for the community in a spirit of mutually respectful cultural exchange: Community Based Tourism (CBT) in a nutshell.
The concept of CBT is seductive: we can slake our thirst for thrilling travels, with scruples eased by the knowledge that our far-flung ventures to poorer parts of the world benefit our hosts as much as ourselves. But how do these projects actually work in action? I had come to Northern Thailand to see for myself.
Community service
Our journey had begun in Chiang Rai, Thailand's northernmost province, where my first host was the irrepressibly enthusiastic Pragasit Chermuego, nicknamed Yohan. He greeted me at his Akha Mud House Mae Salong homestay at Hloyo village, high on a remote but easily road-accessible ridge, an hour's drive from Chiang Rai city.
Yohan, I soon discovered, has fire in his belly to match the chilli paste that his sister Phon was pounding with her pestle. Eyes alight, he told me: "We are Akha people, and keeping traditional Akha ways is not looking backwards. The opposite. It is the key to the future of our young people. You will see…"
Still in his thirties, Yohan has built his guest house on land inherited from his parents, in the customary style of the Akha tribe using clay and rice husk between bamboo frames. The dusty, brick-red courtyard was dominated by a giant, wooden swing used at an annual Akha festival "for women to relax on after the shaman anoints it", said Yohan, leaping athletically on to the contraption himself while Phon continued her pounding. Later, while we sat on a platform of vine-lashed bamboo watching the sun fade over darkening hills, Phon brought us bamboo bowls of lap-mu (minced chilli pork) with spicy shallots and a rhapsody of sweet-smelling Akha delicacies flavoured with turmeric, ginger and mysterious fungi foraged from the forest.
In Hloyo, there was more to CBT than the homestay. I found that after school, children act as guides leading Thai and farang (foreign, of European origin) guests around the village. We called on residents in their stilt-raised huts, such as an old lady called Apa who strings necklaces from millet seeds and harvests broom to make brushes. "All from nature, no plastic" she said simply.
Yohan led me to the ceremonial 'spirit gate' guarded by carved human figures, part of the Akha animist belief system, which is "the heart of what we Akha people are". Catholics and evangelicals have long competed for the souls of Thailand's hill tribes, with Yohan himself a devout member of the former. "Farangs are puzzled by people holding both Christian and tribal beliefs, but we see no contradiction," he said.
The following day I met the lean and energetic P'Archai from neighbouring Suan Pa village, for a forest walk in the hills of Doi Tung. Swinging a machete as long as his arm, he cleared undergrowth from a trail alongside a stream as we climbed to gushing Huay Sai Khao waterfall. We paused in places for P'Archai to show off some traditional jungle lore: he caught some freshwater shrimps with his fingers and plucked leaves that are used for cauterising wounds.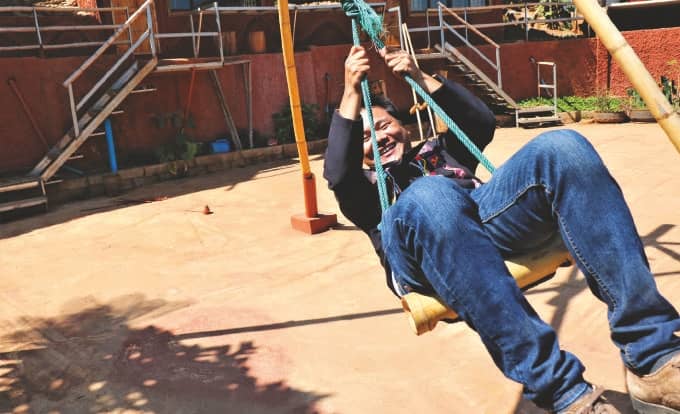 P'Archai told me that this forest is second growth, in places re-planted. Over recent decades the region has endured deforestation by slash-and-burn agriculture and the gruesome consequences of opium cultivation. These twin scourges have wreaked devastating social and environmental damage. However, with the support and financial motivation of the late 'royal grandmother' Somdet Ya, prime mover behind a 'Doi Tung Development Project', forests and viable alternatives to opium have proliferated over a wide area. "The project has been the saviour of many communities, including ours," said the Suan Pa leader.
Our return walk was through arabica coffee bushes under dappled sunlight, filtered by teak trees. We ended at the project's community cooperative where the beans are sorted, roasted and packaged, alongside cottage industries such as weaving and pottery. Shops then offer the wares to visitors, steering money directly into the community coffers.
Heading for the hills
But if the projects in Chiang Rai province were our CBT appetisers, my main course was the Northern Thailand Hilltribes Trek further west, near the Burmese border. But how ethical can hilltribe trekking be these days? Numerous local agencies in northern Thailand's largest city, Chiang Mai, advertise jungle yomps involving 'cultural experiences' at faux ethnic hamlets with gift shops and staged photo ops.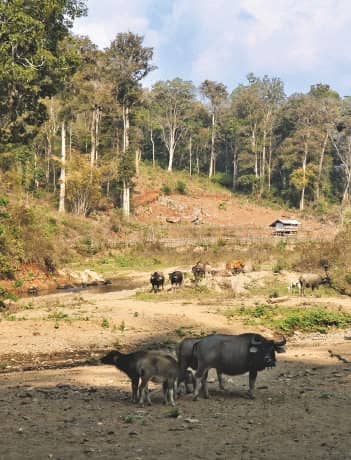 Some excursions come with the chance to gawp at so-called 'long neck' women as if they are creatures in a zoo. These members of the Pa Daung ethnic group, originally from Burma, have been disfigured from childhood by having their necks elongated with spirals of brass.
You can read up to 3 premium stories before you subscribe to Magzter GOLD
Log in, if you are already a subscriber
Get unlimited access to thousands of curated premium stories, newspapers and 5,000+ magazines
READ THE ENTIRE ISSUE
October 2020