WINE AS OLD AS TIME
Travel+Leisure India|January 2020
Liechtenstein may be the world's smallest wine-producing country, but its wine heritage is two millennia old. NEETA LAL gets a taste of the region's royal produce in the winery of Prince Hans-Adam II.
The sky is cloudless and azure, the sun smearing its expansive canvas with a buttery goldenness. Orchards and vineyards in shades of green—from moss to forest—fan out like lush carpets across the bucolic Alpine landscape. The air smells so sweet I can almost taste it.
I'm at the Hofkellerei des Fursten von Liechtenstein, a lush 10-acre cellar and vineyard in the heart of Vaduz, the capital city of Liechtenstein. The landlocked Alpine country— wedged between Switzerland and Austria—is just 160 square kilometres and hosts 35,000 residents, making it the world's sixth tiniest nation.
Pretty much like the unique country, Hofkellerei is no ordinary vineyard. Its owner is the reigning prince of Liechtenstein, Prince Hans-Adam II, who lives in a Disney-esque Gothic castle perched atop a hill overlooking Vaduz. The winery and its restaurant have been in royal hands since the current prince's ancestor, Prince Johann Adam, first acquired the county of Vaduz in 1712.
The establishment's regal ownership notwithstanding, it exudes an informal aura, and is serviced by a friendly and informed staff. Visitors can simply stroll in to sample its bacchanalian delights from Monday to Saturday, during working hours.
A $20 (`1,417) wine-tasting, for instance, will get you four wines from the Vaduz Domain as well as those produced on the Wilfersdorf Domain higher in the hills, both part of the prince's cellar. Royal celebrity spotting is a bonus as the prince is often at the winery himself, entertaining his guests.
"The Princely House of Liechtenstein is one of the oldest European noble families, looking back to nearly a thousand years of family history. Their earliest known ancestor—Hugo of Liechtenstein—was first mentioned in 1136," explains local guide Elsi Meli, as we walk through Hofkellerei's vineyards along the Vineyard Path. The route is marked by informative signposts covering various stages of winemaking—from grapes to liquor.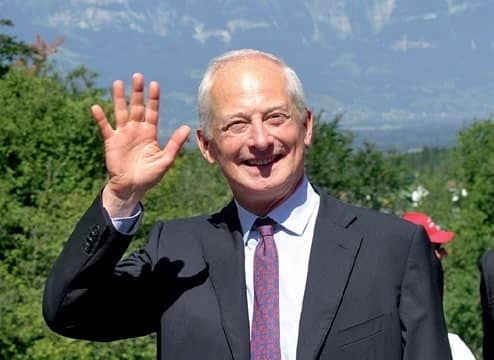 WORLD'S SMALLEST WINE PRODUCER
Nestling in the Upper Rhine Valley of the Swiss Alps, Liechtenstein is the world's smallest wine-producing country. But despite its petite size, its wine heritage goes back to over 2,000 years. Grape cultivation began before Christ, by a Celtic tribe that had settled in the area, and was bolstered when the Romans came in. Today, the country is regarded as one of the best wine-growing regions in the Rhine Valley with over 100 winegrowers putting out top-notch varietals.
You can read upto 3 premium stories before you subscribe to Magzter GOLD
Log-in, if you are already a subscriber
Get unlimited access to thousands of curated premium stories and 5,000+ magazines
READ THE ENTIRE ISSUE
January 2020