Viva Mexico City
Travel+Leisure India
|
April 2019
There are few places as dynamic, diverse, or mind-bogglingly large as the Mexican capital. In a city layered with history, in which change is an essential part of residents' DNA, where to begin planning a trip? Michael Snyder gives his breakdown of the eight neighbourhoods to visit, whether your focus is shopping, food, art, or design.
A little more than two years ago, I moved to Mexico City more or less sight unseen, taking it on good faith that this urban giant could find space for one more body among the 21 million that already called its entire metro area home. I came, like many foreigners before me, with vague ideas about its vibrant food and art scenes; its crooked glamour and effortless cool; its rich colonial and modern architectural landscape. I expected to find moments of enervating chaos and sometimes choking smog. But I was rejuvenated by gracious parks and sublime weather, by crisp autumn mornings and springlike afternoons, by spasms of rain and hail and thunder that gave way, just in time, to marigold sunsets blooming across the horizon. Mexico City, it seems, is able to turn a different face to each of its inhabitants.
That's because, in the past five centuries, Mexico City has become a master of transformation. Flung wide across a seismic, high-altitude plateau, North America's largest city has survived colonial conquest, years-long floods, a bloody war of independence, a bloodier revolution, and in 1985, a catastrophic earthquake that killed more than 9,000 and decimated much of the historic central borough of Cuauhtémoc. Thirty-two years later to the day, in 2017, another quake shook the city to its core, bringing down over 40 buildings and damaging many more. Within weeks, the city had bounced back from that, too. Chilangos, as residents are known, continue to deal with shoddy governance, shoddy infrastructure, and fluctuating levels of security. Given the choice, many would just as soon return to the villages they left a generation or three before. But many more—myself included—wouldn't live anywhere else.
No one trip is enough to unlock the city's many wonders. For a first-time visitor, sticking to the leafy neighbourhoods in and around the Delegación Cuauhtémoc offers an ideal introduction: a walkable, manageable microcosm of the city's wild, sophisticated whole. From the cockeyed grandeur of the Centro Histórico to the discreet galleries of Santa María la Ribera and the glamorous cafes of Condesa, these are the eight districts every visitor should get to know.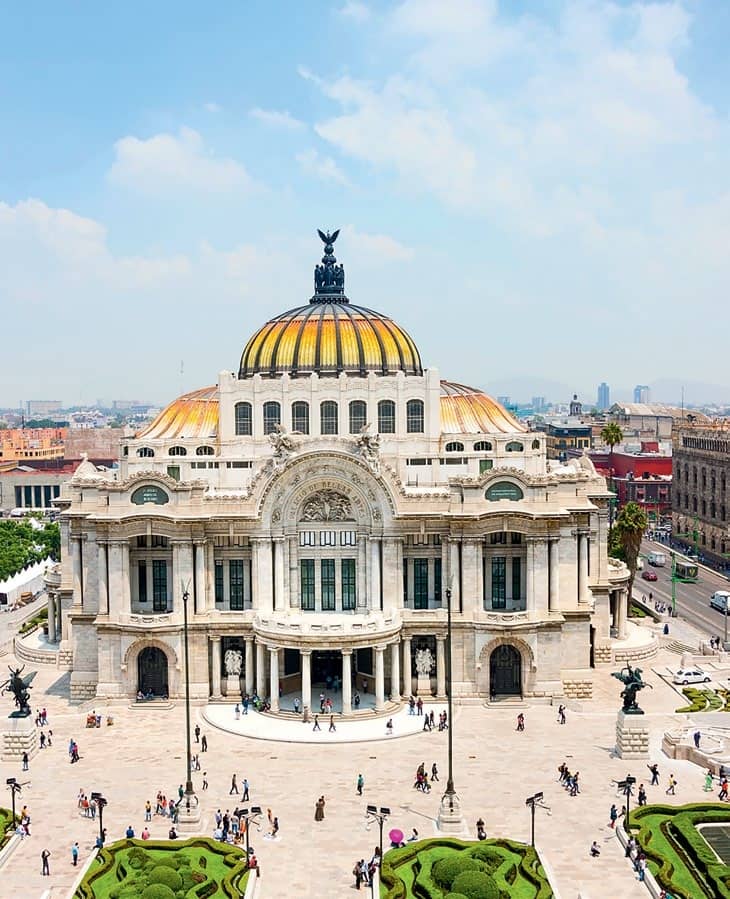 CENTRO HISTÓRICO
Late one Sunday morning, I set out from my home on the far side of the Zócalo, Mexico City's spectacular central plaza, to the Mercado San Juan. It wasn't a particularly long walk, but, like most routes through the Centro Histórico, it encompassed many pasts, many presents, and many possible futures. Here, you'll find opulent colonial palaces, crooked Baroque churches, murals by Diego Rivera at the Palacio Nacional and the Secretariat of Public Education headquarters, and the magnificent ruins of the Templo Mayor, the axis of the Aztec Empire's religious and political universe.
Until the late 1800s, the Centro was Mexico City. Then, from the turn of the century onward, modernity obsessed elites began abandoning their ancestral homes and moving to the newly created suburbs in the west and south. After the 1985 earthquake, the Centro was all but abandoned. It remained an important place of protest and celebration, but it was not a place where you lingered.
Entering the open doorway of the Mercado San Juan, I passed vendors selling rambutans and mangoes, plastic boxes of microgreens, and giant clams from Baja. But I hadn't come here to shop (for that I go to Mercado la Merced, the bigger, crazier, more beautiful wholesale market on my side of the Centro). Instead, I had come to eat at Don Vergas, an eightseat market stall that, for the past year, has been turning out some of the best seafood in Mexico City.
Chef Luis Valle, who hails from the northwestern coastal state of Sinaloa, had opened shop only an hour earlier, but already a rowdy line had filled the aisle, singing along to the banda music playing through a loudspeaker perched precariously over the tiny kitchen. "How many crab tostadas?" Valle shouted over the music. Hands shot up: 15 orders.
I slipped behind the bar to help squeeze a few limes and hang out with Valle, who makes great company, no matter how busy he is. I asked how many people he would cook for today. "About 400," he said. I asked how he coped. "I don't!" he laughed, then turned back to the crowd, shouting: "How many scallops?"
Even a decade ago, you'd have been hard-pressed to find such excitement surrounding a restaurant in this part of town. But in the past year or so, pop-up parties have begun to appear on rooftops, in basements, and at run-down cantinas like the bizarre and beautiful La Faena, decorated with dusty shadow boxes of toreadors' costumes. Edgy art galleries have appeared in former office buildings. Bósforo, still the top place in town for mezcal almost 10 years after it opened, draws crowds on weekends, while the nameless restaurant next door serves impeccable Oaxacan food by flickering candlelight.
But despite the fact that a new, younger generation is now gravitating to the Centro, it's still a place that belongs to everyone. Activists stage regular protests in the Zócalo. Residents from around the city come to shop at stores selling everything from spices to light fixtures and giant handmade candles decorated in lacy wax flowers. Government workers stop in at centuryold cantinas for an afternoon beer (try La Ópera for gilded old-world opulence, or Salón España for the city's best tequila list). Even the exorbitantly expensive Mercado San Juan, where Luis Valle slings his seafood, has a raucous weekend party. Nowhere in this immense, stratified city is more democratic or more beautiful.
ROMA & CONDESA
You can read up to 3 premium stories before you subscribe to Magzter GOLD
Log in, if you are already a subscriber
Get unlimited access to thousands of curated premium stories, newspapers and 5,000+ magazines
READ THE ENTIRE ISSUE
April 2019