THE Long VIEW
Travel+Leisure India|June 2020
Just a few years ago, gorillas were the only draw for visitors to irrepressibly beautiful, once-war-torn Rwanda. Today, the country's diverse wildlife—from silverbacks and chimps to the Big Five—makes it not only one of Africa's great safari destinations but also one of its most inspiring conservation success stories.
MY FIRST MORNING GAME DRIVE AT MAGASHI CAMP HAD BEGUN UNEVENTFULLY. SNUG IN A FLEECY PONCHO AFTER A BRIEF THUNDERSTORM, I SIPPED A MUG OF COFFEE AS OUR GUIDE, A 28-YEAR-OLD SOUTH AFRICAN NAMED ADRIAAN MULDER, OFFERED UP THE STANDARD COMMENTARY FROM THE DRIVER'S SEAT: "THOSE ARE TOPI ANTELOPE. THEY CAN RUN MORE THAN 50 MILES (80 KILOMETRES) AN HOUR." WARTHOGS SCOOTED FOR COVER, AND VELVET BUSH WILLOWS SHONE IRIDESCENT FROM THE RAIN AS OUR VEHICLE SLURPED THROUGH GULLIES OF MUD, BUMPING ALONG THROUGH MAGASHI'S 15,000-ACRE CHUNK OF AKAGERA NATIONAL PARK, IN NORTHEASTERN RWANDA.
Suddenly a voice came crackling over Mulder's two-way. It was one of Magashi's trackers, who monitor wildlife on the concession. Mulder did an abrupt U-turn, then looked over his shoulder and said, "I'm actually shaking now."
As we rounded a curve in the road, it became clear why. Standing stock-still on the grass, against a billow of retreating thunderclouds, was a lone rhinoceros. "It's Mandela," Mulder whispered, his voice tight with emotion. Then: "You are the first person ever to see a rhino in the wild at Magashi."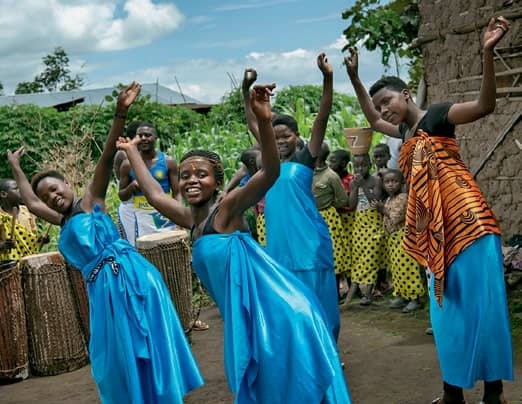 Mandela, a four-year-old eastern black rhino, was born in a safari park in Denmark. Four months before my visit, he had arrived in Rwanda, the culmination of an epic translocation project designed to repopulate Akagera, which is still healing from decades of war, poaching, and neglect. As he grew accustomed to a new life in his natural habitat, Mandela had been slowly working his way out of a series of enclosures, and that morning, he was finally confident enough to venture into the grassland to face predators and forage for food. The eastern black rhino disappeared from Rwanda in 2007; Mandela's formidable presence in the reserve declared, We're back.
He seemed relaxed, but smartly bolted for a thicket when, several minutes later, a hippo came at him like a brakeless truck. Still, I was worried. Preservation instincts are one thing, but the bush cares nothing for the emotional state of a new kid in town. "Mandela's strong," Mulder reassured me, "and ready for anything."
As Mulder absorbed Mandela's triumphant re-entry into the wild, I was doing some processing of my own. Pocket-size Rwanda— a nation that just 26 years ago was the site of one of the worst genocides in history—had successfully restored this spectacular wildlife reserve. For the first time in two decades, the Big Five (rhinos, elephants, Cape buffalo, lions, and leopards) once again graze and hunt there in primordial bliss.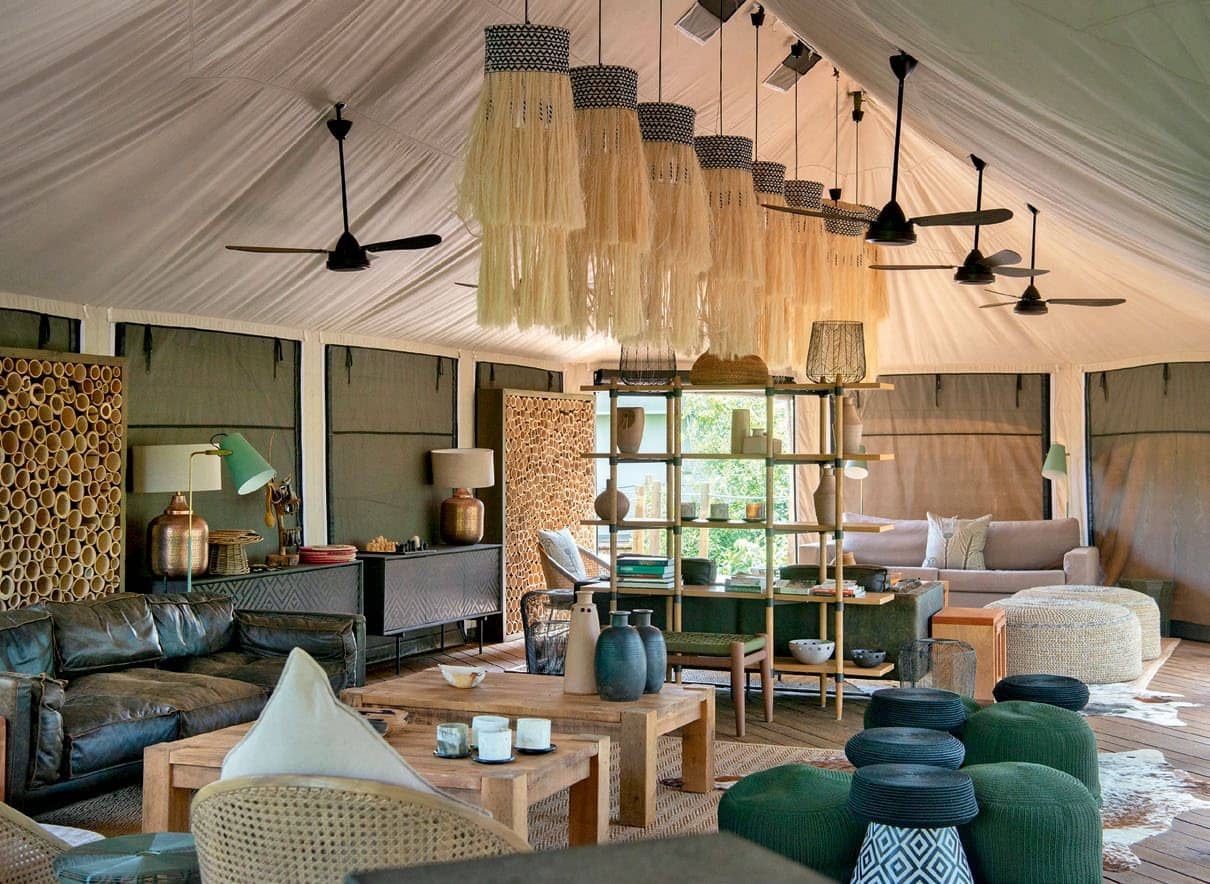 I FIRST TRAVELLED TO RWANDA in 2011 to work with an NGO, staying in basic guesthouses and crossing the country in overflowing local buses. Even then, I was amazed by how optimistic and secure the country seemed, considering it was only in 1994 that an unimaginable one million Tutsi were massacred by the Hutu majority, leaving the nation's infrastructure, economy, and society in tatters.
Now that sense of optimism was everywhere I looked. I was on a high-end safari, swaddled in every comfort—from the top-of-the-range 4 x 4 to the "Dior pink" mosquito netting in my sleek private tent at Magashi. And I was on the road with Micato Safaris, the family-run outfitter whose meticulous attention to detail has earned it a reputation as the gold standard in safari tourism.
Magashi was the first of a trio of plush new properties on my itinerary, each in very different national parks. "In the past, people only thought of gorillas," said Anita Umutoni, 31, manager of Magashi, which is the second Rwandan lodge from luxury outfitter Wilderness Safaris. "Now that's changed. We also have chimps, rain forest, big game, volcanoes—and people can see it all in a few days."
It's true that until very recently, most visitors to Rwanda would fly into the capital, Kigali, zoom up in a helicopter or car to Volcanoes National Park to see its legendary mountain gorillas, then fly off to view the Big Five in Tanzania or Kenya. But, just as the country has defied all expectations with its miraculous rebirth, social innovation, and economic development, now there is a new set of goals: to offer travellers a rounded experience, one that goes far beyond primates, and to attract the visitors who give back the most.
Back at Magashi after my memorable morning safari, I sat in the shade of an albizia tree and sipped tree-tomato juice (which tastes like a mix of papaya and kiwi) with Umutoni. When I arrived the previous day, I immediately had the feeling we'd met before. It turned out I had interviewed her nine years ago, when she was studying hospitality in Kigali.
Back then Umutoni had told me, "My dream is to contribute something important to my country." Today she is a seasoned pro running a flagship camp for one of the biggest names in eco-tourism. As we looked on, a trio of elephants splashed in the shoals of Lake Rwanyakizinga. "Our energy comes from a real desire to build our country—and build it ourselves," she said.
That effort doesn't always come without a cost. Rwanda's progress has been overseen by former rebel general Paul Kagame, who has been president since 1999. He has emerged as one of the world's most disciplined and ambitious leaders, presiding over Rwanda's transformation from an agrarian economy to one based on tourism, business, tech, and science. But his increasingly authoritarian ways have made him both quietly feared in his own country and a target of global human-rights organisations.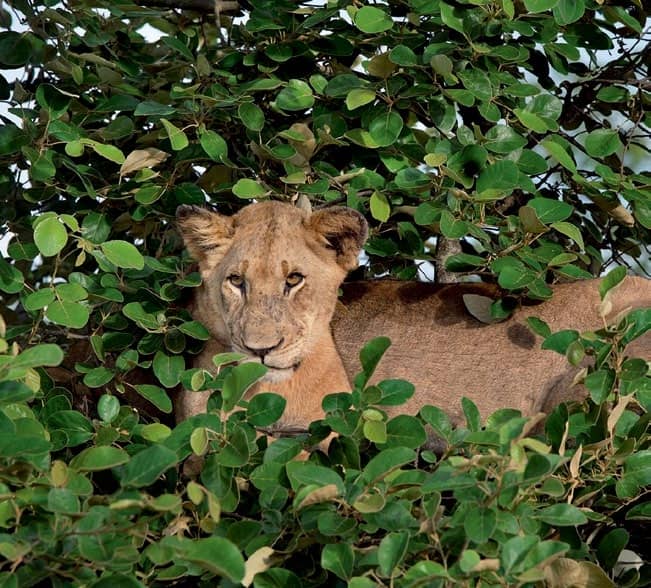 OUT IN THE BUSH that afternoon, giraffes leaned over the roads cutting through Magashi's property and shot us bemused stares. Candelabrum trees threw their fingers to the sky, and knobwood released its tangy lemon scent on the breeze. From a nearby thicket, a couple of intense Dugger Boys—the regional nickname for older Cape buffalo—shot me a withering gaze.
You can read up to 3 premium stories before you subscribe to Magzter GOLD
Log in, if you are already a subscriber
Get unlimited access to thousands of curated premium stories and 5,000+ magazines
READ THE ENTIRE ISSUE
June 2020