Lost In Laos
Travel+Leisure India
|
June 2019
On a whirlwind tour of Laos, Devanshi Mody dissects its heritage and local culture, gets introduced to the austere ways of monks, and indulges, albeit guiltily, in some luxurious retreats.
"LAO PDR OFFICIALLY STANDS for Lao People's Democratic Republic," says Michael Roehrig of Trails of Indochina, "but really, it stands for Please Don't Rush." Languorous like the stately River Mekong that traverses it, this is a destination where two cars on the street counts as a traffic jam. Unless, luxury cars from China are whizzing through Luang Prabang's quaint, slender streets, their broad, burnished bodies almost grazing the UNESCO-protected town's heritage edifices. These French-colonial structures are fast becoming hotels, restaurants, bars, and boutiques for tourists, whose numbers near Laos' seven-million population. And yet, an imperturbable tranquillity pervades Laos. In three weeks, I won't hear a horn bleat. Nor see a McDonald's, Starbucks, or smug white Apple store!

My hotel—the latest ultra-luxe abode in the region—the Rosewood Luang Prabang is 15 minutes out of town, and that's considered far. Michael awaits me at Rosewood's colonial Great House, which pulsates with elephant motifs evoking Laos' former name 'Land of a Million Elephants' almost in tragic irony. Just 400 elephants survive. Poaching has exterminated rhinos and crocodiles. Apparently, rhino horns (the Chinese love them) sell at Luang Prabang's famous Night Market.

Michael has been in Laos for 15 years and is phlegmatic, even about Laos' corruption sensations. However, my displeasure at much-vaunted erstwhileroyal capital Luang Prabang provokes him. Why is it UNESCO-stamped when Puducherry and Chettinad's architectural splendour surpasses the charming but unstaggering French-colonial buildings here? Michael calls these the best-preserved vestiges of Indochina architecture. I have seen finer specimens in Vietnam and Cambodia. Michael claims that UNESCO's presence checks China. Really?

Destiny contrives to dispel my disappointment with Laung Prabang. Legendary hotelier Adrian Zeccha is in town, and Michael engineers a rendezvous at Zeccha's villa. The little beaming man, white-clad and sharp-witted, usually spends his birthday in Luang Prabang. "But I don't know why I celebrate these things any more. I am 86," he notes. Zeccha looks 20 years younger and recalls distinctly his doings at 20, including being clandestinely engaged as a debutant journalist to approach "Panditji," mandated by the Americans to persuade Nehru not to invade and expropriate Goa from the Portuguese. The architect-turned-hotelier could be anywhere on his birthday. Why Luang Prabang? Perhaps I must see Laos through Zeccha's eyes.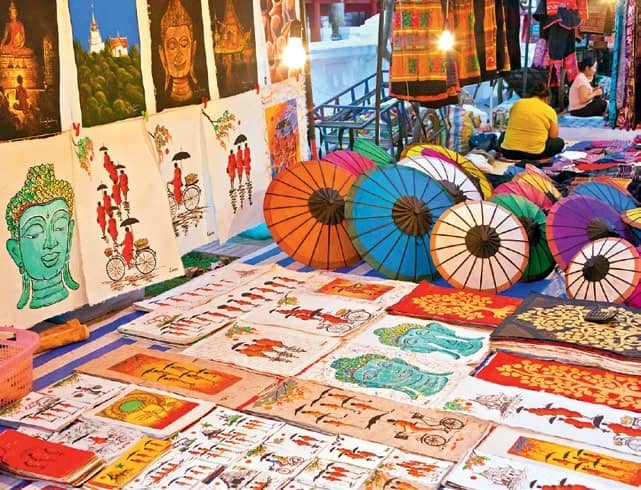 Rosewood's 'Sunset Cruise' is encouraging. French Riesling in hand, propped on a luxury daybed, I peruse books on colonial Asia, chuckling over portrayals of the British with their tight suits, stiff ways, and mercantile minds, contrasting the French, who drank and danced, their arms crooked round a pretty local damsel. Incidentally, Laos was called a French 'protectorate', not 'colony', in chic euphemism.
You can read up to 3 premium stories before you subscribe to Magzter GOLD
Log in, if you are already a subscriber
Get unlimited access to thousands of curated premium stories, newspapers and 5,000+ magazines
READ THE ENTIRE ISSUE
June 2019