Kingdom Of Cold
Travel+Leisure India
|
June 2019
Japan is best known for its springtime blooms. But if you can defy sub-zero temperatures and mounds of snow, you must explore the wintry delights of Hokkaido.
I'D ALWAYS WANTED TO VISIT JAPAN. And as a consumer of popular itineraries and Instagram posturing, I had pictured myself in the country during its famous spring moods. Who wouldn't want a sprinkle of cherry blossom on their canvas of memory (and album of holiday pictures), after all? So when I got invited to Japan during its chilly winter, it felt bittersweet. Add to that the realisation that I was heading to the northernmost of Japan's main islands, Hokkaido, and dread quickly sunk in. What followed was a spurt of extreme-winter shopping, the likes of which I had never undertaken before.
People come to Hokkaido for its natural attractions, which include everything from icy landscapes to natural hot springs, from primaeval forests to floral fields. We are headed to Sapporo, the largest city on the island and the capital city of Hokkaido Prefecture. A city of two million residents, Sapporo gets five metres of snow on average each year. This is no ordinary snow. Finer than your usual 'powder snow', this phenomenon is called 'aspirin snow', I'm told by my guides—Ikuko from Nagasaki, and Sapporo resident Toshie. The unique form of snow means that it does not lend itself to building snowmen (Olaf would be disappointed!) or snowballs for a good old winter battle. On the other hand, it is excellent for skiing, a fact that draws plenty of skiers from Australia and other parts of the world. These tourists are joined by Japanese from other islands of the country that are not endowed with the slopes of Hokkaido. Japan's land mass may be nine times smaller than India's, but the weather across its islands varies so much that Sapporo feels akin to Europe for Ikuko.
The downside of the snow in Sapporo is the temperature. With a maximum of 0° Celsius and the minimum dipping 10° below, I feel well and truly like a popsicle the moment I step out of the New Chitose Airport. On our drive to the hotel, it's evident that the houses of the city are designed to bear the burden of snow. Unlike other parts of Japan, where homes don terracotta hats, the houses in Sapporo are squatting cubes and gather snow on their roofs until it's ploughed out. It might seem counter-intuitive for the residents, but Ikuko points out the arrangement is essential to ensure safety of pedestrians. A sloped roof would mean frequent, unpredictable mini-avalanches on the pavements. Heaps of white, gathering dirt, abound and coalesce into carbuncles on the roadside, some of the mounds growing taller than seven feet. The pavements, however, are impossibly clean; on enquiry, I'm told they are heated to ensure melting of snow. It's the perfect example of Japanese efficiency.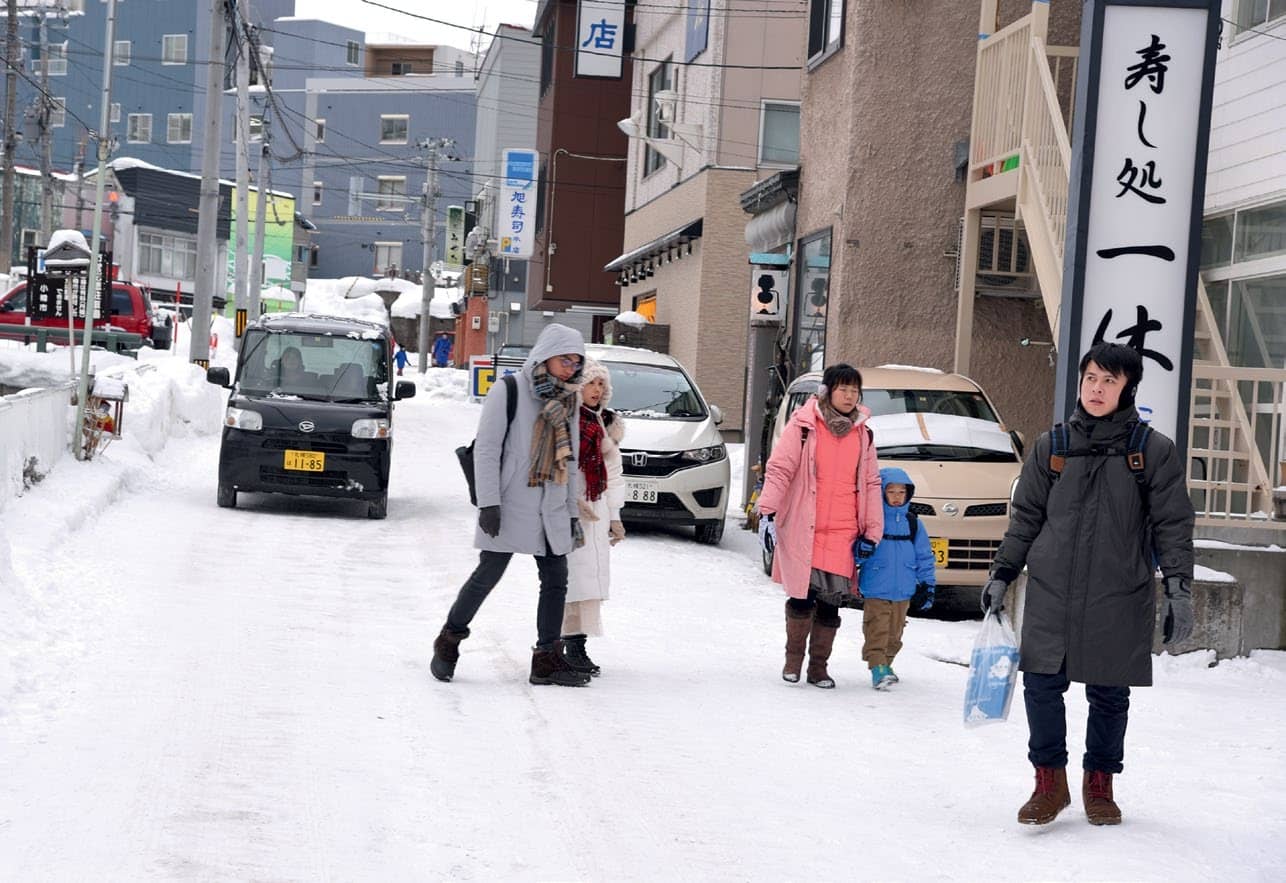 You can read up to 3 premium stories before you subscribe to Magzter GOLD
Log in, if you are already a subscriber
Get unlimited access to thousands of curated premium stories, newspapers and 5,000+ magazines
READ THE ENTIRE ISSUE
June 2019