Bologna - City Of Secrets
Travel+Leisure India|October 2019
With a weekend to kill and no particular place to go, Simon Clays finds that Bologna has surprises beyond his imagination.
It was said that all roads lead to Rome. That also means that all roads lead away from the Eternal City, too. In my case, it's rails. A fast train whipping through Titian countryside like a comet with a cappuccino. Bright morning light, a baguette, and the flash of green Stone Pines on crumpled hills.
Travelling by train in Italy is a joy. High-speed electrification, sumptuous landscape, and the smell of fresh coffee as my train arrows up the Roman coastline and teases the border of Tuscany.
I'm headed for Bologna. Like many, I've skirted it previously, chosen brighter Italian baubles. I think, maybe, she's Italy's unloved daughter: nestled to the left of Sienna and Florence, and often overlooked, when packed itineraries demand the Uffizi and a march on to Venice. It's regarded largely as a Mecca for petrol heads—home to Ferrari, Lamborghini, Maserati, and Ducati. It's a gasoline wet dream.
As I approach its outskirts, dimpled hills give way to industry and the chaos of modern living. Unloved residential blocks and washing lines usher me in. I wonder if this was such a good idea for a pit stop after all.
The station is unremarkable with all the hallmarks of provincial, small-town living. It has none of the grand façades one sees at Milan's Central Station or the hustle of Rome's Termini. Outside, the taxi stand is pedestrian. For a while, I wonder if anyone wants to take me anywhere. Can they be bothered? Maybe it's raucous Rome still looming over me. Maybe it's because it's late August and half of Italy is in vacanza and missing in action.
I placate myself that it must be the pace of life out here and hope for the best. Two cases, a battered up Fiat, and a driver cursing at everything like an Italian sewer. Then the magic happens. The car lurches onto Via del' Independenza, and I enter a historical twilight zone. Porticos line both sides of a broad street and run all the way to a grand square, crowned by a triumphant Neptune. I'm not sure whether his trident is welcoming me to the waters of his fountain or warning me off.
I won't find out for now as the taxi reels right between gelato-licking locals, pavement trattorias, and boutiques before screaming to a halt, halfway down the main portico.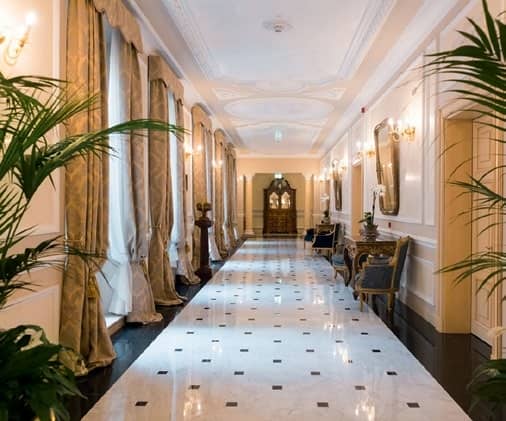 You can read upto 3 premium stories before you subscribe to Magzter GOLD
Log-in, if you are already a subscriber
Get unlimited access to thousands of curated premium stories and 5,000+ magazines
READ THE ENTIRE ISSUE
October 2019