The Tiger's Den Jim Corbett National park
Touriosity Travelmag
|
July 2018
She was barely five metres away from our jeep, quietly she came out of the bushes, slowly walked down the muddy road and sat down before our jeep.
The Maharani
Apart from us there was only another jeep and a lone visitor, a wildlife photographer in it. There was an eerie silence, as if it was a lull before the storm. But surprisingly the tigress was not at all bothered by our presence. She licked her body and glanced on the either side of the jungle but not at us. Someone amongst us hushed, 'Is she preparing herself to leap on us?' I glanced at our guide cum driver, Rasheed. He was all smiles. A cool headed guide that he was, he gestured me to carry on capturing the images of the big cat in various postures. The photographer beside me whispered to us that it was the moment of a lifetime, not many people get the opportunity to witness this in their lifetime. Therefore we should not waste it, so without disturbing the animal by making noise, we should observe it's royal movements. Rasheed was sitting calmly on the steering wheel of his vehicle. He took the cell phone of my daughter and helped her in taking a selfie and a groupfie of her with the animal behind us.
After sometime she stood up and started moving towards us. We were terrified, but the photographer and Rasheed assured that the tigress is in no mood of hunting and it was not a man-eater either. She slowly turned away and hid herself in the bushes but we could watch her staring at us. This time Rasheed signaled that we would come later because as long as we were here she won't come out. So we moved out of the spot but waited at a distance to rush in as soon as she comes out of the bushes.

Rasheed informed that the tigress is eleven years old. She has four young children now, two of them male and two female. The females too now have cubs which means our tigress, whom I had now given the name of 'Maharani', is a grandmother. But she did not look like a grandmother. At hindsight, I realise Maharani was rather shy to make any eye contact with us. She however, gave me lot of opportunity to sketch portraits of her from various angles. A friend of mine later remarked 'may be you have spent thousands but you brought back lakhs'.

Bijrani Rest House
This is Jim Corbett Tiger Reserve at Ramnagar, Uttarakhand, the foothills of Shivalik Range of the Himalayas. The man who has given us spine chilling stories of his encounters with the big cats in this region, Jim Corbett, is the one after whom this jungle has been named. The reservations for jungle safari and lodging have to be done online and one has to produce proof of identity while entering the forest zone. Our booking was done for Bijrani zone as the reservations for Dhikala zone was complete during our period of stay. At first though I thought that we were unlucky for not getting booking for Dhikala but later my experiences in the jungle of Bijrani proved that I was the most fortunate one during the trip, Moreover, Bijrani is more serene than Dhikala since tourists rush to Dhikala for its popularity for tiger sighting and thus it gets overcrowded. At Bijrani I met a few wild life photographers and in their view Bijrani is a better option for tiger sighting. One lady that I was rather lucky to meet is a passionate wild life watcher, photographer and conservationist and visits only Bijrani zone twice a year for wildlife photography.

The forest rest house in Bijrani is an old bungalow of British period built in the year 1928 and named after Jim Corbett. There is no electricity, no telephone connection, which means one remains cut off from the rest of the world during the period of stay here. One must have adequate measures in order to keep the battery of camera charged since that is the only equipment on which one has to heavily rely upon, if memories of the forest are to be taken back. I would suggest to keep a solar charged power bank ready for use under such circumstances. For security reasons of the tourists and staff, the rest house is surrounded by wired electrical fencing which keeps wild animals, mainly the tiger and elephant, at bay without causing any harm to them. From Bijrani Rest House itself we were lucky to sight jackals, spotted deer and countless varieties of birds.
Bijrani is ideal for the one who has no worries back at home and can remain virtually cut off from the rest of the world during the stay at the rest house; simply laze and enjoy the wild life there. The staying experience in the jungle is simply unforgettable.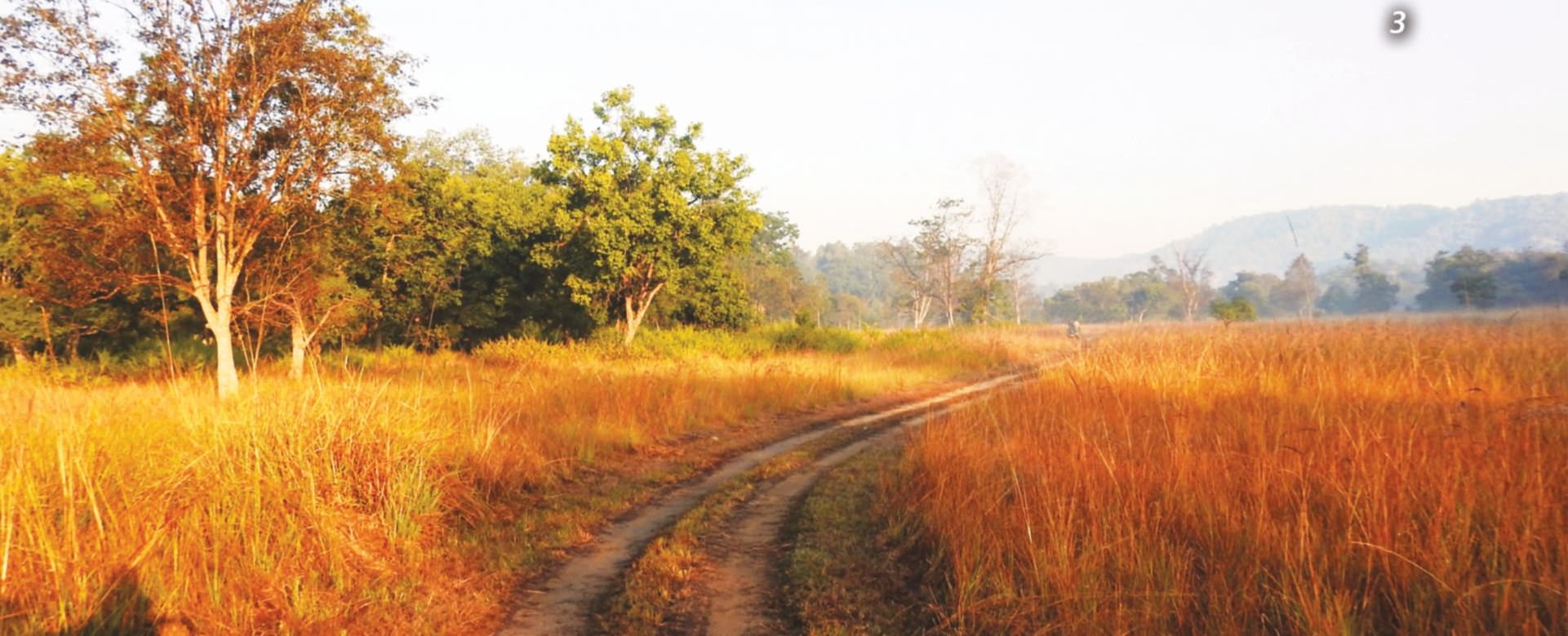 Topography
Jim Corbett National Park is the oldest national park in India and was established in 1936 as Hailey National Park to protect the endangered Bengal tiger. It is located in Nainital district of Uttarakhand and was named after Jim Corbett who played a key role in its establishment. The park was the first to come under the Project Tiger initiative. The park has sub-Himalayan belt geographical and ecological characteristics. An ecotourism destination, it contains 488 different species of plants and a diverse variety of fauna. The increase in tourist activities, among other problems, continues to present a serious challenge to the park's ecological balance.
You can read up to 3 premium stories before you subscribe to Magzter GOLD
Log in, if you are already a subscriber
Get unlimited access to thousands of curated premium stories, newspapers and 5,000+ magazines
READ THE ENTIRE ISSUE
July 2018