Asia's Treasure House Vietnam
Touriosity Travelmag|May 2020
Ho Chi Minh City, formerly known as Saigon, is steeped in history. Every street in the modern metropolis is reminiscent of some important episodes that shaped the modern day Vietnam. Despite its historic significance, the city also maintains a vibrant modern culture. From architecture, museums, good food to cultural shows, there is a lot to do in HCMC. It is Vietnam's biggest and most populous city and the business hub. The following are some of the most important attractions of the city.
Notre Dame Cathedral
This cathedral was built between 1877 and 1883 in the neo-Romanesque style by French colonists. In a city and country that largely follows Buddhism, this is a representative of its colonial past. The cathedral is in the centre of the city in Paris Square. Its towers measure 40 meters and are topped with impressive iron spires. The cathedral is dedicated to Virgin Mary and there are beautiful stained glass windows inside. There is a Virgin Mary statue in front of the cathedral.
Central Post Office
Another glorious example of French colonial architecture and located just by the side of the cathedral is the iconic Central post office which was designed in Gothic style by none other than Gustave Eiffel, the architect of Eiffel Tower. The building dates from 1886 and visitors must go inside to see the huge domed roof and beautiful walls adorned with maps from the colonial period. The post office is still functional and there are also a number of souvenir stalls inside to buy some quick gifts.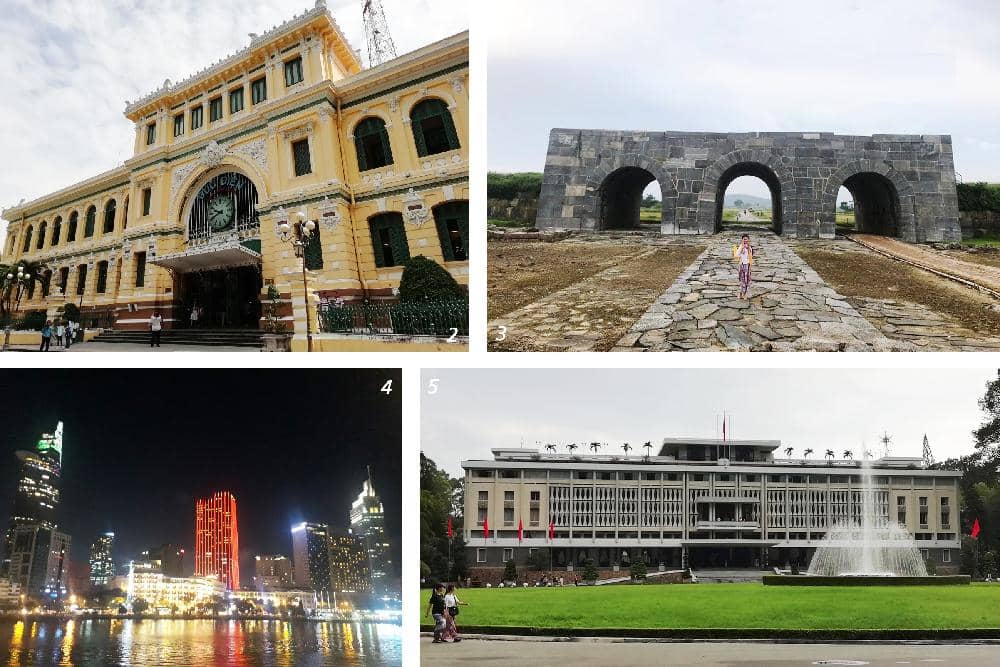 Reunification Palace
Also called the Independence Palace, this former home of the president of South Vietnam during the Vietnam War was the witness to history of unification of North and South Vietnam to a single country. It was here that the North Vietnamese army invaded in 1975 and the Ho Chi Minh City surrendered marking an end to the Vietnam War. There are free guided tours available and one can see secret rooms, grand reception halls and the command bunker where war strategies were made.
War Remnants Museum
This is a must visit place, but before coming here one must be prepared to see gruesome photos and exhibits of terror. Hence it is not recommended for the weak, old and the kids. The museum is dedicated to educating visitors about the atrocities of war in general and the history of Vietnam War in particular. This is museums gets more than half a million visitors every year. From old military vehicles like tankers and aeroplanes, war machines, bombers, replica of a prison, personal memorabilia of victims of the war, photographs of victims and the war to deformed foetus, there are a lot of things on display inside. A visit here is an unforgettable experience.
You can read up to 3 premium stories before you subscribe to Magzter GOLD
Log in, if you are already a subscriber
Get unlimited access to thousands of curated premium stories and 5,000+ magazines
READ THE ENTIRE ISSUE
May 2020