WITH ALL MY LOVE
Outlook Traveller
|
July 2020
Navigating her way through the French drapes, SOHINEE BASU reminisces about her whirlwind winter love affair with Puducherry
FOR A QUAINT TOWN BY THE SEA
Puducherry's arresting allure breathes in its sunshine-clad villas and blooming boulevards that compose the perfect postcard-frame, winning over the seeker of all things #aesthetic in you. Existing in its own time bubble, Puducherry may seem to ooze French aura and a poetic charm, but the petit pastel-hued town by the blue waters of the Bay of Bengal has a warm South Indian heart that spins you in its web of nostalgic colonial yarn.
My whirlwind visit to the Union Territory was particularly special because it was the first trip I had managed to arrange with my friends after cancelling a booking to (you guessed it) Goa. So, instead of beaches where the party lights glimmer as soon as dusk descends over the sea, we found ourselves sitting under the glow of Promenade street lamps, swirling lattes as the waves roared and crashed against the cobbled Rock Beach.
However, this wasn't just another beach vacation that I could possibly shelf along with the numerous others I've been on. Instead, Puducherry arrived like a gift—delicately tied in ribbons of warmth and cased in a bubble wrap of cheesy lasagne layers and spongy croissants, catching me off-guard with wafts of fresh calamari and crabs, inviting me on sun-kissed French colony trails while the crashing waves absently sprinkled some love.
DAY ONE: BOHEMIA AND a drizzle OF RAIN
I remember meeting Puducherry with the clouds crowding in the early morning sky when our night bus from Bengaluru screeched to a halt on a wide-flanked road. Dawn was slowly breaking over the eastern horizon when we shuffled into an auto-rickshaw, a motley group of four, which took us to White Town.
Standing out on the balcony of our apartment, I remember watching the struggling sunlight kiss des rues awake, as the gathering clouds threatened to burst with some December rain. The scooters were rented quickly and our hearts, forever in denial, had decided to cast the obvious weather predictions aside.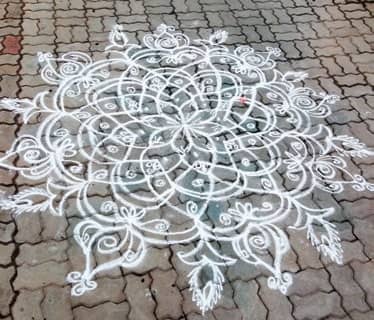 Staying in White Town had its perks, as pretty cafés with vibrant crayon-coloured walls dotted the bougainvillaea-clad streets, leaving us hopelessly confused with its adorable decor.
After unanimously agreeing that a French breakfast of Croque Monsieur and cheese omelette would set the mood for the day, we discovered the neighbouring cosy little café-cum-homestay of A La Villa Creole, overlooking the flower-showered street of La Bourdonnais that fit our bill all too well.
You can read up to 3 premium stories before you subscribe to Magzter GOLD
Log in, if you are already a subscriber
Get unlimited access to thousands of curated premium stories, newspapers and 5,000+ magazines
READ THE ENTIRE ISSUE
July 2020