ON HIGHER ground
Outlook Traveller
|
August 2020
On her maiden visit to Ladakh, pia sethi explores the vast and enchanting Changthang Plateau
The EYE-PIERCING BRIGHTNESS OF Brobdingnagian expanses leaves deep imprints on my retina. I close my eyes for a brief moment and a whirl of colour, light and texture assails me. Grey mountains with deep veins of white snow throb above white sands punctuated by tussocks of green. A fleeting glimpse of a ribong hare freezes into a nondescript white rock, whilst kiang mirages shimmer indistinctly in the afternoon haze.
Miles of kaleidoscopic mountains rush by; red mushrooms sprouting on a cliff face, giant snow leopard paws benevolently blessing those who pass, deep flutes of brown engraved in rock. Colossal, leathery, monitor lizard cushions on the horizon give way to Google Earth 3D images of deltas snaking upwards through the clouds. Lulled into a gentle complacency by watercolour swirls of green and mauve, I am roused by gashes of orange and red that slash open the innards of the mountains. I feel as if I am in a LSD-induced trance. But no, this is real. This is Ladakh.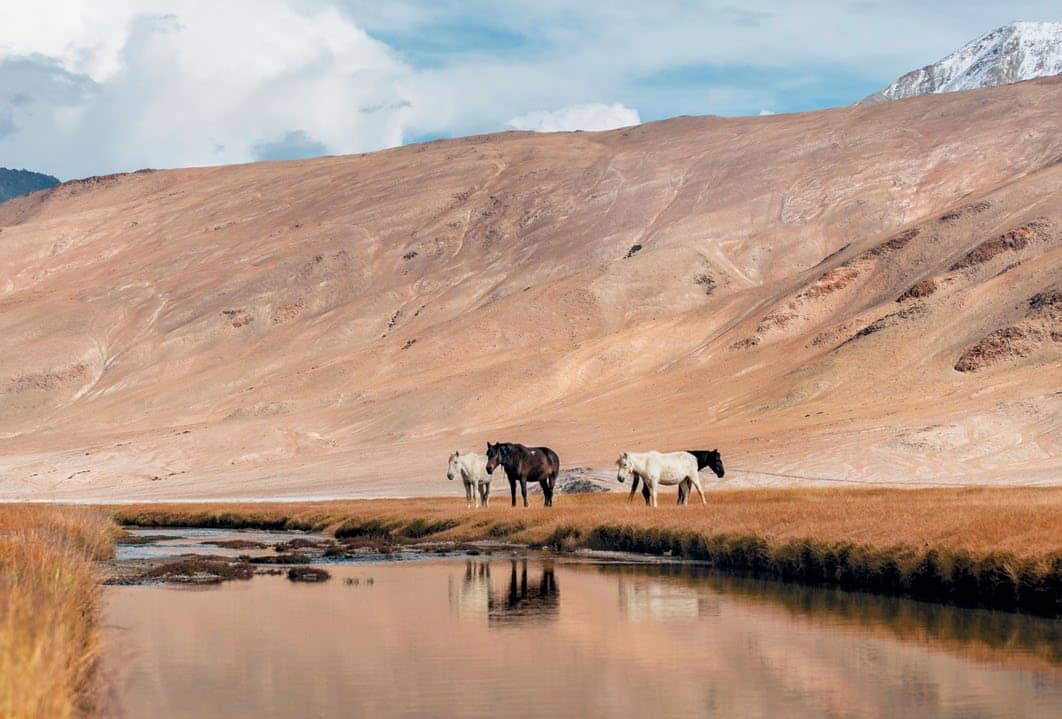 For years, I imagined a trip to Ladakh, but the expense was daunting and so the idea was perpetually shelved. Then in the summer of 2019, a chance opportunity to understand how nature-based ecotourism could be fostered in various Himalayan landscapes, dropped into my lap. Dispatching younger teammates across other well-trodden parts of the country, I selfishly reserved the 'land of the high passes' for myself, and my sharp-eyed colleague, Yatish.
We are soon headed to the windswept, northern plains of the Changthang plateau, a mosaic of wetlands and steppe grasslands, home to fabled wildlife, and prized skeins of cashmere. In this still landscape, Changpa herders wend their lonely way; pastoralists, whose perambulations with pashmina goats (and sheep and yaks), is the source of this acclaimed wool. Rigzin Norboo, an attractive, weather-beaten Ladakhi with a faraway look in his desert-brown, Nubran eyes, has us hurtling down the steep descents, and inching across the highest passes in the world.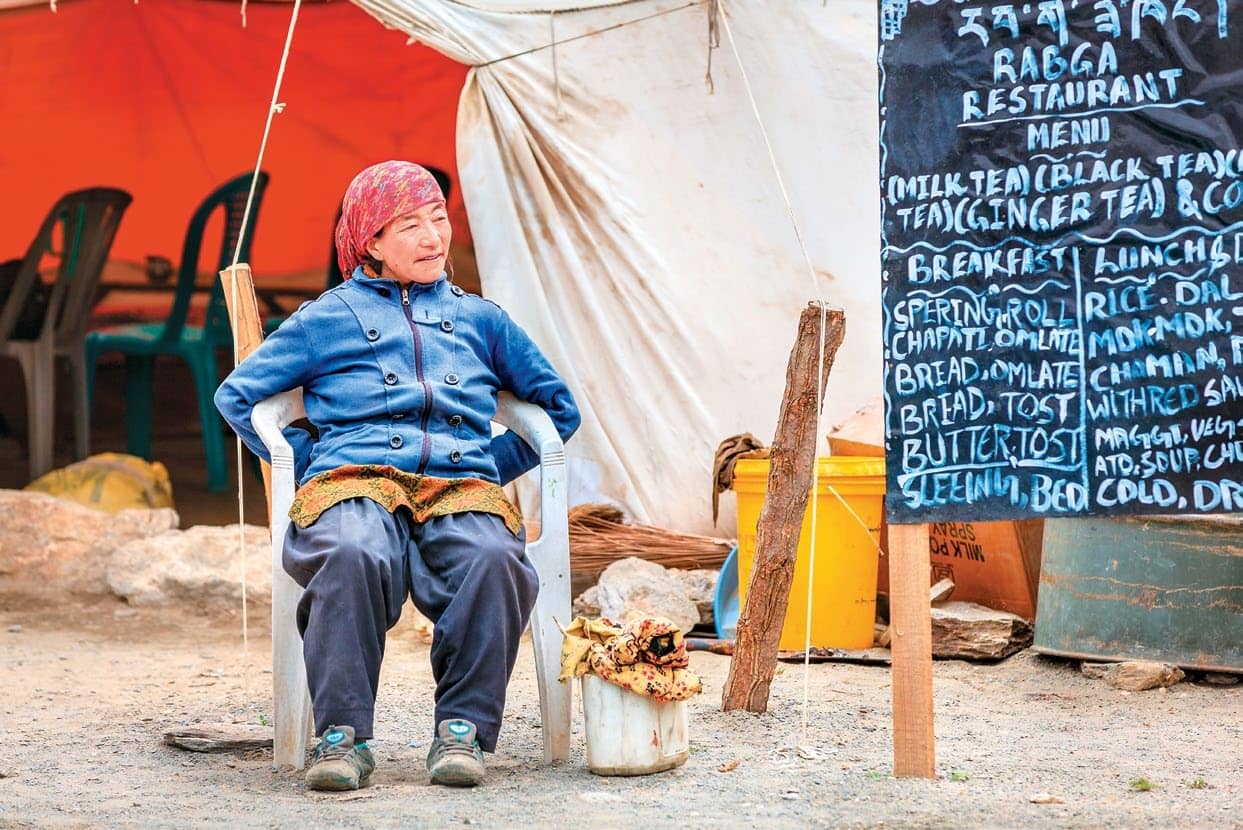 The panorama is chameleonic, transforming by the minute. In this dramatic geological theatre, human beings are blips in the tumultuous upheaval of the Himalaya that brought the bottom of a sea to the top of the world, millions of years ago. Cosmic, many-tiered vanilla and red monasteries cling precariously to razor-edged cliffs, inching nearer to god. Blooming amidst the browns is yellowgold mustard, fringed by fields a startling shade of emerald, and squat, mud-brick cream houses. Scatterings of white and green, yak-hair, Changpa rebos (tents) with herds of goats and sheep pop up by the side of rivers and streams. But I see almost no Changpas about. Apart from volleys of motorcyclists criss-crossing the terrain, there is little evidence of tourists either. Surprising, because it is July, and wetlands like Pangong Tso are on every tourist's map. Probably, the political unrest we are told as we encounter few tourists throughout our travels in Changthang. The local people are perturbed, for tourism in the short summer months is what tides them over the long, harsh winter.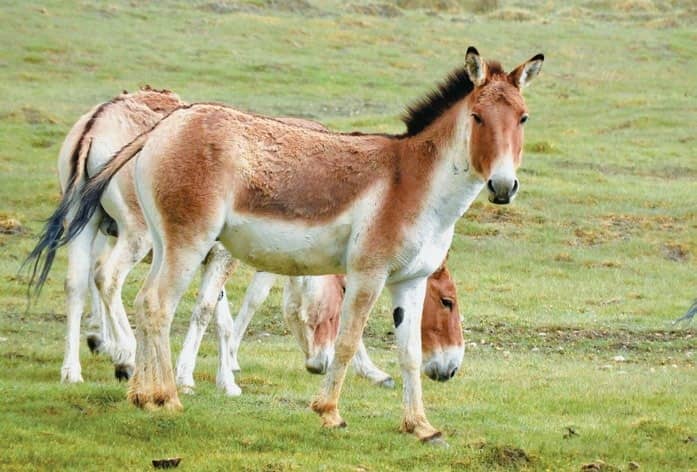 I AM ASTOUNDED BY how easy IT IS TO SPOT WILDLIFE and how confiding they are in a Buddhist land where all life is sacred. Flocks of more brown than blue bharal and their moulting, fluffy young skitter the cliffs. Plump, dusky-pink Chukar partridges with red bills, black masks and pin-striped flanks dart in front of our car. Magnificent golden eagles glide across the blue. Yatish, with his young eyes, spots a Lammergeier on a cliff. Himalayan marmots gambol by the wayside, while the shyer pikas dash into the sandy soil.
Very soon, we reach Tso Kar, the white lake, in the middle of nowhere. The nearest village Thukjay could be mistaken for a deserted outpost in the Wild West, a ramshackle clutter of guesthouses, hotels and tents on either side of the highway. In the background are broken down, largely abandoned khampas, built for Changpas who would rather prefer wandering the great outdoors.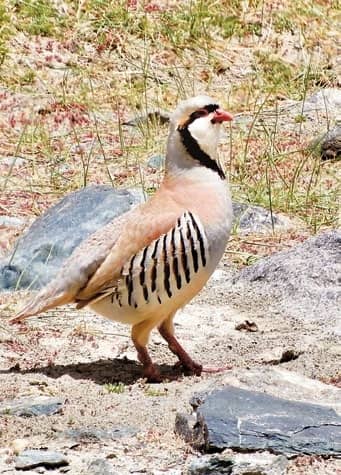 You can read up to 3 premium stories before you subscribe to Magzter GOLD
Log in, if you are already a subscriber
Get unlimited access to thousands of curated premium stories, newspapers and 5,000+ magazines
READ THE ENTIRE ISSUE
August 2020