Arunachal Pradesh - The River Rush
Outlook Traveller
|
June 2019
The currents did not go easy on Anurag Mallick during his river rafting expedition on the siang. At the end of it, however, he felt like a new man
I'm too young to di…e," the little voice of Oriel, the youngest member of our rafting group, quavered above the crash of waves as we negotiated the raging Siang. It may not seem like the ideal tourism tagline, but it was a worthy T-shirt slogan that captured the essence of adventure. As we were about to enter the rapids, I shot back at Oriel, "So am I!" The raft went full tilt and we hung on for our dear lives with the tenacity of a Mumbaikar on an evening local, barely surviving a potential spill. The Siang is one tricky river.
While approaching Dibrugarh by flight, the wide Brahmaputra river— chequered with sand banks and islets— shimmies by beguilingly. It's hard to imagine that before charting a placid journey through the plains of Assam, the Brahmaputra is a tempestuous river in its upper tracts. Originating in Tibet where it's called Yarlung Tsangpo (Xiang in Chinese), it flows gently eastwards through the Tibetan Plateau, cutting through the Great Himalayan Range past the 'Great Bend' around Namche Barwa, the highest unclimbed mountain in the world. Here, it turns sharply through a series of gorges and dashes down Arunachal as the Siang, before being joined by the Yamne, Lohit and Dibang to flow as the mighty Brahmaputra. The volume of water it carries from its lofty mountainous perch has earned it the title of 'The Everest of Rivers'.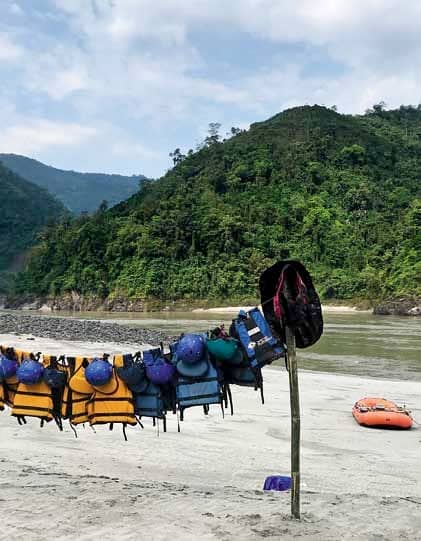 The new Bogibeel bridge, at 4.94 kilometres, the longest rail-cum-road bridge in India and the second longest in Asia, inaugurated by the Prime Minister with much fanfare last December, had made the Brahmaputra river crossing a breeze. There was no love lost for the monopolistic boatmen who used to charge exorbitant rates to ferry passengers and vehicles in the past. After a delicious chicken meal at Amrita Singh Line Hotel at Kulajan Tiniali, we crossed over from Assam to Arunachal at the bustling border town of Jonai Bazar. Driving through Pasighat, we took the Ranaghat bridge over the Siang and buckled up for the final offroad access to our base, Abor Country River Camp.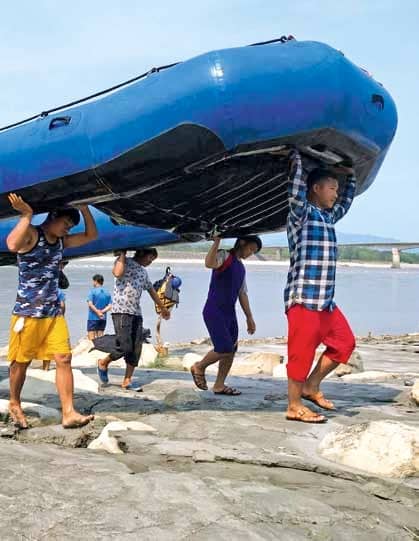 Oken Tayeng of Abor Country Travels & Expeditions (aborcountrytravels.com), the man behind the Siang Rush rafting event (2019 was the second edition), welcomed us to his eco-friendly riverside camp. The water supply was tapped from a natural spring, electricity came from solar power and the heritage rooms were named after the rivers Siang, Siyom and Yamne. Over tea at the deck overlooking the Siang, Oken spoke at length about the river. The origin of the Brahmaputra was shrouded in mystery and, for many years, it was not known where it entered India and if the Tsangpo or Siang indeed flowed into the Brahmaputra; some believed it ran further east and became the Irrawaddy or Mekong. Another unanswered question was how a huge river could descend from 9,000-feet to 1,000-feet within the span of a hundred miles; such a sharp gradient led to the theory of a 'Lost Falls.'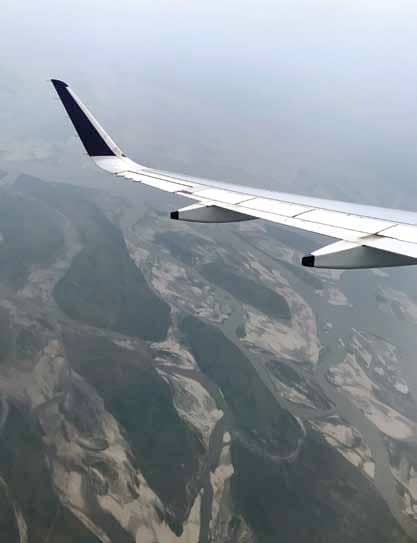 You can read up to 3 premium stories before you subscribe to Magzter GOLD
Log in, if you are already a subscriber
Get unlimited access to thousands of curated premium stories, newspapers and 5,000+ magazines
READ THE ENTIRE ISSUE
June 2019