The Gaming Of Cats
Oklahoma Today
|
September/October 2017
Cats Hold a Singular Place in the Hearts of the Humans Who Care for Them. Within the World of Feline Love Is a Microcosm of Cat Owners Who Breed, Groom, and Show Cats on the Competitive Circuit.
THE WORLD'S RELATIONSHIP with cats is storied and symbiotic. Their vermin-hunting skills first earned them a place of honor before Egyptians elevated them to god status. Thousands of years later, religious hysteria demonized them in certain parts of the world for a time before they found themselves once again welcomed into homes and laps. And while dogs may be man's best friend, cats dominate humankind's virtual heart. Since the first cat video popped up on YouTube in 2005—uploaded by one of the site's founders—at least 2 million more have garnered billions of views. Countless cat photographs can be found online at any given time, and cat food company Friskies estimated that 15 percent of all web traffic is cat-related. In spite of—or perhaps because of—their aloof, stubborn demeanors, these furry little predators are beloved by many.
Enthusiasm for cats, of course, extends beyond the internet, and there's no better place to see it in its most concentrated form than at cat shows. Most people are familiar with the concept of dog shows. The feline equivalent isn't as well-known, but it spans more than a century. The first national American cat show took place at Madison Square Garden in 1895, where a brown tabby Maine coon named Cosey was awarded Best in Show and an engraved silver collar.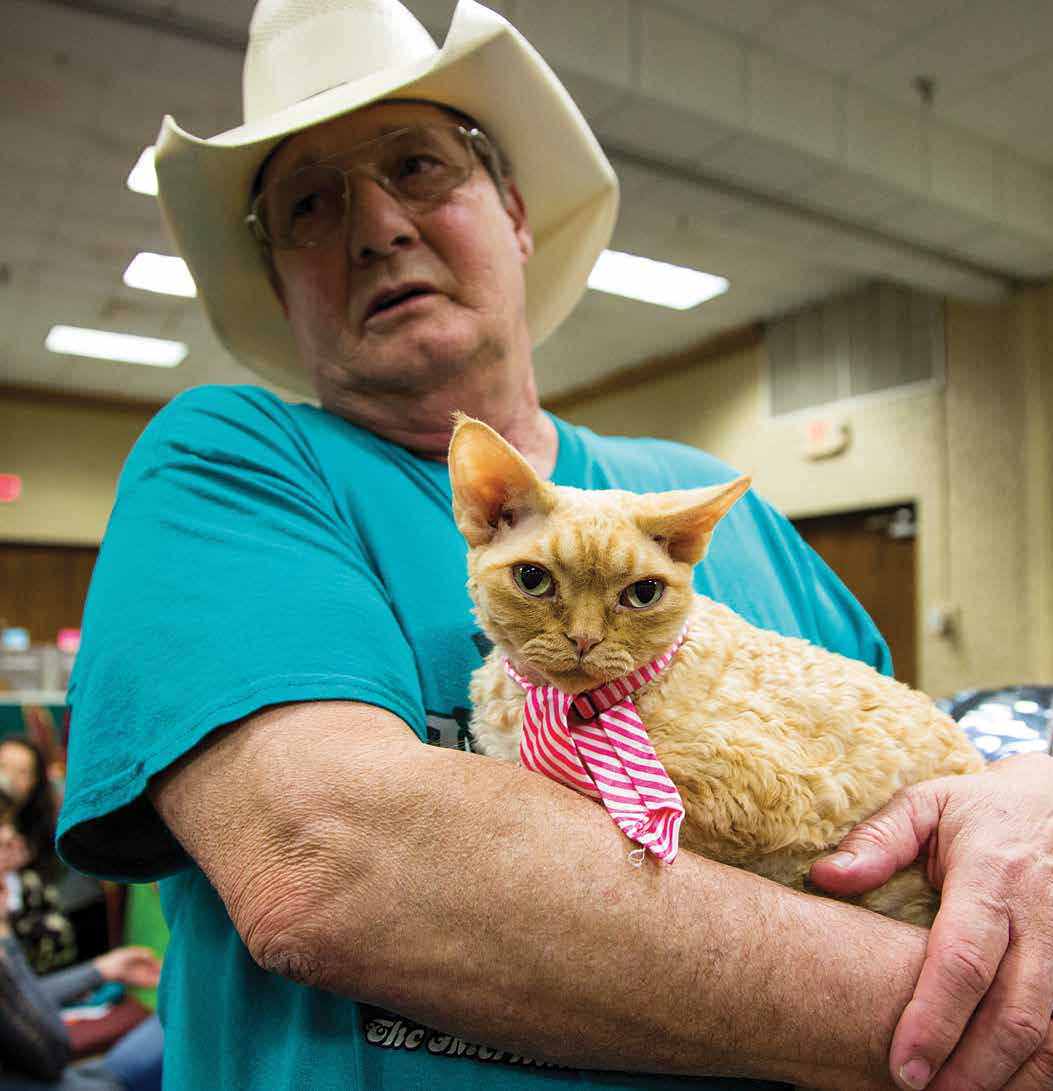 INSTEAD OF WATCHING all those cat videos online, take a big breath and walk through a cat show," says Janis Walkingstick. "We get a lot of people who come for the first time and love it."
Walkingstick is the secretary and past show manager for the Oklahoma City Cat Club, which hosts its annual competition the first weekend in April. A self-described "cattery brat," she grew up in the world of the feline elite. Her mother bred the first exotic short hair to win grand champion in the world at a Cat Fanciers' Association show in 1971. A longtime teacher and former news anchor, Walkingstick has been a CFA registered breeder of American short hairs and exotics—which are like short haired Persians—since 1971.
Founded in 1906, CFA is the oldest and largest existing cat registry, licensing hundreds of competitions annually. And while it's more of a newbie on the scene, The International Cat Association (TICA), which began in 1979, is Earth's other reigning cat entity. Along with outreach and breeder assistance programs, both organizations sanction cat clubs grouped by region. In Oklahoma, there is one CFA club—the Oklahoma City Cat Club—and three TICA clubs in Oklahoma City and Muskogee. These individual groups produce the shows.
You can read up to 3 premium stories before you subscribe to Magzter GOLD
Log in, if you are already a subscriber
Get unlimited access to thousands of curated premium stories, newspapers and 5,000+ magazines
READ THE ENTIRE ISSUE
September/October 2017