Unmoored In Mongolia
National Geographic Traveller India
|
September 2018
On A 21-day Road Trip Across The Country, A Writer Sheds Preconceived Images Of Its Landscape And Embraces Surprise.
An endless expanse of azure blue stretched in front of me as our boat cut across the waters of Khövsgöl Nuur (nuur means 'lake' in Mongolian), the Blue Pearl of Mongolia. Arctic herring gulls furiously flew overhead, disturbed by our intrusion into their territory, a rocky island full of cormorants, gulls and other water birds. There was alpine greenery all around. My mind struggled to recalibrate the preconceived picture of Mongolia I held. Where were the green steppes and barren slopes? Where were the wild horses? And the gentle rolling hills?
Spread over 2,760 square kilometres, Mongolia's second largest freshwater lake looks less like a lake and more like the sea, ringed by mountains sporting either denuded slopes or lush Siberian larch. Meandering through the glorious steppes of eastern and central Mongolia over two weeks and 2,000 kilometres, I had arrived as far as the Siberian taiga on the northern edge of the country, near the Russian border. It was the farthest point on the journey before I circled back to the capital, Ulaanbaatar, over another week. This was turning out to be the ultimate road trip—isn't it one of the greatest joys of travelling long distances by road, I wondered, to see the landscape change and feel a visceral change within?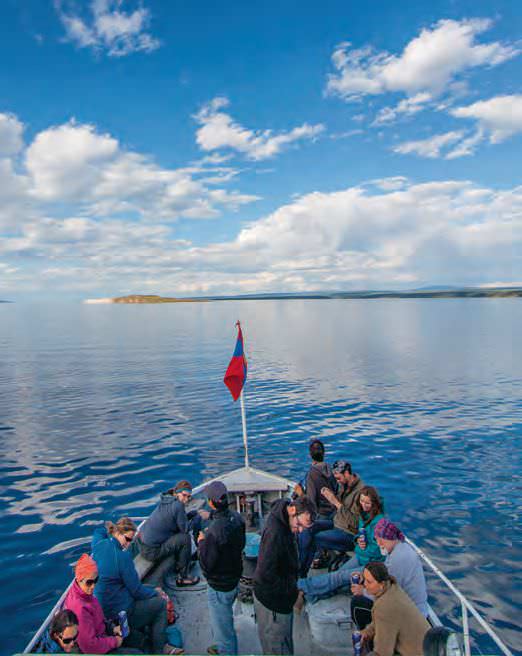 Four years ago, I spent nearly a month in Mongolia traversing its desolate hinterlands, occasionally on tarmac but mostly on far more exciting dirt tracks. Travelling in a huge overlanding truck—it could seat over 25 people and was kitted with large glass windows and two sunroofs—our motley bunch of about 20 travellers from around the world was shepherded around by two expert skippers and two Mongolian guides. Starting from the dreary Ulaanbaatar, we were on a circular route through the central and northern parts of Mongolia that included stops at the town of Kharkhorin, the erstwhile capital of the Mongol empire; the diverse and stunning Orkhon Valley, the dormant Khorgo volcano, ancient monasteries of Erdene Zuu and Amarbayasgalant, and lake Khövsgöl among others.
You can read up to 3 premium stories before you subscribe to Magzter GOLD
Log in, if you are already a subscriber
Get unlimited access to thousands of curated premium stories, newspapers and 5,000+ magazines
READ THE ENTIRE ISSUE
September 2018