Best List: 25 Unsung Indian Heritage Gems
National Geographic Traveller India
|
September 2018
At Many Of These Historically Significant Spots, You Might Be The Only Tourist In Sight. But That's Just The Way This Author Prefers It 
DHOLAVIRA, GUJARAT 217 km east of Bhuj airport
A vast site from the Harappan era, set on a spectacular island far out in the salt marshes of the Rann of Kutch, Dholavira provides a rare opportunity to stroll alone through one of civilisation's greatest ancient cities, abandoned four millennia ago. See how our ancestors lived, with well-engineered sewage tunnels, tiled bath cubicles, and kitchens with grinding stones. Prehistoric mixies, anyone?
AIHOLE, KARNATAKA
40 km east from Badami railway station; buses run to Aihole village; Nearest airport: Belgaum (157 km)
This village adjoining the stunning hillside cave temples of Badami and the UNESCO World Heritage Site of Pattadakal is easily overlooked, but Aihole's intriguing experimental rock-cut temples suggest that this was a laboratory of sacred architecture. Referred to as the cradle of Indian temple design, in its heydey the village had hundreds of arts teachers.
KAUSAMBI, UTTAR PRADESH
51 km west of Allahabad railway station; Nearest airport: Varanasi (175 km)
The wondrous KauÅ›ÄmbÄ« is mentioned in the Ramayana, and the Buddha lectured here post-enlightenment. It was born as a Vedic capital, rose to glory over a thousand years, then vanished. It was rediscovered, replete with ruins of palaces, monasteries and city walls. There's no signposting—the finds are in the museums of Allahabad.
GANGAIKONDACHOLAPURAM, TAMIL NADU
35 km north from Kumbakonam railway station; Nearest airport: Tiruchirappalli (144 km)
Of all of India's hallowed heritage grounds, my favourite is the slightly out-of-the-way, 1,000-year-old, 180-foot tall Gangaikondacholeeswaram temple. Still a simple functioning temple, it's perhaps the finest example of Chola architectural art and the only surviving monument of the capital built by a Tamil king who ruled from here and up to the Ganges, which is the meaning of the name Gangaikondacholapuram.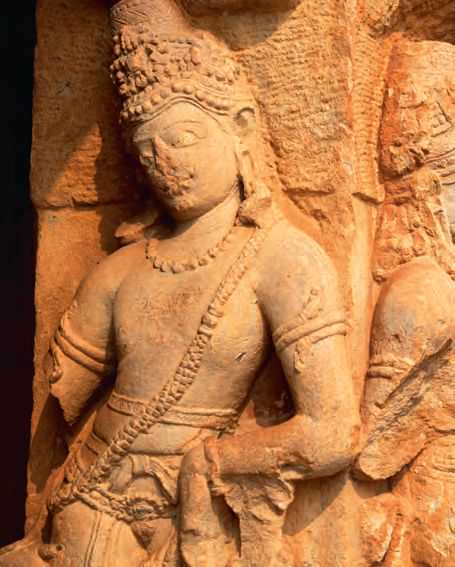 MARBLE PALACE, WEST BENGAL
14 km from Kolkata airport; Nearest metro station: M. G. Road; Get permission from the West Bengal Tourism Information Bureau at BBD Bagh in advance
Tucked inside a narrow street in crowded north Kolkata, this neoclassical mansion was built in the mid-1830s by obsessive collector Raja Rajendra Mullick and crammed with paintings, statues, Victorian furniture, Chinese urns, and other treasures from almost a hundred different countries. It provides a rare glimpse into India's globalised past and the colonial world.
NAGGAR CASTLE, HIMACHAL PRADESH
35 km north of Kulu-Manali airport
A dramatic 15th-century castle 6,500 feet high up on the hillside, where the Kulu kings used to live, it affords a royal view of the Beas River and its surroundings. Painter Nicholas Roerich lived in a bungalow, a 20-minute walk away, until his death in 1947. It is now a museum and displays his paintings of the region. Staying overnight at the castle, now run as a government heritage guesthouse (hptdc.nic.in), made me feel like a maharaja.
RUMTEK MONASTERY, SIKKIM
24 km west of state capital Gangtok; Nearest airport: Bagdogra (135 km); Non-Indians require Inner Line Permits
Sikkim is an otherworldly slice of Shangri-La and the "Monastic Trek" takes you to Buddhist highlights including the scenic Rumtek, built in the 1960s over the ruins of a 1740 monastery. It offers visitors an opportunity to explore high-altitude spiritual culture, the arts and crafts of Lamaism, or just listen in on the hypnotic prayer sessions.
You can read up to 3 premium stories before you subscribe to Magzter GOLD
Log in, if you are already a subscriber
Get unlimited access to thousands of curated premium stories, newspapers and 5,000+ magazines
READ THE ENTIRE ISSUE
September 2018