Marooned: A Field Guide
I'm perched on the edge of a simple thatched-roof shelter on the remote Indonesian island of Siroktabe, staring down an immaculate white beach as the sun dips westward into the Indian Ocean, shocking the sky a glorious orange-pink. I feel good. Great, in fact. I am the only human being for miles. I am supposedly here to be tested, to survive. But here, now, surrounded by the earths rich bounty, I think: This isn't surviving. This is living.
BACK UP A COUPLE OF WEEKS. THERE IS A SMALL COMPANY IN HONG Kong, Docastaway, that specializes in dropping people on desert islands in Asia, Oceania, or Central America to survive by their own wits for as long as they want to, or can bear it. (They also offer "comfort" packages, featuring all of the seclusion and none, or at least far less, of the hardship.) Maxim thought I might like to give it a shot. Why me? Because I have essentially no survival skills whatsoever. That is, unless you count a ninja-like ability to ride 16 stops in a packed A train without physically touching another human. I'm a creature of the city. On the whole, nature in the raw holds little appeal for me. I just don't really know what to do with it. I'm also a profoundly pale man, paler than the ass of an Irish ghost in January. And a ginger. My brother once said I look like a marshmallow topped with carrot shavings. Which means that in addition to my issues with nature, I also hate the beach. And seafood.
Still, the idea of coming here was appealing, as I'd imagine it would be to all men. Most of us suspect, and a few know with certainty, that if the shit really came down, we'd be able to summon some dormant primordial power, some untapped cunning and resourcefulness and grit, and conquer the situation, whatever it was. We'd show what we're really made of. We'd tap into a vestigial wildness. We'd survive.
But would we? The plan was this: I would travel from New York to Dubai to Jakarta and then take two more planes, followed by a car ride to a small fishing village, where I'd hand over a brick of Indonesian cash to pay for the experience, and then be ferried, finally, to a location I am contractually prohibited from revealing. (Docastaway generally rents publicly owned but little-known islands from governments, navies, or locals, and doesn't want to broadcast their locations to the world. It calls this island Siroktabe, not its real name.) Once there, I'd stay three full days, with minimal equipment: a speargun, a canoe, a machete. My contact at the company, cofounder Alvaro Cerezo, stressed that this was meant to replicate an authentic experience. "A castaway don't know nothing," he said. "You know nothing. You need to eat. You need to drink." When I asked for some very basic survival tips, he hesitated. It's best that I suffer, he said: "Otherwise it's a vacation."
Seems reasonable, I thought. I may have been inordinately excited about the speargun.
On the appointed day, off I went, hauling a bag containing some borrowed outdoor clothes and a stupid-looking hat, sunscreen, industrial insect repellent, a flashlight, and malaria pills. I was nervous but confident. How bad could it really be? There were banana trees, I was told.If the fishing was bad, or the coconuts scarce, I'd just eat the bananas. Problem solved. Besides, it's three days. Anything's tolerable for three days.
FROM OUR boat, Siroktabe looms across the water. Bigger than I'd expected. Quite big, actually, with a narrow ribbon of beach surrounding a dense jungle that soars to a mountain peak in the center, and heaps of black volcanic boulders at either end. Even from afar, this place is spectacularly beautiful.
The boat edges up to the island, and we hop off into the shallow water. My guide gives me the rundown, showing me the simple thatched-roof shelter that will be my home, and points out a pot, a pan, and a gas-powered camp stove. Slightly annoyed, I resolve not to use the stove. I didn't come here to be pampered. Otherwise, how will I know what I'm made of? But OK. He tells me about the great swarms of bats that come out around sunset. The pythons that make the island home. Demonstrates the speargun. Before he leaves, he leads me to a patch where I can dig up cassava, a root vegetable found via its marijuana-looking leaves. He reaches down, pops one out of the soft, abiding earth, a nice fat one, and hands it to me. There are also almonds around, he says, pointing at one. You just have to dig them out of their thick pods with a knife. And so I don't die, he leaves me a few large bottles of water.
And then he's off. He will be on the next island over. If I get into trouble, there's a cell phone and a walkie-talkie I can contact him with. "Good luck," he says. "I'll see you in a few days."
I walk back to the shelter. I notice an ant on my camera and flick it off.
The place is textbook paradise, verging on cliché. And hot. I've been here for 30 minutes and I'm already pouring sweat.
I'm also pretty hungry. By this point I've been traveling for nearly two full days and I'm running on just a couple hours of sleep, courtesy of some strange windowless hotel room at the airport in Jakarta with lights I couldn't turn off. I haven't eaten a proper meal in about 14 hours, save for some crackers I bought on a regional airline. (One of the ingredients: "shredded beef flavor.")
But the crackers are long gone. Here you eat what you kill. So let's start killing! I pick up the speargun, load it, cock it, aim it at a downed tree on the beach, and pull the trigger. The line attached to the spear catches my middle finger and tears off a few layers of skin, a wound that will seep pus for three days. You win this time, tree!
Clearly I need a plan, but it's hard to hatch one when you have no idea what you're doing or how nature works. Do I fish? Harvest? Hunt and gather? Where is the food exactly? And where are those bananas? I retire to my shelter to think. I stretch out my legs.
When I awake several hours later, it's almost dark. At 5:30 P.M. Already? I hop up and begin walking along the edge of the jungle. No bananas. No coconuts. A few almonds. I come back to the shelter, try to start a fire with a lighter, some driftwood, and notebook paper, and fail. It's damp and windy, and nothing will catch. Without fire there is no boiling—and I'm not using that stove—so I end up gnawing down half that raw cassava in darkness. It's not bad! Plus, all this chewing is probably strengthening my jaws. That could prove useful in the coming days, should I awaken with a python on my face.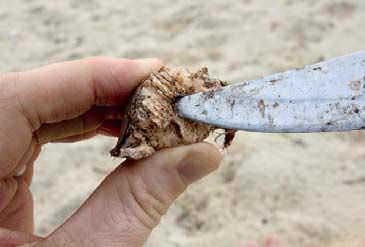 You can read up to 3 premium stories before you subscribe to Magzter GOLD
Log in, if you are already a subscriber
Get unlimited access to thousands of curated premium stories, newspapers and 5,000+ magazines
READ THE ENTIRE ISSUE
August 2015