The Pursuit Of Happiness
Lonely Planet Magazine India|June 2020
A quest that starts at rush hour in the Finnish capital, Helsinki...
If you would like to feel the pangs of instant lifestyle envy, simply hang around the waterfront in Helsinki for an hour on a Monday morning. People head to work or take their children to nursery on bikes, gliding through streets empty but for the cheerful yellow-and-green trams that rattle along them. Hardy swimmers complete pre-work laps of the Allas Sea Pool as the day's first ferry from Suomenlinna Fortress chugs into the harbour behind them, its passengers ambling off to the city's offices and coffee shops. No one seems to be in a hurry. I compare this to my own frantic, wild-eyed Monday commute and make a mental note to make more effort to enjoy the start of the week. It's just one lesson to take from the Finns, a people who have nailed the nebulous concept of happiness so completely that Finland frequently tops 'the world's happiest' polls. For a fuller education, I meet up with four locals and ask them to spill the beans.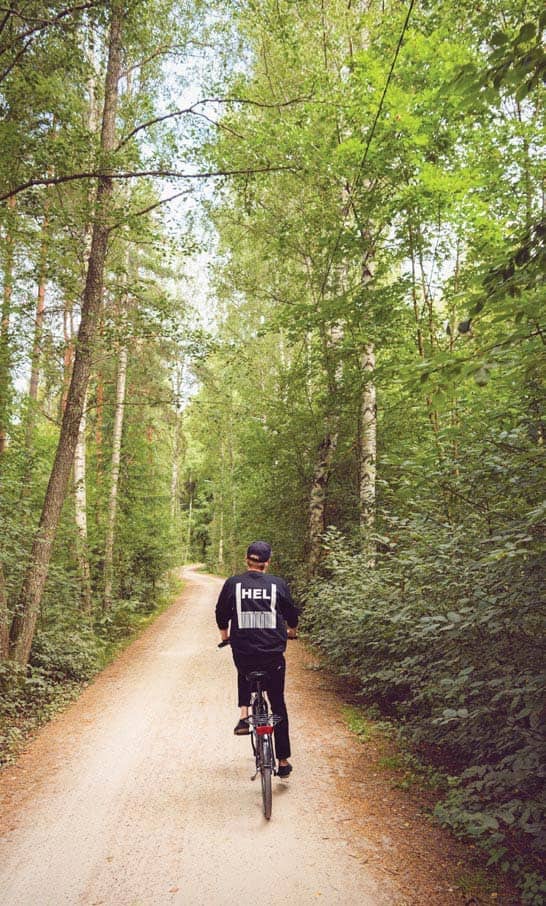 1 THE BIKE GUIDE
LESSON: EMBRACE LIFE'S CONTRASTS
It's hard to imagine that Riku Nurminen ever feels glum, or even just slightly mediocre. For the last half hour, we've been cycling through Helsinki, and he hasn't stopped smiling or talking. "I love this," he shouts over his shoulder, "meeting people, riding my bike, enjoying the short summer and seeing my city."
Riku founded Helsinki Bike Tours in 2014 and – when not working as a hotel concierge, opera performer or sports massage therapist – shows his hometown to guests that have included Bill Gates, former Finnish presidents and the Chinese Olympic snowboarding team, circling through topics as diverse as Russian history, the music of Sibelius, and the invention of Angry Birds as he goes.
On single-speed Helsinki-made Jopo bikes ("the most sold and stolen bikes in Finland"), we pedal along quiet cycle lanes, swerving only to circumnavigate a stray goose as we skirt TOOlO Bay. Having taken in the underground art gallery Amos Rex – the lumps and bumps of its roof drawing skateboarders and selfie-takers in equal measure – we head out to Riku's favourite bit of Helsinki: Keskuspuisto. "We don't make a lot of noise about this place," says Riku as we enter the park, swooping beneath a canopy of spruce. "But it's pretty unique to have a forest right inside the city. You cannot believe we're still in Helsinki."
We glide along shaded paths lined with bracken and silver birch trees, enjoying the pine-scented air with joggers, dog walkers and power-walkers. "It's extreme here, so you enjoy the contrasts," Riku explains as we pass a cluster of tiny, unaccompanied children taking a rabbit for a walk on a lead. "You really appreciate the summer if you've spent six months indoors watching Netflix. No one leaves Finland now," he says. "It's daylight all the time and there's too much to enjoy."
Before heading back into town, we stop for blueberry cake and cartons of birch water in a clearing given over to allotments. Around us, people diligently tend to their redcurrants, gooseberries and runner beans in the sunshine. "As you can see, nature is important to everyone in Finland, and it's available to everyone," says Riku. "If you are rich or you are poor, you enjoy it just the same." www.heltours.com; bike tours from ₹5,500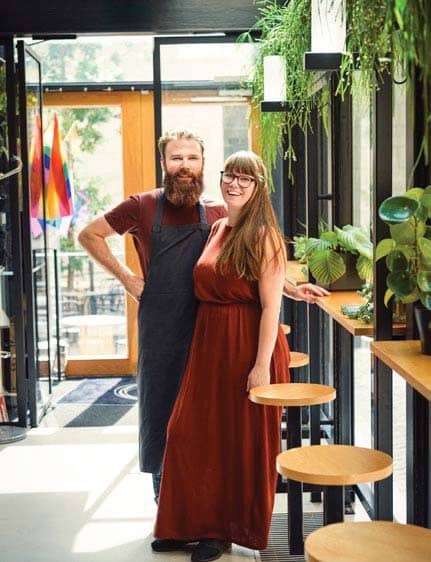 2 THE RESTAURATEURS
LESSON: TRY SOMETHING NEW
"Helsinki is at the start of becoming something very big," says Romany Ekegren, sitting down with a cup of coffee. "People here are open-minded and not afraid to try new things. Stores, bars and restaurants are opening all the time, and the city is very supportive – it's pretty epic!"
Romany and husband Juho should know. Three years ago, at the ripe old age of 24, they opened their first restaurant together. "We're crazy young," says Romany with a laugh, "but I think you should embrace being young and having so many ideas in your head that you can't contain them."
Chapter restaurant occupies one of Helsinki's oldest stone buildings. The windows on the saffron-coloured façade point straight to the city's wedding-cake Lutheran cathedral, while those at the back look onto a festoon-lit courtyard. Each of the rooms has a different mood – some light-filled and plant-strewn, others dark and cocooning. Romany and Juho designed the interior themselves, filling the space with photographic prints from friends, crockery and glassware from grandparents, and books and magazines from flea markets.
It is a place to while away whole evenings, and many diners do, coming early for a cocktail at the bar and staying until closing time. "If you're comfortable and happy, you don't want to move," says Romany. "We want people to enjoy dinner at their own pace."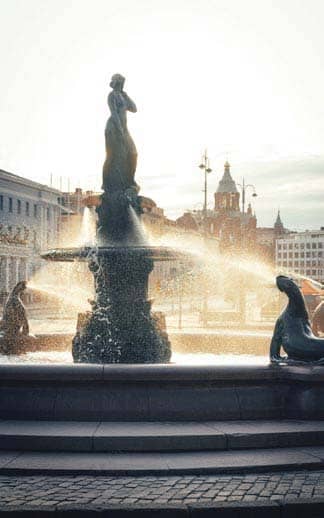 You can read up to 3 premium stories before you subscribe to Magzter GOLD
Log in, if you are already a subscriber
Get unlimited access to thousands of curated premium stories and 5,000+ magazines
READ THE ENTIRE ISSUE
June 2020