Rediscover Switzerland In 4 Different Ways
Lonely Planet Magazine India|February 2020
Whether you're an adventurer, travelling as part of a gang of girls or a band of boys, or even you're going with the full khandaan, we've got wonderful suggestions across Switzerland for you. The best part: you're going to be tempted to check out the experiences in all the other categories as well!
Interlaken for Adventurers
Set in the Bernese Oberland, charming Interlaken is set between Lake Thun and Lake Brienz, in the shadow of three of the highest mountains in the Alps – the Eiger, Monch and Jungfrau. Surrounded as it is by lakes and snow-capped mountains, Interlaken is made for adventure; from sky-diving to skiing, there's something for everyone. It's not known as Europe's number one adventure sport destination for nothing!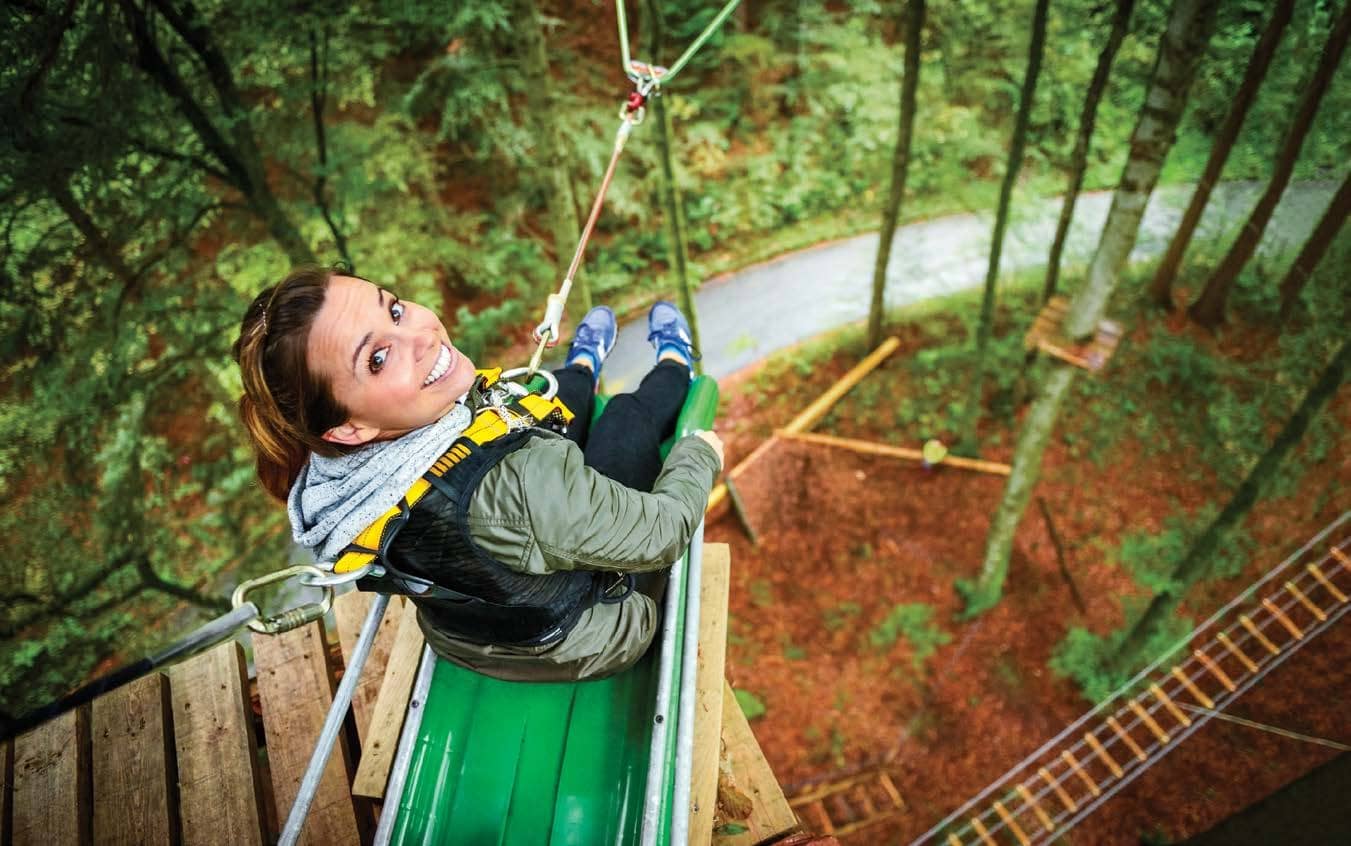 1 GREAT FOR JUMPING INTO ADVENTURE
Located close to Interlaken West station, Adventure Park uses swings, bridges and zip lines to propel adventurers through treetop courses of varying difficulties. The Ropes Park (Seilpark) offers more than 120 different challenges – you could be at ground level or 20m up in the air. Choose the level of difficulty you're comfortable with and then push yourself a little. You could also opt for a tandem hang-gliding flight with Bumblebee, where your pilot swoops and swerves over the Interlaken valley and Lakes Brienz and Thun. It will seem like an easy ride over breathtaking scenery, until you're offered steering control.
THE EASIER OPTION: If you're visiting with kids, the Butterfly Walk at Adventure Park is a fun way to get a feel of the tree challenges without a harness.
Outdoor Interlaken Adventure Park: Currently on a break, Adventure Park reopens in April 2020; 00-41-33-826-7719; www.outdoor-interlaken.ch; Wagnerenstrasse, 3800 Matten; from ₹2,300
Bumblebee Hang-gliding: 00-41-79-454-3464; www. fly-bumblebee.com; Eyacher, 1; 8am – 5.30pm; 15-minute tandem flight from ₹17,000; prior booking recommended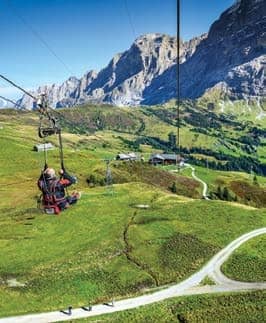 2 GREAT FOR RIDING THE WIND
Grindelwald, just a short distance from Interlaken, offers you a chance to be a child again. The Trottibikes at this remote cable-car station in the Alps are bigger and sleeker versions of your classic toy scooter. Just master the kickoff; gravity does most of the work as you coast down a smooth road into the pastures in the valley. Another great way to take to the air is with the Grindelwald First Flyer. You're strapped into a glacier-facing airborne chair for the 2,480ft-long zip-line ride, 675 feet above the ground. It takes just 40 high-velocity seconds to get that adrenaline jolt as you fly down a mountain-ringed by glaciers.
THE EASIER OPTION: Take a walk around Grindelwald, and come face-to-face with inquisitive cows in peaceful meadows
Grindelwald Trottibike: 00-41-33-828-7711; www.grindelwald.ch; Firstbahn AG, Dorfstrasse 187; mid-May – mid-Oct; Trottibikes available at Bort funicular station near the First Flyer endpoint; rental with helmet and vail pass from ₹2,180
Grindelwald First Flyer: 00-41-33-828-7233; www.ziprider.com/rides/grindelwald; May–Oct; First Flyer package with Rail, Mountain Cart and Trottibike from ₹6,200, First Flyer from ₹5,040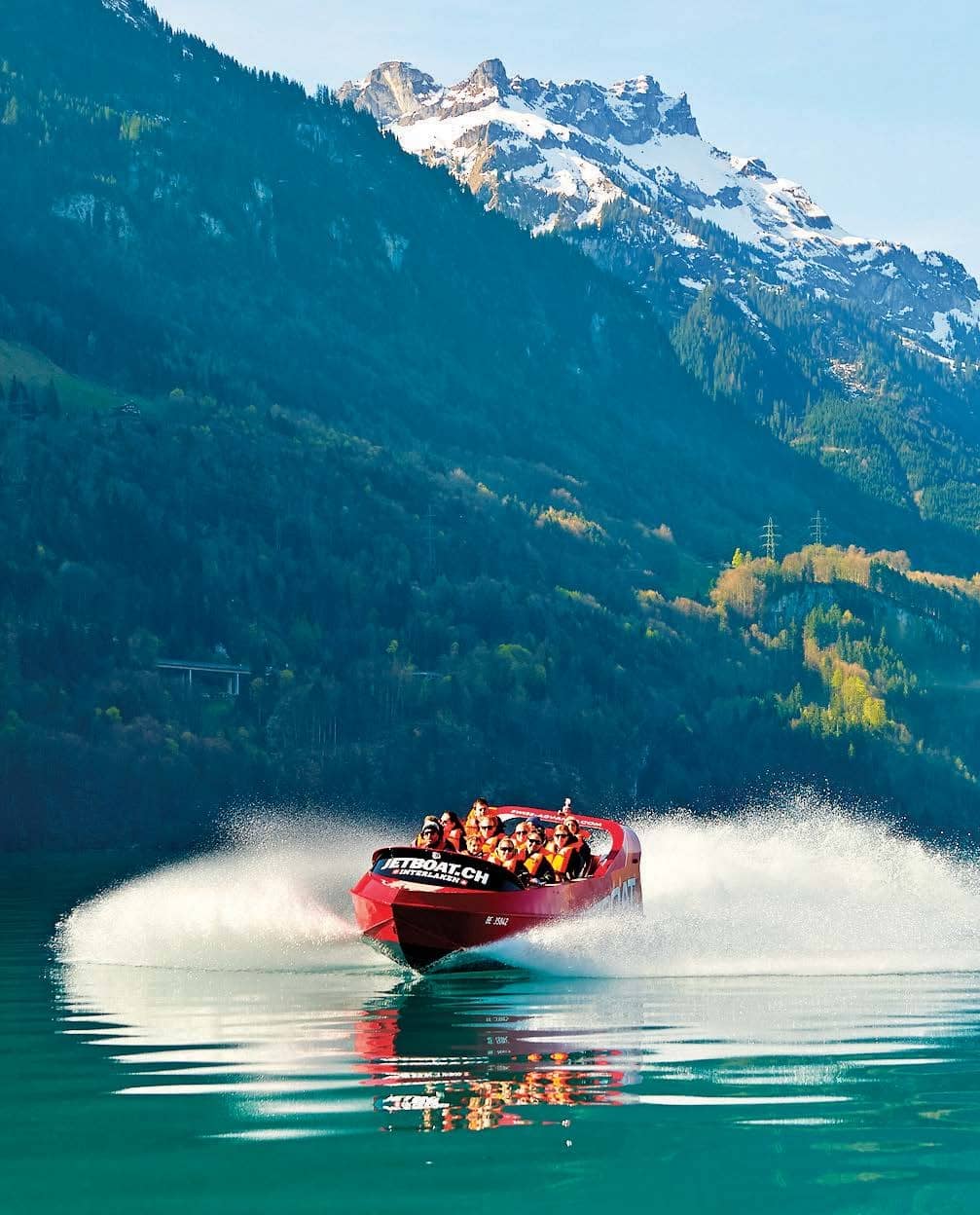 3 GREAT FOR LETTING GO ON A LAKE
Interlaken ("between lakes") is flanked by Lake Brienz and Lake Thun, each so clean that fish, finding almost no food in them, struggle to survive. It's safe to drink and certainly safe to be soaked in, which you will be as you jet-boat at high speeds and into 360° spins on the crystal-clear waters of Lake Brienz. The jet boats also go through the Giessbach Falls.
THE EASIER OPTION: Laidback cruise boats halt at Giessbach and you can indulge in a leisurely lunch at the Grandhotel Giessbach, a 19th-century mansion saved from demolition by a Swiss ecologist and re-opened as a hotel, right next to the falls. Incidentally, Brienz is also home to Brunngasse, once voted "the most beautiful street in Europe."
Jetboat Interlaken: 00-41-78-845-5699; www.jetboat.ch; departures between 10am – 5.30pm Apr-Oct; prior booking recommended 75-minute shared jet-boat ride from ₹5,375 adult, ₹3,300 child (minimum age: 5 years) with wetsuits
Giessbach Grandhotel & Falls visit: 00-41-33-952-2525; www.giessbach.ch/en; take the special Giessbach boat cruise departing from Interlaken Ost; special gastronomic trip from ₹1,975.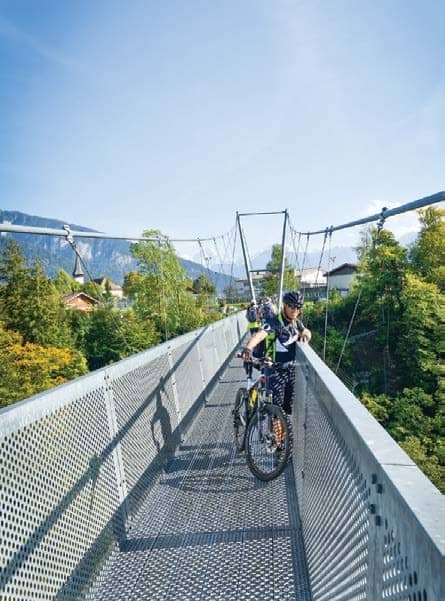 4 GREAT FOR INCHING ALONG
It wobbles and sways as you walk it; the Sigriswil Panoramic Bridge on the Lake Thun Hiking Trail is a largely unknown small adventure in its own right. The pedestrian suspension bridge over the cutely-named Gummi Gorge is 340m long and it's just one element on a pleasant trail that winds past laid-back villages and gentle slopes. Just 25 minutes away are the St Beatus Caves. If you like exploring spooky places, this underground cavern where a legendary saint slayed a dragon will be an adventure for you.
THE EASIER OPTION: Thun village nearby is rich in medieval legends and architecture. Its castle is 800 years old, its museum full of art and artefacts from the region. You'll find charming old buildings dotting the town and covered shopping arcades lining the main street, Obere Hauptgasse.
Sigriswil Panorama Bridge: www.brueckenweg.ch; club this with a visit to Thun: take the bus from Thun Bahnhof to Sigriswil Dorf and then walk two minutes till the bridge, free for Swiss Pass holders; from `1,200 one-way; ₹550 to walk on the bridge
Thun town visit: 00-41-33-225-9000; www.thunersee.ch; Thun Tourism, Bahnhof Thun; from ₹1,200 one-way; or take the cruise boat from Interlaken Ost; from ₹2,400 one-way, both free for Swiss Pass holders
Thun Castle Museum: 00-41-33-223- 2001; www.schlossthun.ch/en; Schlossmuseum Thun, Schlossberg 1; see website for timings; ₹700
St Beatus Caves: 00-41-33-841-1643; www. beatushoehlen.ch; Beatushöhlen-Genossenschaft; club this with a visit to Thun, take bus 21 from Thun Bahnhof to Beatushoehlen; caves timings: 9.45am – 5pm Mar – Oct; entry to caves and museum from `1,225 adult, ₹680 child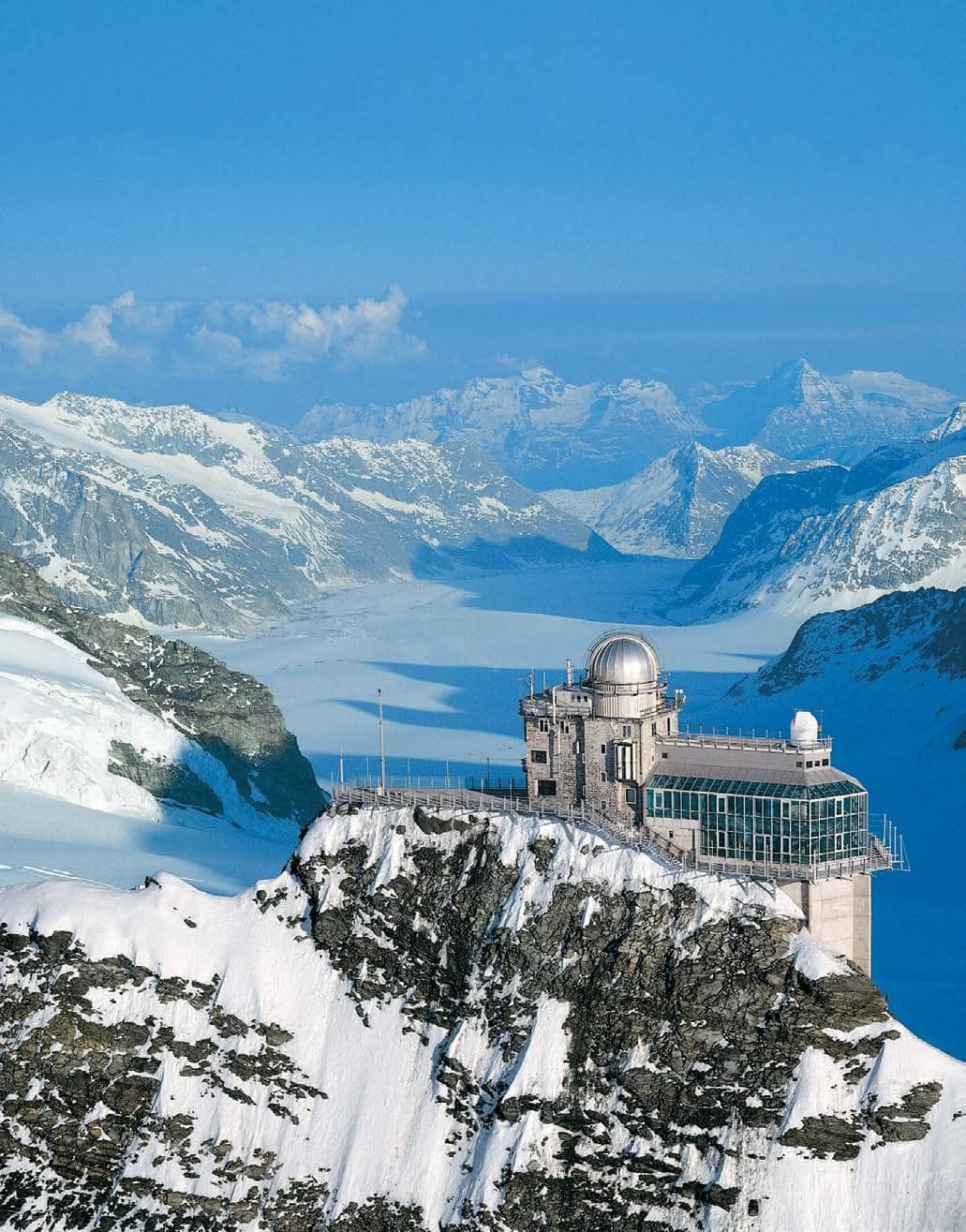 5 GREAT FOR GETTING TO THE TOP OF EUROPE
There's no way you can go to Interlaken and not notice Jungfrau. The 4,158m-tall mountain and its perennially-white summit host Europe's highest railway station at 3,454m, easily reached by a cog-wheel train. Called the 'Top of Europe', Jungfrau offers fabulous views of the Aletsch Glacier – Europe's largest, made more breathtaking by the high altitude. Jungfrau also boasts slopes for winter skiing, scenic hiking trails and, at the very least, the chance to romp around and make snow angels in the snow.
THE EASIER OPTION: Look out at the white world from the glass-walled Sphinx Observation Terrace, 117m above the station. There's also an Ice Palace with animal and bird sculptures, and, to warm all desi khaana-loving hearts, a Bollywood-themed restaurant. www.jungfrau.ch/en
Zürich is a pretty city. With its lakeside location, its own river and alpine views, it makes a perfect destination for discerning women travellers. Within the city, the old centre cocoons ancient church steeples and charming winding lines, while the once-deserted industrial district has undergone a transformation to become a nightlife hub.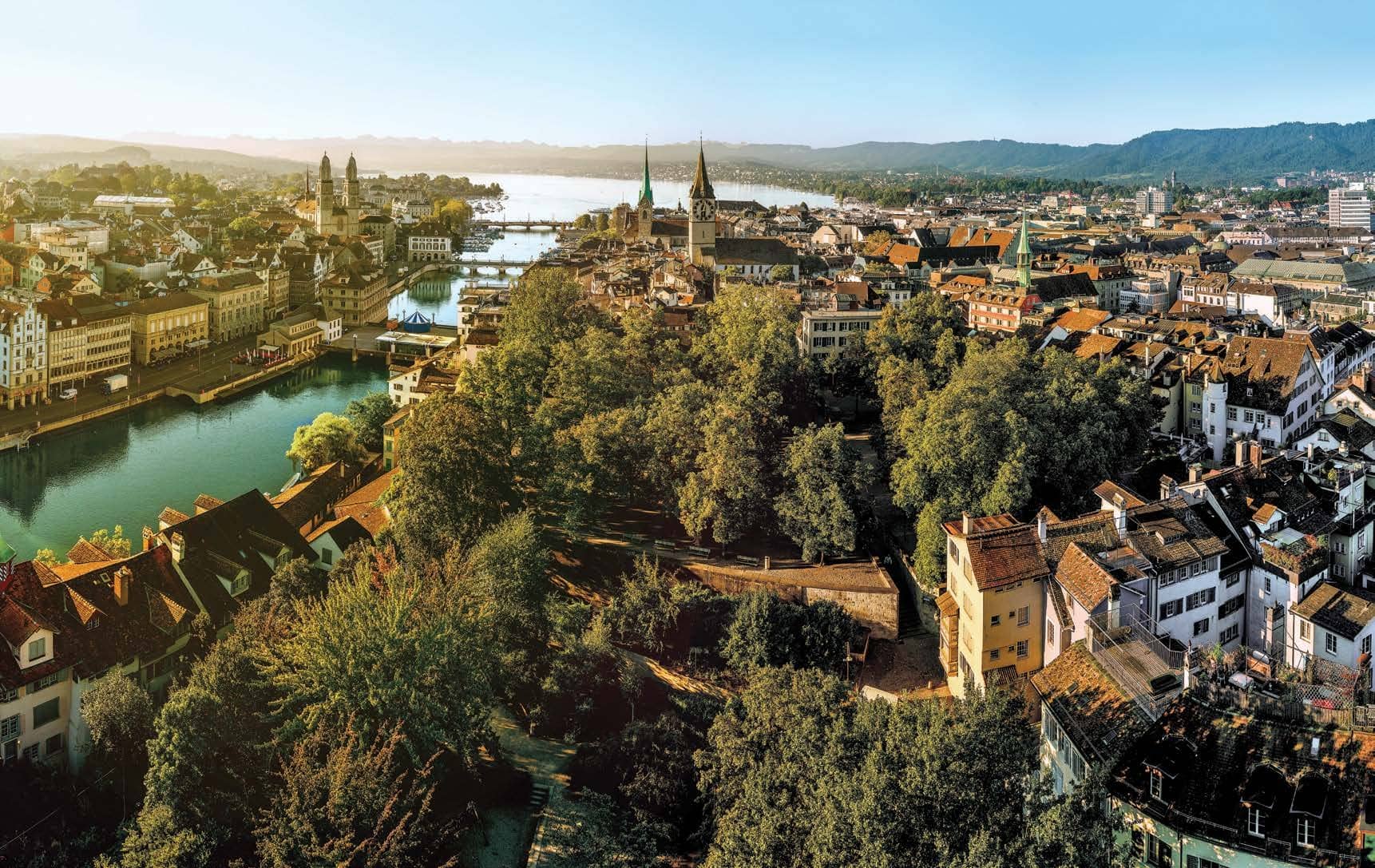 Zürich for Gangs of Girls
1 GREAT FOR CHILLING WITH THE GIRL GANG – BY DAY AND BY NIGHT
The city of Zürich comes replete with experiences that will appeal to girlfriends travelling together. If culture seems to be calling, visit the blue-spired Fraumünster dating back to the 13th century, that is known for its 10m-high stained-glass windows designed by master Marc Chagall. Or stroll through the city's impressive Kunsthaus, an art museum that is over a century old and cocoons works from Swiss artist Ferdinand Hodler, and Alberto Giacometti's distinctive stick-figure sculptures. Fancy a ramble through nature instead? The two-hour walk from Uetliberg to Felsenegg – known as the Planetenweg walking trail – offers you a chance to sink into the alpine countryside with views of the city, lake and alps. Or just stay in the city and people-watch by the water. The squares and promenade adjacent to Lake Zürich and the River Limmat are vital to the local scene. Take yourself to Bürkliplatz, where you find markets, art installations and the starting point for boat excursions, waterskiing, stand-up paddle-boarding and wakeboarding. By evening, get set to party. Langstrasse was once a red-light district, but it is now where you can paint the city red with the nightlife options on offer: sports bars, cocktail lounges, dance clubs, live music venues, and cosy pubs. You'll also find great dining options here, Don't come away without spending an evening at Mascotte, Zürich's oldest club; it's been around for over a hundred years entertaining the locals with live bands, deejay nights and stand-up comedy.
Fraumünster: 00-41-44-221-2063; www.fraumunster.ch; see website for timings
Kunsthaus: 00-41-44-253-8484; www.kunsthaus.ch; Heimplatz 1; see website for timings; from ₹1,900
You can read up to 3 premium stories before you subscribe to Magzter GOLD
Log in, if you are already a subscriber
Get unlimited access to thousands of curated premium stories and 5,000+ magazines
READ THE ENTIRE ISSUE
February 2020