PLANT UP ANYWHERE
Lonely Planet Magazine India|May 2020
Veganism is now widely established, so whether you've made the leap or are vegan travel-curious, dip into this directory of ideas for worldwide inspiration
AMSTERDAM, THE NETHERLANDS
There are plenty of vegan offerings in Amsterdam – Vietnamese, Japanese, Caribbean – along with restaurants such as Meatless District and The Dutch Weed Burger: the latter more innocent than it sounds – it's a 'House of Seaweed'.
TOP EATS
Vegan Junk Food Bar
This bar serves healthy 'junk food'. Plant-based burgers are best known, but you can also have sashimi made from tapioca, fruity cocktails and CBD-infused juice (www.veganjunkfoodbar.com).
Mr & Mrs Watson
Named after the couple who coined the term 'veganism', this restaurant serves plant-based comfort food. The menu includes sloppy joe chilli burgers and bitterballen – 'better balls' with Thai coconut curry filling. Don't miss the signature cheese platters and fondue – it's hard to believe it's not real! (www.watsonsfood.com)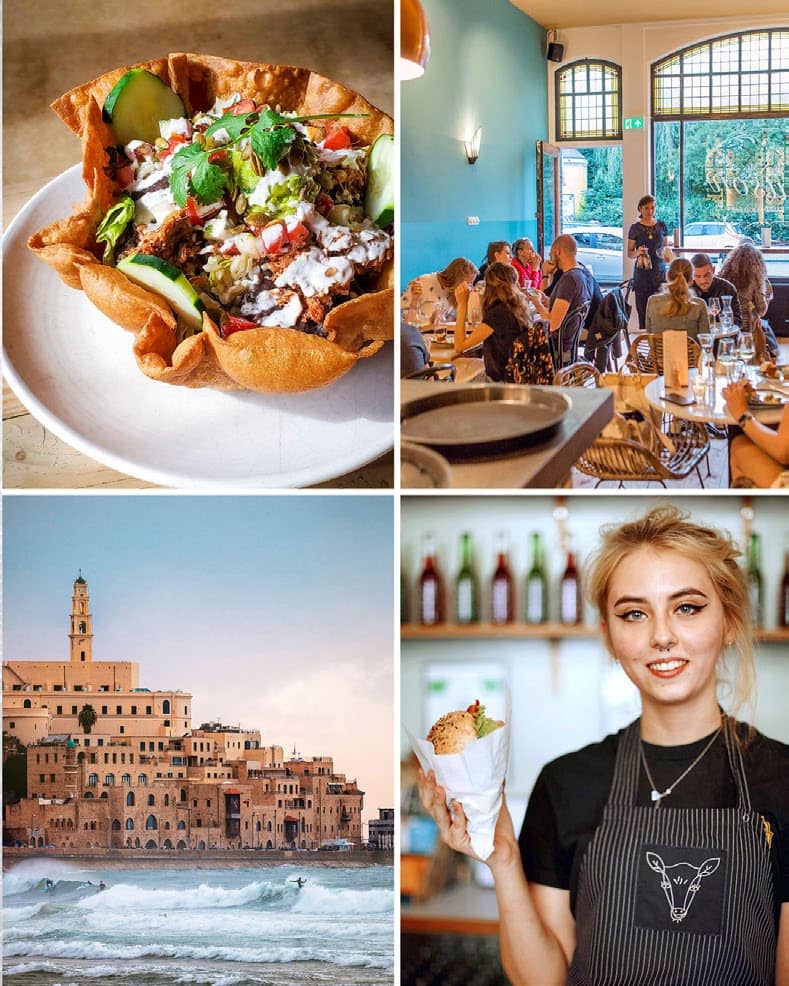 LOS ANGELES, THE USA
LA respects all those who consider the body a temple. If Los Angelenos don't have a plant-friendly lifestyle, they're still familiar with it.
TOP EATS
✦ Crossroads At this favourite of movie stars, dine on lasagne with almond ricotta or fried 'chicken' and waffles, or, later, cocktails and buffalo-style maitake mushrooms or vegan sliders (www.crossroadskitchen.com).
✦ Gracias Madre, Los Angeles Try chimichanga with tempeh (soy) chorizo, or squash-stuffed quesadilla with cashew crema. Seasonal produce is from the restaurant's farm (www.gracias-madre.com).
LONDON, ENGLAND
There seem to be vegan options in easy range of every Tube stop: fancy Ethiopian, Caribbean, Asian or Japanese vegan cuisine? What about the world's first vegan chicken shop? Even Pizza Hut offers vegan cheese at its UK outlets.
TOP EATS
✦ Rupert's Street The Rupert's Street van changes its menu regularly, highlighting seasonal produce – you could try celeriac and potato cottage pie or beetroot and chickpea burgers. All packaging decomposes in less than 12 weeks (www.rupertsstreet.com).
✦ Gauthier This is the UK's first Michelin-starred venue with a vegan tasting menu. Chef Alexis Gauthier turned vegan in 2016 and converted the vegetable tasting menu to 'Vegan Menu: Les Plantes'. It's been a fixture ever since (www.gauthiersoho.co.uk).
MILAN, ITALY
If you know where to look, there are dedicated outlets offering vegan burgers with pink buns or Michelin-starred haute cuisine in ultra-stylish locations, not to mention superfresh vegetables.
TOP EATS
Alhambra
his no-frills place is brimming with food that's cruelty-free, healthy and delicious. The husband-and-wife team offers reinterpreted dishes from their homeland, Eritrea, like creamy lentil stew and spicy samosas. Pay by weight, then have a vegan tiramisu (www.alhambra naturale.wixsite.com/alhambra).
Joia
Although there is dairy in some dishes, most of the food at this one Michelin-starred restaurant is vegan. Swiss-born chef Pietro Leeman's food philosophy is Zen-like and, fittingly, his food has to be experienced to be believed (www.joia.it [in Italian]).
WARSAW, POLAND
The 50-odd vegan restaurants here include Mexican, sushi, burgers, French bakeries and Polish comfort food.
TOP EATS
Eden Bistro
This is a temple of creative vegan food and organic wine. Try its delicious take on laksa noodles. The leafy ambiance is not just for show – it sells plants and some of the artisan ceramics that the food is served on. Eden is at the back of Dom Funckjonalny, a 1928 villa designed by modernist architect Czestaw Przybylski (www.facebook.com/eden.bistroo).
Krowarzywa
This burger specialist with a contemporary look and minimalist furniture serves millet- or chickpea-patty burgers with a wide variety of toppings, sides and housemade juices (www.krowarzywa.pl).
TORONTO, CANADA
Vegan neighbourhood 'Vegandale' is a dedicated block of vegan food, goods and services and its own touring festival. More than half of Canadians, and an even greater proportion under 35, regularly opt for vegan meat alternatives, and Toronto's chefs are catering for plant-centric eating like never before.
TOP EATS
You can read up to 3 premium stories before you subscribe to Magzter GOLD
Log in, if you are already a subscriber
Get unlimited access to thousands of curated premium stories and 5,000+ magazines
READ THE ENTIRE ISSUE
May 2020