LOST IN THE DUST
Lonely Planet Magazine India|February 2020
For one week every year, a city rises out of the desolate Nevada desert to host the greatest party the planet has ever produced: Burning Man. There's still time to get yourself there
NOT LONG AFTER I REACH THE DESERT, I REALISE IT IS trying to kill me. The land has been baked hard by an unrelenting sun. The wind whips the alkaline dust into angry dervishes. The playa seems to stretch out to infinity. It is too hot and too dry here for life to ever feel welcome. This is Nevada's Black Rock Desert, 1,000 square miles of absolutely nothing. It is so flat and so empty that you might come here if you were trying to set a land speed record, or launch a rocket into space. What kind of maniacs would look at this alien void and decide to throw a party?
We arrive in convoy. It is the last week of August and hundreds of buses and RVs and U-Haul trucks and cars are crawling along Highway 34 away from the last glimpse of civilisation, a tiny no-horse town called Gerlach. Turning on to the final desert dirt track, our vehicles slow to 10mph. At the gate, greeters encourage us to climb down and roll in the dust. They are wearing bondage gear or nothing at all, and they want to give us a hug. "Welcome home," they say, but what they mean is "welcome to Burning Man".
Founded in 1986 by artists Larry Harvey and Jerry James, Burning Man is a hard thing to define. At times it might feel like a giant rave, or an open-air art exhibition, or a particularly hardcore strain of survivalist camping. Once the preserve of freedom-loving hippies with heads full of acid, you're now just as likely to run into Silicon Valley tech billionaires - also with heads full of acid. It all plays out in Black Rock City, a temporary metropolis arranged like a giant horseshoe with a towering wooden statue of a man standing proud at the centre.
The greeters point us in the direction of our camp, at 7:45 and E. The roads radiating out from the centre are numbered like a clock face, from 2 to 10. The perpendicular roads that join them are lettered, starting with the Esplanade at the centre of the horseshoe and then A, B, C and so on all the way out to L. This simple system means that it takes a certain amount of ingenuity to get lost, a feat I will manage repeatedly over the coming week.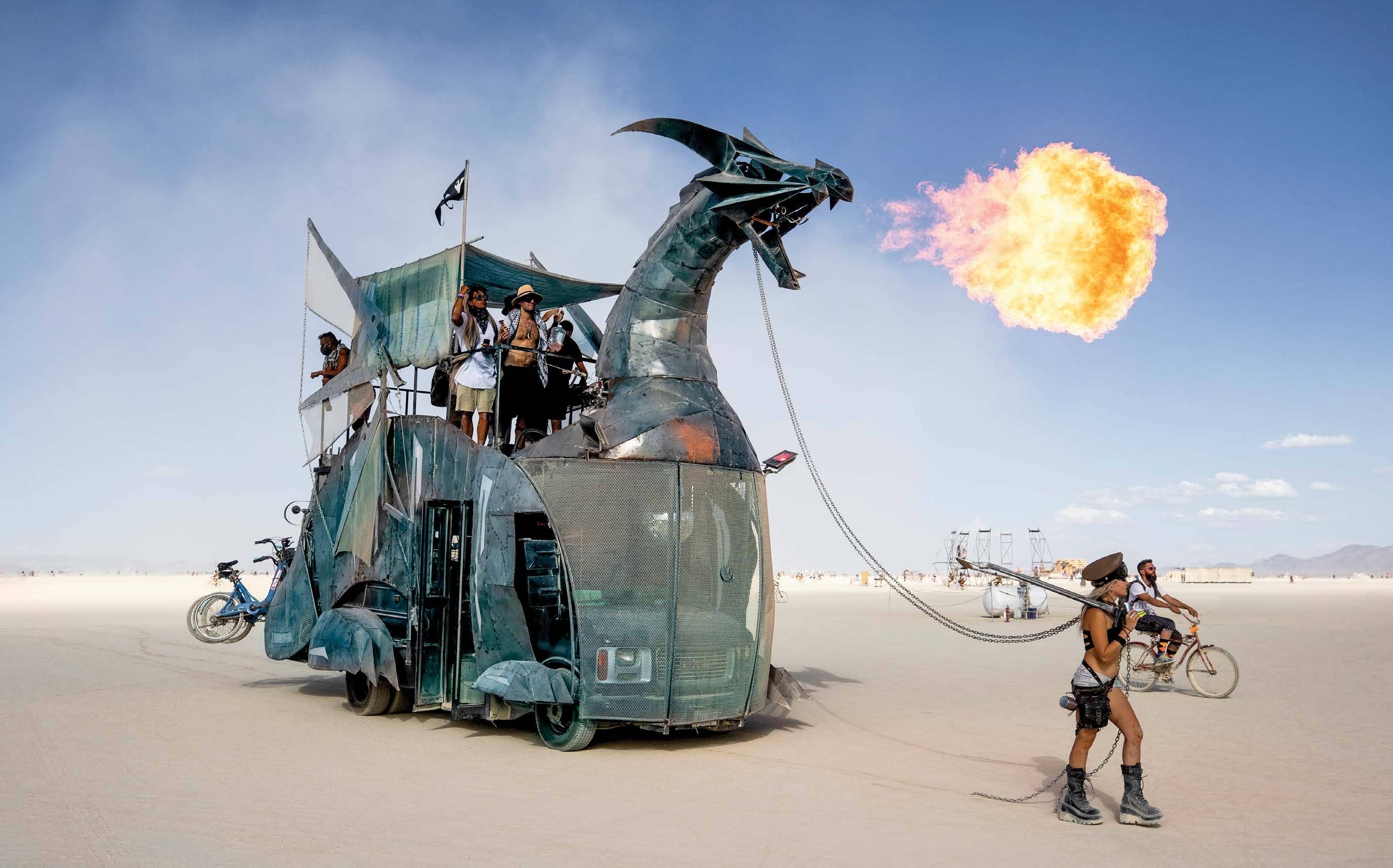 You can read up to 3 premium stories before you subscribe to Magzter GOLD
Log in, if you are already a subscriber
Get unlimited access to thousands of curated premium stories and 5,000+ magazines
READ THE ENTIRE ISSUE
February 2020