Island of enchantment
Lonely Planet Magazine India|June 2020
Majuli in Assam transports you to a simpler world that soothes and stimulates
PRIMROSE MONTEIRO D'SOUZA
LIFE BECOMES SIMPLE WHEN WE STEP OFF THE PLANE IN JORHAT...
We walk out of the Defence airport into a world of bamboo fences. On the way to the ferry point, we drive past dry paddy fields, the playground of short-legged goats and an unidentified avian character that looks suspiciously like Big Bird. Under a powder-blue sky dotted with fluffy, very white clouds, we crawl behind bands of straggling cattle. And, then, suddenly, the Brahmaputra is beside us, with massive sand bars putting up a last stand before the annual showers will force them to disappear under the surface of the mighty river.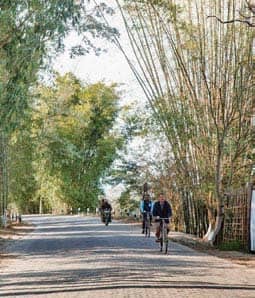 A FERRY WAITS AT NEEMATI...
We must share it with two-wheelers and cars. There's a good-natured party going on in the hold – mothers and children, couples, guys in identical tracksuits all crammed together. It's chilly on the river, but refreshingly so. The sun glints on the wave caps as we chug away from the bank and toward the centre of the river. A little boy shares his snack with us. The 70-odd people on board spend the one-hour ride to Majuli without digital aids, entertained by babies who charm everyone, blowing flying kisses at virtual strangers under the indulgent eye of their parents.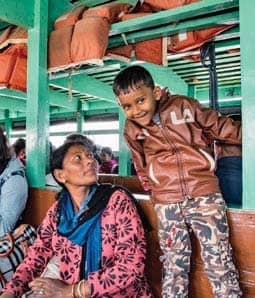 MAJULI WELCOMES US BY TESTING OUR IMPATIENCE...
Our car is the last to roll off the ferry. After the 75 passengers, the (seemingly) 3,000 bikes, their riders and the rest of the world. We smile as we wait and mean it. Then, Jagat speeds us to Jyoti's Cottages, sitting like rustic jewels topped with the pink illumination of the coming night. The monkeys pound on the tin roofs, the crickets set up a chorus; in the distance, I hear the shouts of men and boys enjoying a last game of cricket in the dying light. Loath to waste any chance to soak up the atmosphere, Krishna and I walk down to the market. The trees form an unthreatening canopy above us, older children are being coaxed to take toddlers 'double seat' on full-size bikes. An elderly lady, urging her cows to their tethering for the night, looks at us askance till we begin oohing and aahing over her cattle. We stroll back in the gathering dusk. We walk a path of perfect calm.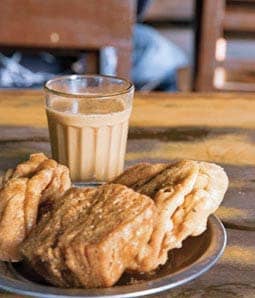 WE ARE ON ISLAND TIME...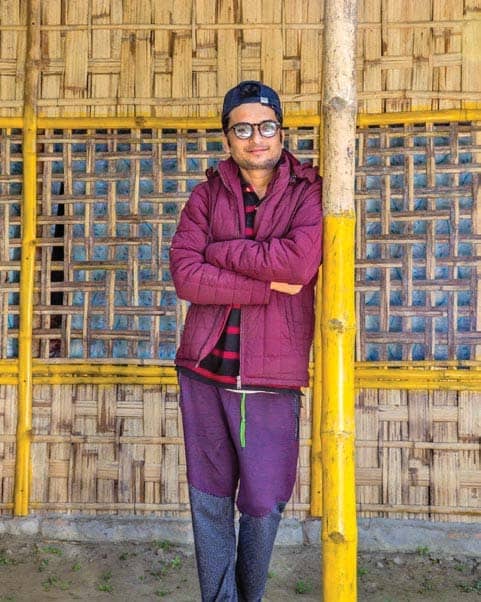 YOTI Sarma's father is a monk of the Garam r Satra, a family monastery that allows married men to be monks. In 2001, as Jyoti and his childhood friend Danny cycled back from college, they came upon a backpacking couple from France. Overcome by curiosity, they asked the visitors many questions and discovered they had no place to stay. They took them back to the satra, and invited them home to dinner. A seed had been sown. With 10 like-minded people, they put together some money and, with the help of a local MLA, set up an office in the market, which became a tourist information centre. In 2003, Jyoti went on to study tourism and tribal management in Guwahati, and came back to become a respected freelance guide, not just in Assam, but in the greater Seven Sisters. In 2009, he registered a small company, Majuli Tourism, with Assam Tourism. In 2017, he put together Jyoti's Cottages, five bamboo cottages with cow-dung-plastered walls, basic but charming, and with western loos. Two more contemporary cottages have also just been built, for those who eschew such rustic charm. "I want more people who visit to leave Majuli with a smile," Jyoti says. He started training other youngsters to be tour guides. Twenty-six became tour guides in 2014; seven are active today. One of them is Montu, who will be our guide around Majuli. He comes from a farming family. Like most in Majuli, they cultivate paddy, mustard, black dal, but it is a seasonal occupation. When Jyoti saw him hanging about, he asked him to join him, and Montu has never looked back.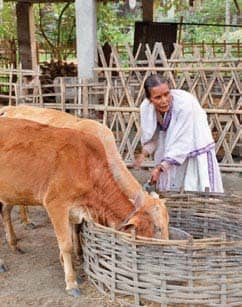 AT DINNER on our first night, a solo traveller from Nashik is complaining: Majuli has nothing but ashrams, he says. And he misses his chapatis.
That whine lingers in the air as we drive to the first of our five Satra (monastery) visits. At the end of the day, we will know two things: Majuli is a place that needs a guide, and the Assamese thali – no roti insight – is a thing of wonder. "Rice is important to us in Majuli," Montu tells us. "We eat it at breakfast, lunch and dinner." At the beginning of the day, especially at weddings and on festive days, cooked rice is soaked in hot water till it becomes soft and even plumper, to be relished with dahi (yoghurt) and local gur (jaggery).
The morose Maharashtrian gentleman is right about the other thing. too: there are a lot of monasteries, not ashrams, in Majuli: 32 in all. They are of two types – for bachelors and family men. The Sri Sri Uttar Kamlabari Satra is one of the five of the former type. Established by Sankaradeva back in 1673, it cocoons 100 bhokots (monks), living in bohas (quarters), each headed by a senior monk. The satradhikari (head) Janardhana Dev Goswami is supervising the clearing up of the hall after a workshop on mythology and mask making. We wander through the monastery, grateful to have Montu with us to explain a world and way of life very different from any we can imagine.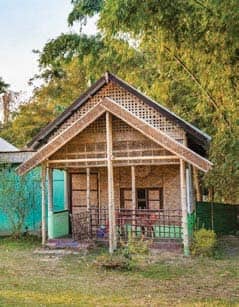 Boys join the monastery between the ages of five and 10 years. They are brought by their parents because they might have been promised to Lord Vishnu; some might come from poor families – but there is always an element of choice.The young monk is then assigned to a quarter in which there is a slot open, and then grows and flourishes under the senior monk's guidance. In time, he grows to become a senior himself, responsible for the care and wellbeing of the now-ageing monk who raised him. Each quarter has its space courtesy the satra, but upkeep, electricity bills, the kitchen fire and what is cooked on it, are all the collective responsibility of the five to seven monks who form it. The young boys attend regular school and college, the men go out to work at the usual occupations, always wearing the distinctive dhoti and kurta that they must be clad in outside the satra, and never cutting the hair on their head, except when mourning the loss of members of their birth family or their quarter. According to their inclination and ability, they are trained in satranritya (dance), bhavna (drama) and sangeet (song), another way they can contribute to the quarter's earnings. This satra is particularly renowned for its performances; its performers have travelled across India and all the way to Germany, France and the USA.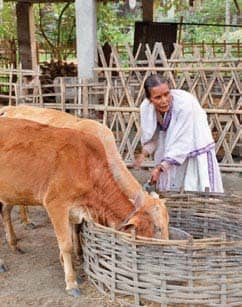 You can read up to 3 premium stories before you subscribe to Magzter GOLD
Log in, if you are already a subscriber
Get unlimited access to thousands of curated premium stories and 5,000+ magazines
READ THE ENTIRE ISSUE
June 2020