IMMERSIVE INDIAN IDYLLS
Lonely Planet Magazine India
|
July 2020
Want to be more a traveller than a tourist? To immerse yourself more fully in the local life and in the environment around you? These 15 stay options make it an easy choice
PRIMROSE MONTEIRO-D'SOUZA, AMIT GAIKWAD, SAMARPAN BHOWMIK, AURELIA FERNANDES & AISHWARYA MENON
LEH, JAMMU & KASHMIR
TSERMANG ECO CAMP
Sited just 15 minutes away from Leh town, Tsermang Eco Camp has spacious, welcoming tents spread across a meadow alongside the Indus River. Laurige and Camie are warm hosts, which helps given the often-cold weather in Ladakh. The facilities are basic but adequate, just what you need to immerse yourself into the region without impact. The camp's eco-friendly stance also includes solar power for the lamps, and buckets of hot water delivered to your tent for bathing. The use and showcasing of local ingredients is important, too. You'll sip zesty berry juice by the river, go sightseeing with a packed lunch; the food here is far from typical camp grub. Chef Leony transforms local ingredients into unusual dishes - pasta with yak cheese, organic salads made with local greens, and custard infused with sweet apricots. She'll even teach you how to make momos and thukpa if you want to take some Himalayan cooking skills home.
ON YOUR DOORSTEP You can choose to hike through the farmland behind the camp all the way to the 14th-century Spituk Gompa five kilometres away. If you want to head out further, hire a taxi, or, better still, a Royal Enfield motorbike, and take your pick from the Thikse, Hemis and Chemre monasteries to the east, or the Phyang, Likir and Alchi monasteries to the west. AM 00-91-98990-20227, 00-91-97975-80656; www.tsermangecocamp.com; near Palam Village, Leh; tents from ₹9,500 with breakfast and dinner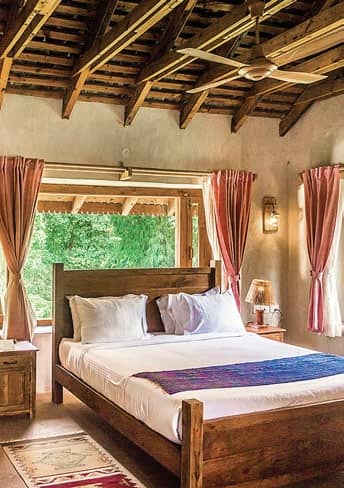 PALAMPUR, HIMACHAL PRADESH
THE LODGE AT WAH
Set within the sprawling Wah tea estate, the Lodge is a charming and sweet homestay. Everything is sourced locally. Owner Deepak Prakash has extensively used local building materials such as mud, stone and slate, and the skill of local craftsmen. All the wood you'll see was salvaged from a demolished, century-old public building. No chemicals or paints were used either; everything is natural and recycled. Even the architecture is inspired by traditional design used in Gaddi (local shepherds) homes, with weather elements utilised to cut out the need for any artificial cooling or heating. Locals make up the staff, living close to the property or in nearby villages. The food is made from produce either grown on the tea estate or from local sustainable and organic farms. Even the toiletries provided in the rooms are chemical-free and sourced from a small local company. If you are so inclined, along with tours of the estate to see the tea production process in detail, you could also try your hand at plucking tea. Of course, a tea-tasting session is the crowning glory of any such outing. There are a fair number of other activities to keep you busy too. Borrow a cycle from the property to explore the local landscape or go on foot, carrying a picnic hamper along to set down under the many fruit-bearing trees that invariably attract birds such as the Himalayan thrush and the Indian grey hornbill. Still, you needn't even venture out to enjoy nature here. Retreat into one of the many reading corners in the Lodge and let birdsong happily interrupt your session from time to time. You can rest assured that everything around you has been painstakingly designed to ensure no harm comes to the environment.
ON YOUR DOORSTEP Hastan, a transit hut used by local shepherds, is a great spot to hike to. The climb is a bit steep, but it comes with wild flowers along the way, and the views from up top are worth the effort. There's also Andretta, a village just a 20-minute drive away, that's famous for its pottery. A jeep safari can be arranged by the property on request; it includes a picnic, a nature walk and a visit to a temple at the top of the mountain. Day-trips to hubs such as Mcleodganj and Dharamsala are also doable with local drivers, if you are so inclined. SB 00-91-080-2609-0666; www.thelodgeatwah.com; Panchrukhi-Paprola Road, Patti, Deogran; from ₹11,000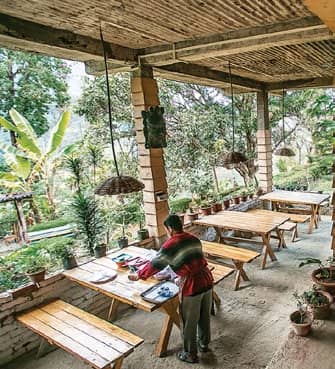 DARJEELING, WEST BENGAL
TATHAGATA FARM
High on a hillside and a world of calm away from Darjeeling, Tathagata Farm, started by brothers Pravin and Navin Tamang, is a working organic farm, and a part of Sanjukta Vikas Sanstha, a small farmers' collective. Unless your driver knows it, you're almost certain to go past the gates and miss the stay. There are no sign boards, just a narrow opening by the side of the road, with prayer flags dancing. Situated within a green forest overlooking a river, this eco-conscious stay option is a delightfully rural and oddly comforting place at which to spend your vacation. Choose to stay in spartan but comfortable cottages made with local bamboo, or spacious tents on stilts - great for families, all decorated with local art and colourful quilts, and with en suite bathrooms. Spend your evenings here around the bonfire, and don't forget to cuddle the friendly resident puppies that make for great company. Mornings are perfect for a spot of exploring; take off on an unhurried village trek with Junior Navin from the farm (four hours; ₹500/ person), and catch up on local gossip and lunch at one of the villagers' homes. Or you could just go ahead and volunteer - that's why they call it a working farm...
ON YOUR DOORSTEP Days on the mountains tend to be shorter, so wake up bright and early for the Majitar Trek (16km). An invigorative five-hour walk takes you, on idyllic mountain paths, through blooming tea gardens and tall forests, to the Sikkim border (₹3,500/ two with lunch, guide and return by local taxi). AM 00-91-99320-21569; www.tathagatafarm.com, navin@tathagatajourneys.com; Aanp Botay, Mineral Spring, Lebong, Darjeeling; cottages from ₹4,800, tents from ₹5,400, with all meals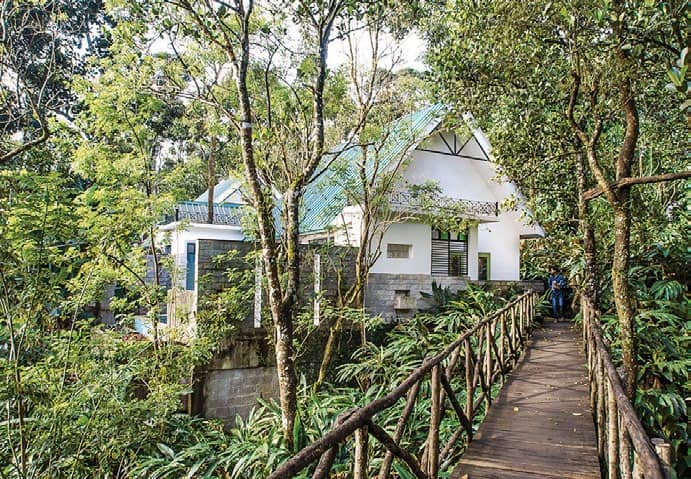 THEKKADY, KERALA
INDHRIVANAM
'Indhrivanam' means 'a sense of forest' in Malayalam, and this 1.6-acre, cosy property in Kumily is indeed situated at the heart of a private forest, also home to slender lorises, Asian palm civets, squirrels, Malabar grey hornbills, wild boar, mouse deer, hares, rabbits, porcupines and monitor lizards - an ideal setting for relaxation close to nature.
Perfect for couples, small families or groups looking to get away from the bustle of the city, the cottage has a veranda, a spacious bedroom and an attached bathroom. As part of the owners' championing of sustainable practices, all biodegradable products are composted, rainwater is harvested, and you get to use a dry toilet that uses sawdust and water to get rid of waste, which collects in a bucket at the back and is regularly emptied into the composting area - all very doable, we assure you. Meals are vegetarian and delicious.
AT YOUR DOORSTEP For a bit of local culture, head out to the Kadathanadan Kalari & Navrasa Kathakali Centre in Kumily for great performances (www.kalaripayattu.co.in). AG 00-91-96331-10645; www.indhrivanam. com; Valiyapara Road, Chakkupallam, Kumily; March to September; ₹6,500 with breakfast, afternoon snacks and dinner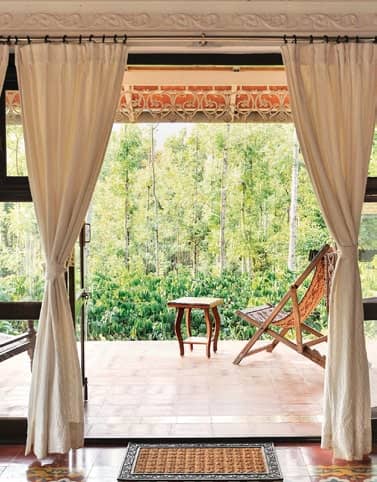 CHIKMAGALUR, KARNATAKA
HALLI BERRI
You can read up to 3 premium stories before you subscribe to Magzter GOLD
Log in, if you are already a subscriber
Get unlimited access to thousands of curated premium stories, newspapers and 5,000+ magazines
READ THE ENTIRE ISSUE
July 2020