FRONTIER LAND
Make your way to the remote borders of Montenegro, Albania and Kosovo to set foot in a once-forbidden mountain wilderness where, today, walkers are warmly welcomed
GOD took six days to create the earth, the sea and the sky. But, so a local legend goes, the devil took only 24 hours to create the Accursed Mountains. It was a full day's work. He would have scored deep ravines with his pointy tail. He would have sculpted spires of rock with his evil little claws. And, long after he finished the Mountains, the curse remained, for this range has always been synonymous with bandits, blood feuds, avalanches, and miscellaneous misfortunes for anyone foolish enough to visit.
Today, the Accursed Mountains straddle the borders of three nations: Montenegro, Kosovo and Albania. Setting out on a morning stroll in early summer, you suspect the Almighty would be impressed by his rival's handiwork. Because, with devilish deception, it is a place of radiant, intense loveliness.
My walk starts in the village of Vusanje, Montenegro, near a timber minaret carved with crescent moons and petals. Before long, I am far from settlements, walking through wildflower meadows where the ground itself seems to move with the fluttering of thousands of butterflies. There are mighty limestone mountains crumbling into wind-scoured boulder fields, and stone shepherds' huts, their chimney stacks toppled and slumped in mimicry of the peaks above.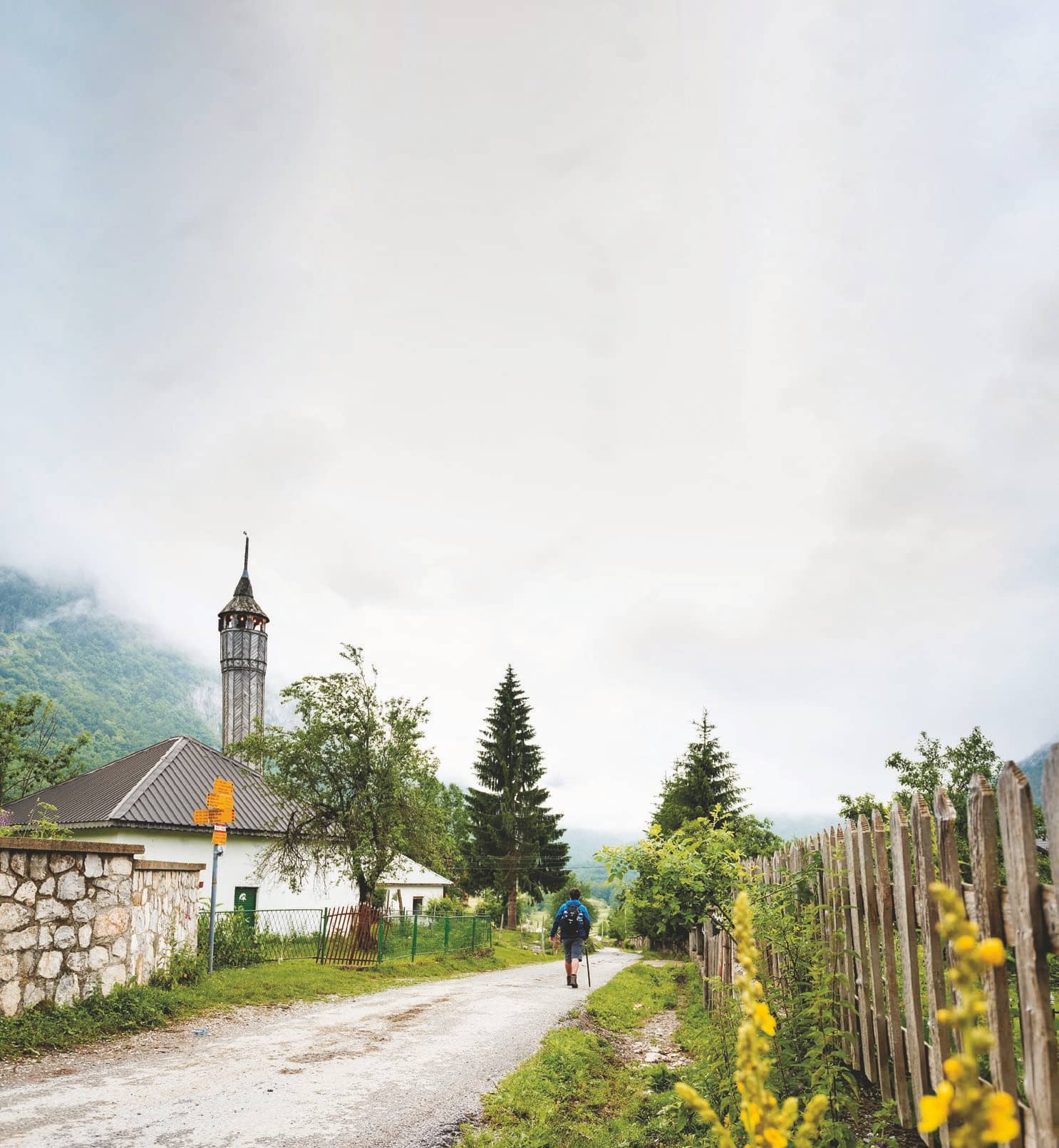 Most of the time, there are few hikers. It feels like a mini-Yosemite in the Balkans – a real back-of-the-wardrobe secret land that has somehow evaded the attention of the outside world. There are clues as to why. Four hours' walk from Vusanje, I cross the Montenegro-Albania border, where derelict military bunkers watch from above. Beyond them lies the village of Theth, Albania. It is about 14 miles from Vusanje but, until 1991, it might as well have been the far side of the moon.
"If you were caught walking in these mountains in those times, you would have gone to prison," says Pavlin Polia, leaning on a fence post in the afternoon sunshine. "Or worse." Pavlin is a mountain guide and guesthouse owner in Theth, where he was born in the nave of its tiny Catholic church. When he was a youngster, Theth was part of Communist Albania, a regime unrivalled in Europe for brutal oppression and crippling poverty. Its paranoid dictator, Enver Hoxha, built more than 1,70,000 of his bunkers across the country, partly to repel enemies – but as much to make sure citizens stayed put.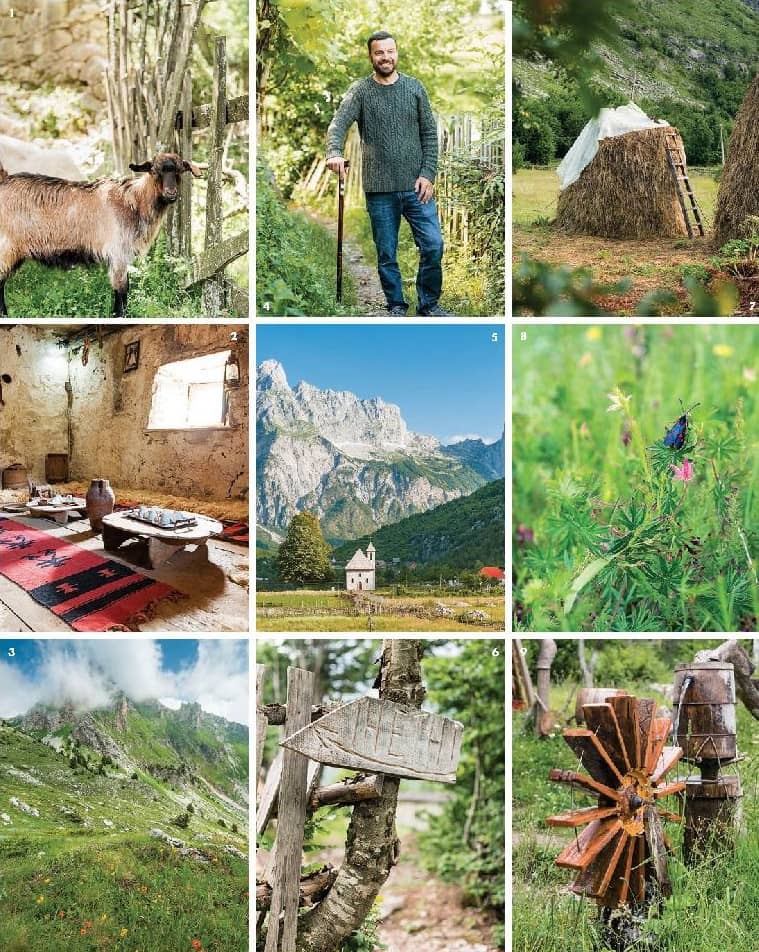 For decades, the Accursed Mountains served as Hoxha's giant geological Berlin Wall (one that conveniently brewed its own thunderstorms). Its treacherous passes became the ultimate hurdle for anyone escaping Albania to reach the relative freedom of Montenegro, then part of Yugoslavia.
Over coffee in his guesthouse in Theth, Pavlin tells me about escape attempts – the 70-strong family who sneaked over the frontier on Hoxha's birthday, when the border guards were partying and looking the other way. And nameless others who tiptoed into the beech forests after nightfall, never to be heard from again.
Communism might be a memory, but only in the past few years have geopolitical developments allowed these mountains to open up to hikers. Pavlin is among the founders of the Peaks of the Balkans trail – a new 120-mile hiking route that passes through three nations in a lap of the Accursed Mountains. It is a two-week-long odyssey of which the Vusanje-to-Theth hike is just one leg. Establishing the trail meant mapping remote routes known only to shepherds, and encouraging farmers to open guesthouses. It also meant navigating sensitive politics – Pavlin worked hard to persuade police chiefs from Montenegro, Albania and Kosovo to waive passport checks for the first time.
"In the end, they decided that, if you want to smuggle cigarettes, you would probably do it in the boot of a Mercedes," he says with a grin. "You wouldn't put them in a backpack and set out into the mountains."
ALBANIA is possibly the most misunderstood country in Europe. It has a language with no close relatives, full of words made of Qs and Xs that look purpose-built for high Scrabble scores. The country sits about midway between Rome and Athens, but spent the late 20th century as a European North Korea – neither a member of NATO, the Eastern Bloc nor the Non-Aligned Movement; it didn't even enter the Eurovision Song Contest until fairly recently. It carries unhappy associations with organised crime and backwardness. Its fictional children include Borat (though he later switched to Kazakh), and the baddies from Taken films, who bear the brunt of Liam Neeson's particular set of skills.
For any hiker who spends the night in villages such as Theth, Albania conjures up quite different associations. The morning thrum of beehives, the taste of honey on freshly-baked bread. Shivering cold mountain streams flowing under humpbacked Ottoman bridges. The clink of antique china cups filled with strong Turkish coffee. The greetings of shepherds taking their flocks out to pasture.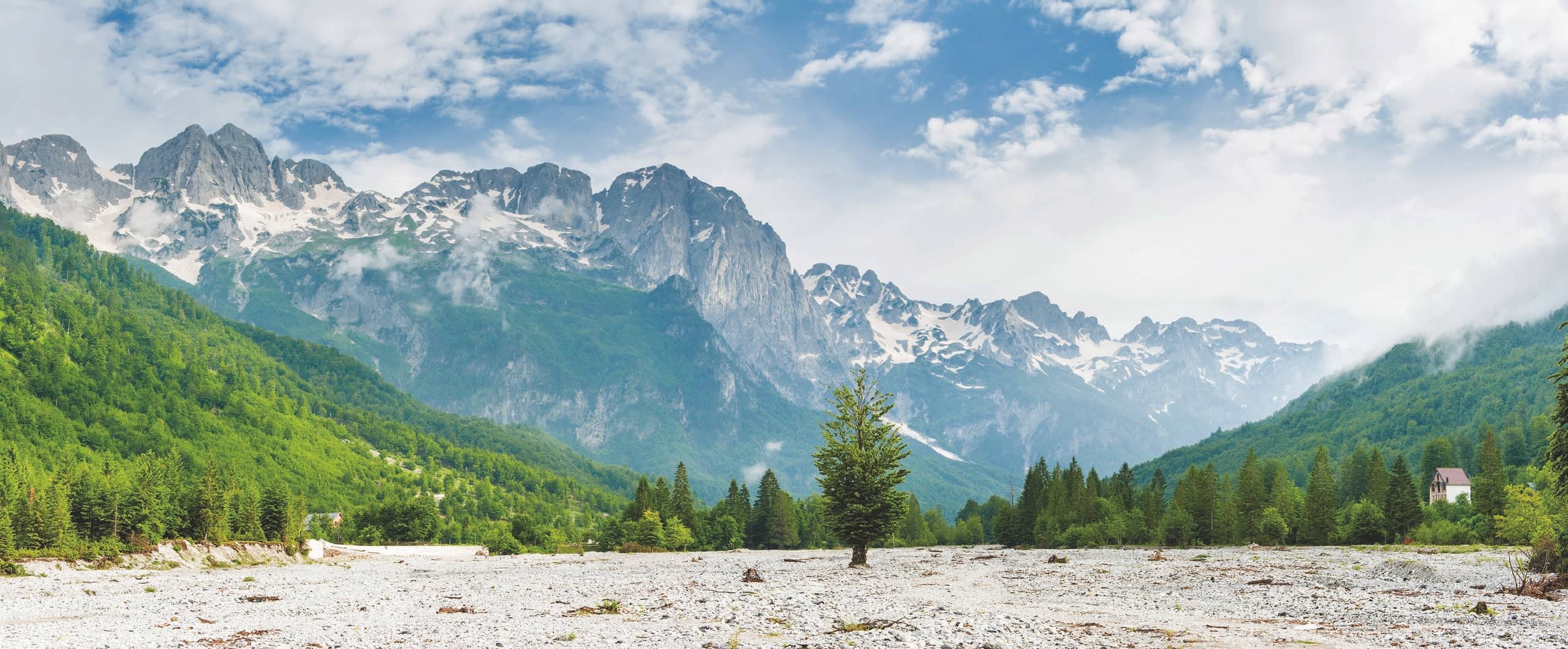 You can read upto 3 premium stories before you subscribe to Magzter GOLD
Log-in, if you are already a subscriber
Get unlimited access to thousands of curated premium stories and 5,000+ magazines
READ THE ENTIRE ISSUE
April 2020