20 Sustainable Places To Stay
Lonely Planet Magazine India
|
July 2020
From lodges with cutting-edge eco-technology to tours designed to protect wildlife and empower communities, these planet-friendly escapes will make you feel better than ever about getting away
DOMINICA
SECRET BAY
In the wake of 2017's Hurricane Maria, Secret Bay was one of Dominica's comeback stories. The intimate eco-luxury retreat, on a cliff above the sea, partially reopened in late 2018 with six villas and a new wellness pavilion and fine-dining restaurant showcasing indigenous herbs grown onsite. Meticulous care was taken to develop the site without heavy machinery, with vetiver grass planted to fortify the cliff for decades to come.
Intimacy and mindfulness are at the forefront here. Each decked-out villa has a full kitchen, private plunge pool, deck, and privacy provided by Mother Nature. Sure, there are plenty of activities – everything from yoga and sea-cave exploring to private art lessons with a local artist – but the real treat here is being pulled away from 'doing' in favor of simply 'being'.
That said, there are some not-to-be-missed experiences. Guests can venture to Prince Rupert Bay with a local fisher to learn how to hunt lionfish, an invasive (and delicious) species that threaten local biodiversity. After diving in to practice throwing spears at the bay's sandy floor, it's time to aim for the beautifully striped lionfish themselves. Whatever is caught comes back to shore for a beachside barbecue.
ON YOUR DOORSTEP There are 531 hectares of protected wetlands, coral reefs and tropical forests to explore at Cabrits National Park, set around a peninsula just 15 minutes' drive north. Find local produce, spices, and more at the Portsmouth Saturday Market. www.secretbay.dm; three-night stay from₹2,00,000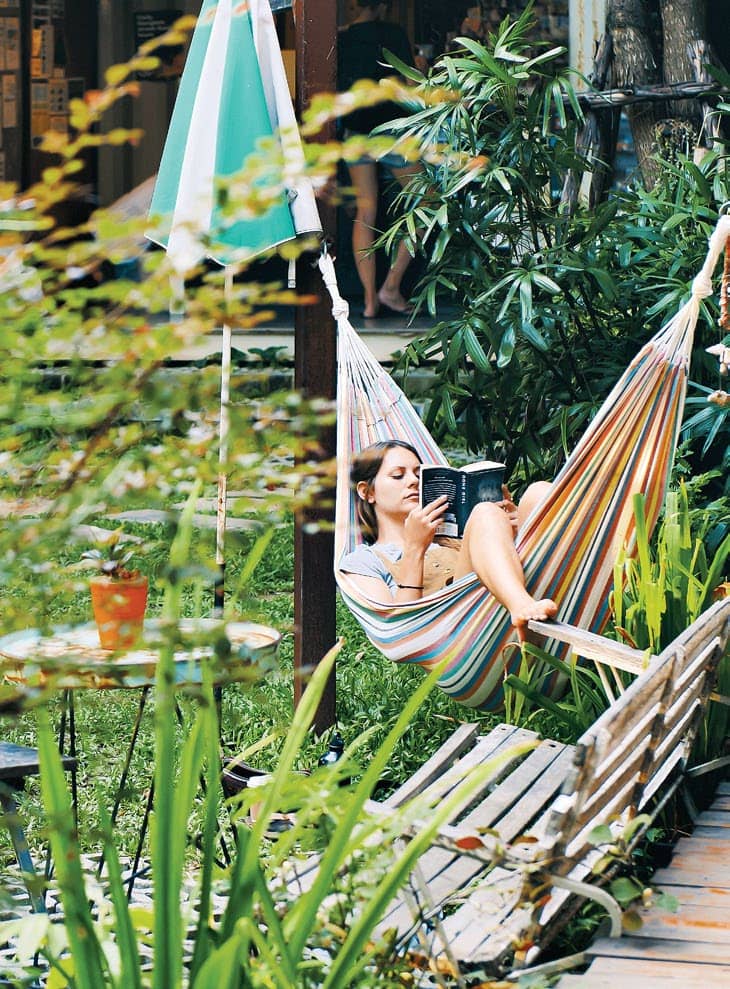 THAILAND
YARD HOSTEL
Yard Hostel in Bangkok is flying the flag for a new model of environmentally-friendly big-city living on a small budget. Recycling is just one social initiative at the hostel, as even the buildings are recycled – the rooms were shipping containers before being insulated with recycled paper to keep out the heat.
Set in an enclosed garden, Yard supports environmentalism – guests are provided with water bottles to refill with purified water from a shared water station, low-energy lighting is triggered by motion sensors and timers, and the breakfast yoghurt and jam is hand-made onsite. Room rates help fund good causes, such as Karen community forest conservation projects.
But this still feels like a proper Thai hostel, down to the free wi-find yoga classes and the library of well-thumbed travel novels and guidebooks. The name riffs on the Thai meaning of 'yard' (relative), and staying here feels like visiting an eccentric family member who is happy doing their own thing. In this urban oasis, you'll hardly notice that the edgy streets of Ari are just outside.
ON YOUR DOORSTEP BTS Skytrain provides a low-carbon way to explore the newer parts of Bangkok and the legendary Chatuchak Weekend Market. To reach the historic old quarter of Ratanakosin, you'll have to finish your journey on foot or by taxi. www.theyardhostel.com; dorm beds from 1₹,300/ person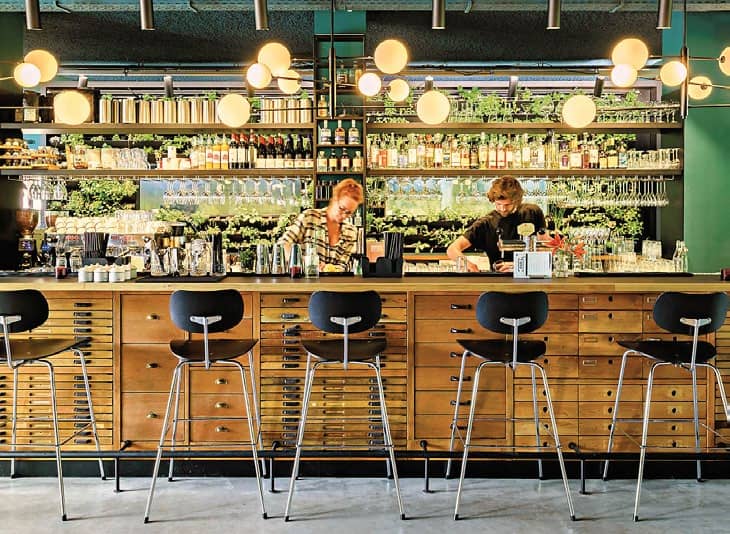 THE NETHERLANDS
CONSCIOUS HOTEL WESTERPARK
This Dutch boutique hotel group is all about sustainability, and the newest of its Amsterdam properties also has bragging rights as the Netherlands' first wind-powered hotel. One side overlooks the buzzy Westergas arts complex, the other a tranquil green space, and it's a 10-minute cycle ride from Jordaan and the city's historic centre.
Rooms are spacious, stylish and streamlined, with comfortable beds and large windows, and all materials are cradle-to-cradle (made with future reuse in mind), recycled or vintage. The all-day dining Kantoor bar and restaurant serves creative dishes made with organic ingredients – think lamb shank, Atlantic wolf-fish or yellow coconut curry, rounded off with vegan banana bread and cacao sorbet. Savour it with an organic craft beer. ON YOUR DOORSTEP Putting the design flair into fair trade, Nukuhiva is just a 20-minute walk southeast, and is the place to go for fashion, accessories and shoes for both men and women who put people and nature first (www.nukuhiva.nl). www.conscioushotels.com; from₹5,700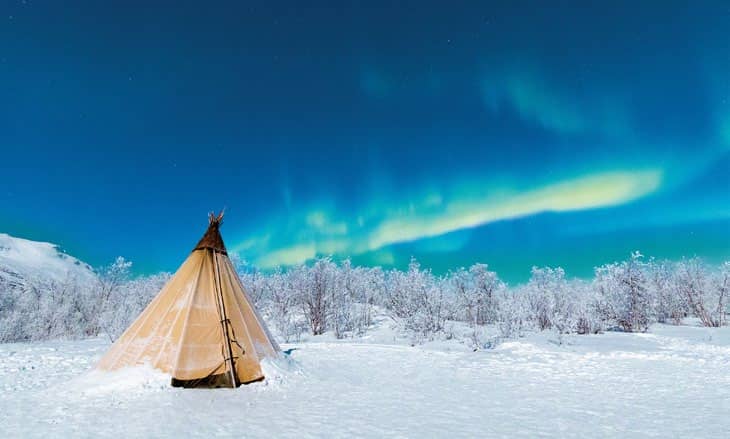 '
SWEDEN
GEUNJA SAMI ECO LODGE
To visit the Geunja Sami Eco Lodge is to completely disconnect from the modern world. This low-impact operation (which only welcomes guests 12 times a year) invites visitors to learn bushcraft skills, study medicinal herbs, take a dip in the lake, light the wood-burning sauna, fish for dinner, and forage in the forests.
Reindeer herder Mikael Vinka and his Sami family will regale you with local wisdom, traditions, and legends over a bonfire in the goathie (a type of teepee used by Sami for millennia). You can join Vinka on a trek following his ancestor's footprints into the nearby Vindel Mountains, whereit's possible to learn about the conservation work he does with the Swedish government to protect the Arctic fox.
There are no roads to Geunja; access is by boat. You sleep on reindeer hides in the goathie or under a kerosene lamp in a shared timber cabin with six beds. A crackling fire ensures you survive the crisp Lapland night, fresh for more Sami-inspired detoxing. ON YOUR DOORSTEP Ammarnäs is near the southern end of the famed Kungsleden (King's Trail), a 270-mile hiking route through Sweden's far north. The path traverses varied landscapes of the Lapland mountain world from low-lying birch forests to craggy alpine plateaus. www.bjorkexperience.com; three-day, all-inclusive tour from₹1,00,000/ person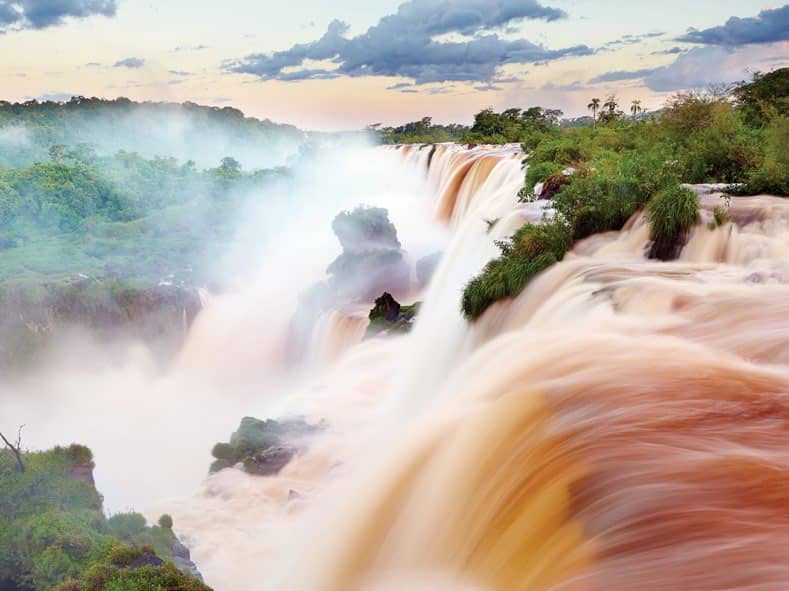 ARGENTINA
AWASI IGUAZÚ
Just a 20-minute drive from South America's most recognisable waterfall, this luxurious safari-style lodge on the banks of the Iguazú River is surrounded by the Atlantic Rainforest. Built on stilts for minimal environmental interference and an easy walk from the main lodge, the 14 spacious villas are replete with private living rooms, extensive decks with sun loungers and plunge pools, indoor-outdoor showers and traditional textiles and baskets woven by the indigenous Guaraní people.
With a private guide and a four-wheel drive vehicle included with each villa, guests can tailor-make their exploration of the rainforest, with over 1,000 species of plants and wildlife, from tropical orchids to capuchin monkeys. Awasi, which opened in 2018, worked with local Guaraní communities and renowned biologists to create excursions, including to crystal-clear pools only accessible by boat. Perks include entering Iguazú National Park from a secret location, allowing 30 minutes of exploration before the crowds arrive.
ON YOUR DOORSTEP Visit the Mbya Guaraní settlement to meet the original inhabitants and guardians of Iguazú Falls and join nature walks to study wild medicinal plants. You can also join art classes to make works from clay and leaves. www.awasiguazu.com; two-night, all-inclusive stay from₹1,40,00/ person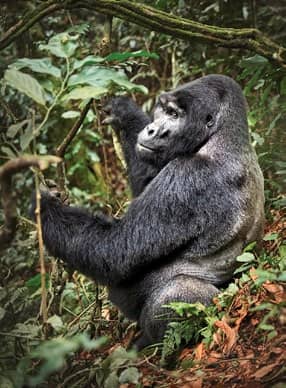 UGANDA
VOLCANOES SAFARIS
Volcanoes Safaris offers luxury lodge-based accommodation and mountain gorilla and chimpanzee tracking in East Africa. Its model protects and preserves the region's impressive wildlife and local cultures. Guests can visit Volcanoes Safaris' three lodges in Uganda and one in Rwanda individually, or book a multi-lodge safari, with₹7,300 from each booking benefiting the Volcanoes Safaris Partnership Trust, a non-profit that supports local communities and conservation activities.
At Mount Gahinga Lodge in Uganda, at the base of the Virunga Volcanoes next to Mgahinga Gorilla National Park, guests can stay in luxury bandas (stone huts with papyrus roofs) and set out to track golden monkeys or endangered mountain gorillas. Overlooking the primeval Bwindi Impenetrable Forest, Volcanoes Bwindi Lodge in Uganda envelops guests in a jungle canopy within easy reach of trekking with gorillas, while, at the eclectic and contemporary Kyambura Gorge Lodge on the edge of Uganda's Queen Elizabeth National Park, you can track chimpanzees in a sunken forest. Extend your trip into Rwanda at Virunga Lodge, a 10-banda property on a ridge with views of the Virunga Volcanoes and the Musanze valley, an ideal base for tracking gorillas.
You can read up to 3 premium stories before you subscribe to Magzter GOLD
Log in, if you are already a subscriber
Get unlimited access to thousands of curated premium stories, newspapers and 5,000+ magazines
READ THE ENTIRE ISSUE
July 2020