Sofia, Bulgaria – A Pleasant Pace
Global Traveler
|
July/August 2020
Take it slow and savor Sofia with family or friends.
Flanked by the ski resort-studded Balkan Mountains and situated directly downwind from the fragrant pine forests of the Vitosha mountain, Sofia's gorgeous landscape and strategic location between Asia and Europe put it at a crossroads where business and pleasure intermingle effortlessly. In recent years Bulgaria's capital city has ranked as one of the top 10 best places in the world for startup businesses, and the onslaught of new tax exemptions for businesses looking to invest in the country make it an attractive option for many corporations to begin operations within the city.
Sofia is among the 15 largest cities in the European Union, yet it remains one of the most affordable. Many 5-star accommodations go for less than $200 a night, and dinners range from multicourse tasting menus with celebrated chefs to kid-friendly cuisine in bistro-chic outdoor spaces. People come from all over Europe to indulge in Sofia's famous mineral waters, some of the most pristine springs in the world, yet the city offers its prized resource for free through municipal drinking fountains. The most famous are located in the park adjacent to the Central Mineral Bath building where locals line up every morning with jars and water bottles in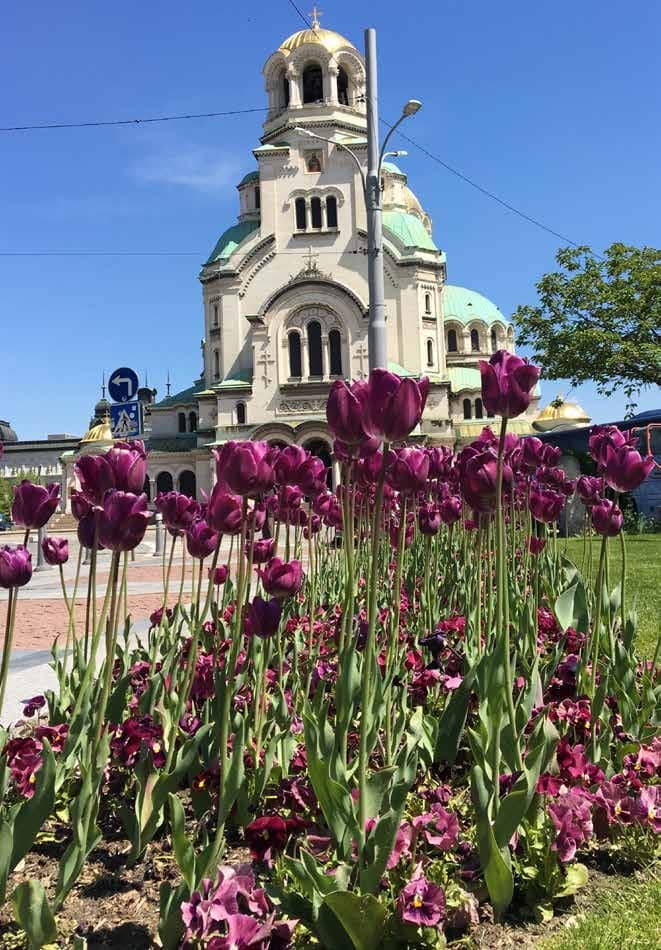 INFO TO GO
Bulgaria is home to four major airports — located in Sofia, Varna, Plobdiv and Burgas — with Sofia International Airport the largest and boasting flights arriving from more than 80 major hubs including Frankfurt, Amsterdam, Milan, London, Rome and Zürich. Major airlines such as British Airways, Air France, Lufthansa, Turkish Airlines and Norwegian share terminal space alongside budget airlines like Ryanair, Wizz Air and Onur Air. Transportation is free between the two terminals at SOF, and guests can also access the newly opened metro line from Terminal 2 and be in the city in less than 18 minutes. Taxis are readily available at Ground Transportation to carry passengers throughout the city (downtown Sofia lies only about six miles from the airport), although only the taxi operator OK Supertrans AD is recommended for travelers (make reservations online). hand to collect the hot mineral water.
During the summer months, outdoor festivals, retro puppet theaters and open-air concerts fill the city's expansive park system with life, especially Borisova Gradina Park and South (Yuzhen) Park, while a light dusting of winter snow transforms those same parks into a postcard-worthy picture with charming Christmas markets and outdoor ice-skating rinks.
Business trips to the city typically operate within the 40-hour workweek, leaving plenty of time for exploring the onion-domed churches, pristine city parks and vibrant culinary culture alongside friends and family.
Daily life in Sofia measures noticeably slower and more relaxed than life in its Eastern European sister capitals of Budapest and Prague. Spend unhurried Bulgarian mornings sipping boza (a sweetened, fermented beverage made from either millet or wheat) and savoring slices of flaky and cheesy banitsa at local cafés like HleBar, Fabrika Daga and Furna.
You can read up to 3 premium stories before you subscribe to Magzter GOLD
Log in, if you are already a subscriber
Get unlimited access to thousands of curated premium stories, newspapers and 5,000+ magazines
READ THE ENTIRE ISSUE
July/August 2020